Acer Nitro 5 with RTX 3060 for $800 is the best gaming deal this week!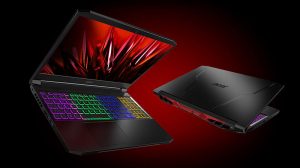 It seems that gamers can be happy because in the last weeks we're seeing tons of great offers for gaming laptops. Today we can highlight the Acer Nitro 5 for $800 in a configuration with Ryzen 5 5600H which is a great 12-thread CPU for gaming and a GeForce RTX 3060 (95W) – a good mid-range gaming GPU. With this video card, you can play the heaviest games on the market with greatly bumped visuals. The fast 144Hz display, the 512GB NVMe, and the license for Windows 11 Home are complementing the whole picture.
The prices are going up and down all the time so check out our current Top 100 Best Gaming Laptop Deals page and take a second look before buying!
You can easily check the performance of this GPU thanks to our playlist which includes 39 gameplay videos with benchmarks:
https://www.youtube.com/playlist?list=PL5tfZxOrEucHhVxSZF2Ui5bG2iXe3CPH4
All laptops equipped with the NVIDIA GeForce RTX 3060 (95W)

All laptops equipped with the NVIDIA GeForce RTX 3060 (95W)