Acer Nito 5 (AN515-58) – Top 5 Pros and Cons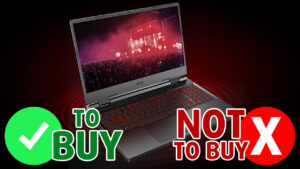 The original design of the Nitro 5 had served its purpose for a couple of years, but everyone with a working pair of eyes has known that it was time for a change. And change has arrived, when it comes to the Nitro 5, both on the inside and the outside.
While previously, the laptop has been very proud of both its performance and portability, managing to be pretty lightweight as far as gaming laptops can be. As for the new device, it has bulked up a bit, but it's not unwarranted, as you'll see below.
Today we present you with LaptopMedia's top 5 picks about the Acer Nito 5 (AN515-58).
Acer Nito 5 (AN515-58): Full Specs / In-depth Review
4 reasons to BUY the Acer Nito 5 (AN515-58)
1. Design and build quality
The new chassis of the Nitro 5 is built like a tank and despite the plastic that is used all around, we see a very durable exterior, with no creaks, bends, or flexing from both the lid and the base. The new device is significantly heavier than its predecessors, but it uses it pretty well, with a stronger body and more powerful components inside. The design is more minimal when compared to last year's device, but it still keeps some gamer-y features, mainly the lines on the lid and the aggressive heat vents on the rear.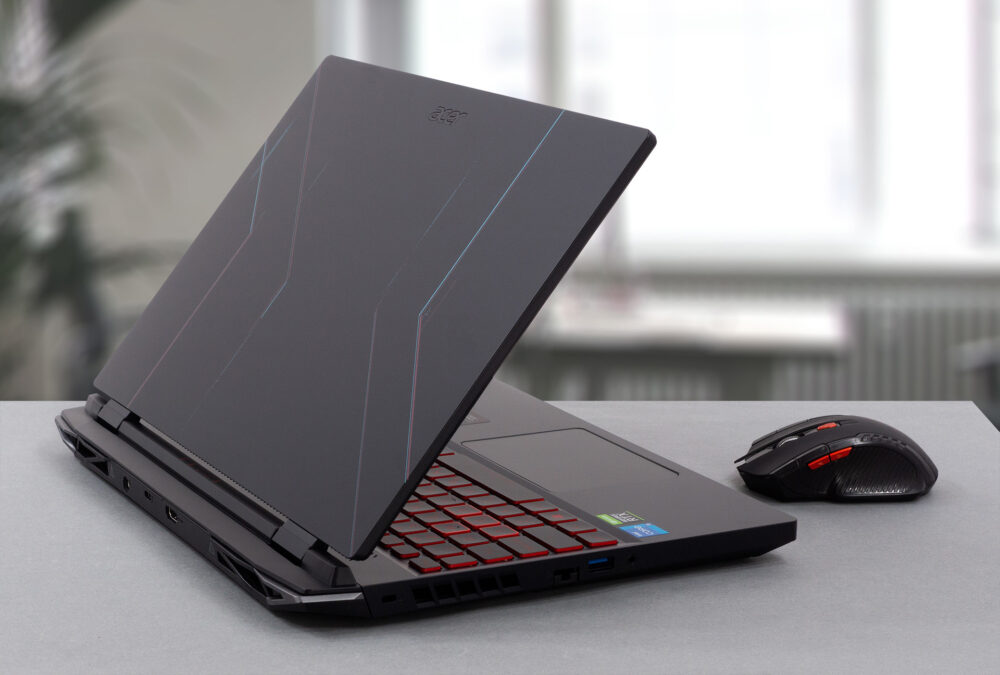 Opening the lid is easy with one hand, and doing so reveals a pretty good gaming keyboard with decent key travel, clicky feedback, and a NumPad, which many 15.6-inch devices have decided to forego. The unit has highlighted WASD and Arrow keys, a dedicated Nitro sense button, and a red backlight. There are models with an RGB backlight, in which case the accent color on the keyboard is white.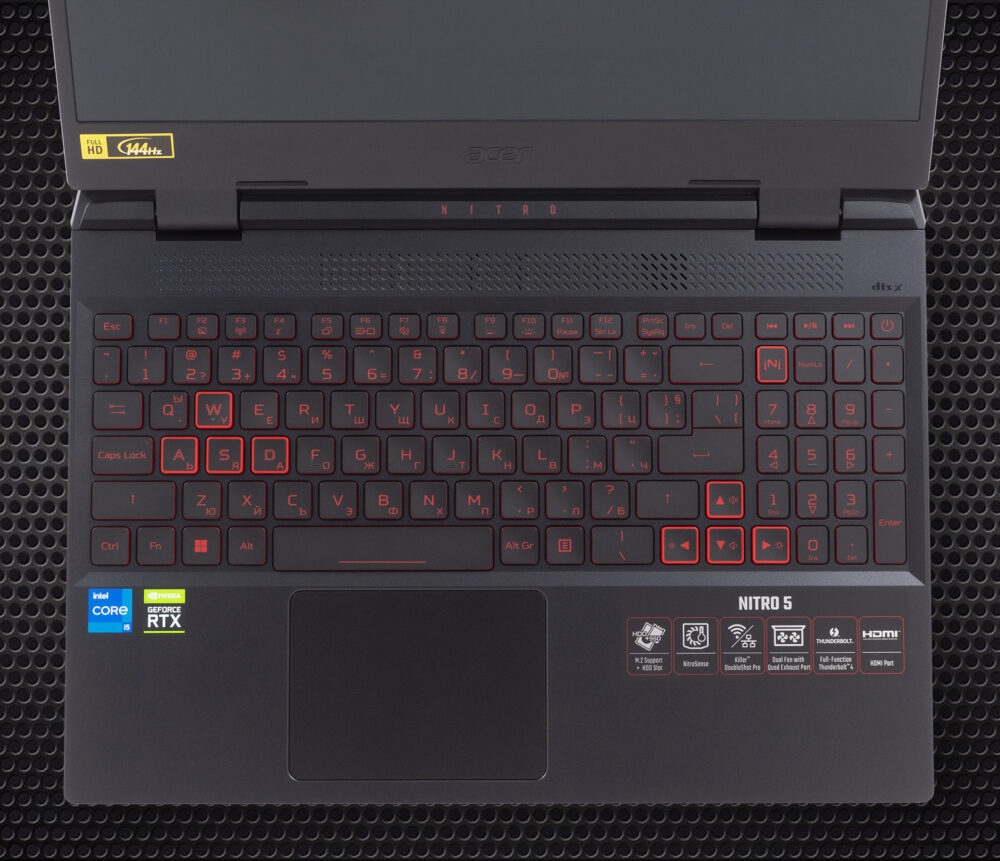 2. Upgradeability
It's surprisingly spacious inside the Nitro 5, with the laptop bringing two SODIMM RAM slots, which house DDR4 RAM. When it comes to storage, there are two M.2 PCIe x4 slots, along with dedicated space for a 2.5-inch SATA drive. Acer provides mounting hardware inside the box, however, we are unclear if the laptop offers a larger battery, and if that affects the space allocation inside.

Here is our detailed teardown video, which shows how to access the RAM and Storage slots inside the laptop.
3. Display quality
We tested the entry-level panel of the Nitro 5, which has an FHD resolution and a refresh rate of 144Hz. The display brings excellent viewing angles, a max brightness of 324 nits in the middle of the screen and 300 nits as an average for the whole area, with a maximum deviation of 11%. The contrast ratio is pretty good – 1440:1. However, the display isn't suitable for professional work, delivering only 54% sRGB coverage. Regardless of that, there is no PWM usage across all brightness levels, making even the longest gaming sessions safe for your eyes.

The colors also aren't accurate enough, even with our Design and Gaming profile, reaching a dE value of only 3.8. Here are the results of our tests with the stock settings (left) and with our profile applied (right).
Buy our profiles
Since our profiles are tailored for each individual display model, this article and its respective profile package are meant for Acer Nitro 5 (AN515-58) configurations with 15.6″ FHD IPS Panda LM156LF-2F01 (NCP004D).
*Should you have problems with downloading the purchased file, try using a different browser to open the link you'll receive via e-mail. If the download target is a .php file instead of an archive, change the file extension to .zip or contact us at [email protected].
Read more about the profiles HERE.
In addition to receiving efficient and health-friendly profiles, by buying LaptopMedia's products you also support the development of our labs, where we test devices in order to produce the most objective reviews possible.
4. Cooling
The laptop has an old-school cooling solution with three large heat pipes which cool both the CPU and GPU. While it was enough for the RTX 3050 that we tested, the available 150W RTX 3070 Ti might struggle with such a setup.

Max CPU load
| Intel Core i5-12500H (45W TDP) | 0:02 – 0:10 sec | 0:15 – 0:30 sec | 10:00 – 15:00 min |
| --- | --- | --- | --- |
| Acer Nitro 5 (AN515-58) | 3.77 GHz @ 2.83 GHz @ 75°C @ 98W | 3.92 GHz @ 3.00 GHz @ 80°C @ 101W | 2.85 GHz @ 3.07 GHz @ 80°C @ 85W |
The CPU doesn't overheat, maxing out at 80°C. The clock speeds were pretty formidable, especially during the first two stages. Interestingly enough in the latest stage, the efficiency cores are higher clocked than the performance ones.

Real-life gaming
| NVIDIA GeForce RTX 3050 | GPU frequency/ Core temp (after 2 min) | GPU frequency/ Core temp (after 30 min) | GPU frequency/ Core temp (Max Fan) |
| --- | --- | --- | --- |
| Acer Nitro 5 (AN515-58) | 2021 MHz @ 70°C @ 94W | 2009 MHz @ 73°C @ 94W | – |
The RTX 3050 that is inside is one of the best-performing ones, in terms of clock speeds and temps that we have seen. It reaches and maintains a speed of above 2.00GHz while maxing out with a temperature of only 73°C.

Gaming comfort
The laptop is quite loud even without the Max Fans setting, after which you can easily mistake it for a helicopter. On a more positive note, the hotspot on the outside measures only 39.5°C, and it isn't found anywhere close to the WASD or Arrow keys, leading to a better gaming experience.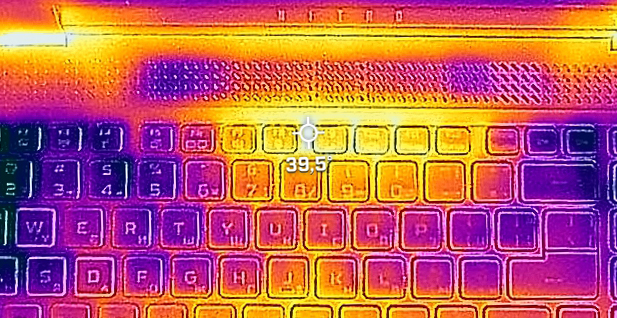 1 reason NOT to buy the Acer Nito 5 (AN515-58)
1. Battery life
The 59Wh battery pack lasts for 8 hours and 28 minutes of Web browsing, or 5 hours and 53 minutes of video playback. These are still decent results for a gaming laptop, however, lately, we have been seeing really long-lasting gaming laptops, which mainly use AMD hardware, like the ROG Strix SCAR 15 G533 and the TUF Gaming A15 FA507. The way we perform our tests is with the Windows Better performance setting turned on, screen brightness adjusted to 120 nits, and all other programs turned off except for the one we are testing the notebook with.

All Acer Nito 5 (AN515-58) configurations: