[38 Gaming tests + videos] NVIDIA GeForce GTX 1660 Ti – the worst nightmare of the RTX 2060 80W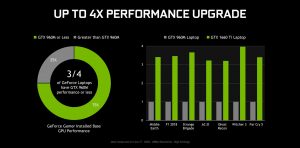 The current mid-range class is pretty populated with a lot of video cards to choose from – starting with the GTX 1650 and you can go all the way up to RTX 2060 with its three TGP versions. These are a lot of GPUs in this price category and maybe it's a bit messy for the regular user which one is the best choice. There is one particular video card that sometimes is staying in the shadows because of its bigger sibling (RTX 2060) – the NVIDIA GeForce GTX 1660 Ti.
The reason why we are saying that is because of the fact that the non-RTX chip isn't too far away from the performance levels of the bigger one. To be more specific, we are talking about the GTX 1660 Ti versus the 80W version of the RTX 2060. The tensor cores of the latter are additional "weight" that needs more power, and when you add more CUDA core in the mix sometimes 80W TGP isn't enough and in moments like this, the GTX 1660 Ti takes the lead. But we will discuss that a bit later on.
Meanwhile, you can check out all available laptops with GeForce GTX 1660 Ti here:

Contents
Specs overview
The GeForce GTX 1660 Ti is a Turing GPU that has 1536 CUDAs, 48 ROPs, 80W TGP, and a 192-bit memory bus. We have a 1455 MHz base clock and a 1590 MHz boost clock. As for the memory, its frequency is 12000 MHz.
GPU comparison table
|   | GeForce GTX 1660 Ti |
| --- | --- |
| Architecture | Turing |
| GPU chip | TU116 |
| Shader units | 1536 |
| ROPs | 48 |
| Base Clock (MHz) | 1455 |
| Boost clock (MHz) | 1590 |
| Memory clock (MHz) | 12000 |
| Memory size (MB) |  6GB |
| Memory type | GDDR6 |
| Memory bus width (bit) | 192 |
| TGP (Total Graphics Power) | 80W |
| DirectX version | 12.1 |
| Technology | 12nm |
| RTX capabilities | Yes |
| Release date | 01.2019 |
| Detailed specs | Link |
Gaming tests and gameplay videos (ext. monitor)




































Verdict
The NVIDIA GeForce GTX 1660 Ti is a great video card. It offers almost the same (if not equal) performance when compared to RTX 2060. The receipt for this is that the GTX 1660 Ti lacks tensor cores that probably are eating some amount of the TGP of the RTX 2060 80W. For the tests of GTX 1660 Ti and RTX 2060, we were using two almost identical Acer Nitro 5 (AN515-54), both with Intel Core i7-9750H, both have the same cooling solution, but the GTX 1660 Ti was boosting 200 MHz or even 220 MHz+ higher than the other video card.
Probably in some other configurations the RTX 2060 80W could take the lead but based on our experience with these two GPUs on different laptops, we are pretty sure that both are always close to each other. We're not saying that the RTX 2060 is a bad video card but if you don't need the RTX capabilities there is no point to spend extra money on it. The 90W version is a bit faster and maybe it's a bit better choice but still, the GTX 1660 Ti is the best bang for its money when it comes to price/performance ratio.
All laptops equipped with the GeForce GTX 1660 Ti