[36 Gaming tests + videos] NVIDIA GeForce GTX 1660 Ti Max-Q – a great performer with just 60W TGP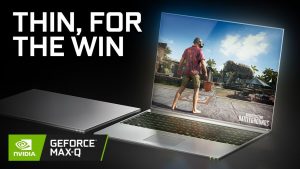 When it comes to NVIDIA Max-Q video cards, most of the informed buyers know what to expect. They are essentially the same as their full-blown siblings but the reduced frequencies and the smaller TGP lead to lower heat dissipation which makes them suitable for thin and light laptops.
For example, today we are going to check what the NVIDIA GeForce GTX 1660 Ti Max-Q is capable of and it can be found in compact gaming machines while the Max-P GPU sibling is fitted in bigger and heavier laptops (at least most in most cases).
Meanwhile, you can check out all available laptops with GeForce GTX 1660 Ti Max-Q here:

Contents
Specs overview
The GeForce GeForce GTX 1660 Ti Max-Q is a Turing GPU that is based on the TU116 chip. It offers 1536 CUDAs, 48 ROPs, 1140 MHz, and 1335 MHz base and boost core clocks. As for the memory, it's clocked at (up to) 12000 MHz, its bus is 128-bit, and the VRAM is 6GB.
Let's jump straight to the results, shall we?

GPU comparison table
|   | GeForce GTX 1660 Ti Max-Q |
| --- | --- |
| Architecture | Turing |
| GPU chip | TU116 |
| Shader units | 1536 |
| ROPs | 48 |
| Base Clock (MHz) | 1140 |
| Boost clock (MHz) | 1335 |
| Memory clock (MHz) | up to 12000 |
| Memory size (MB) | 6144 |
| Memory type | GDDR6 |
| Memory bus width (bit) | 192 |
| TGP (Total Graphics Power) | 60W |
| DirectX version | 12.1 |
| Technology | 12nm |
| RTX capabilities | No |
| Release date | 04.2019 |
| Detailed specs | Link |
Gaming tests and gameplay videos (ext. monitor)


































Verdict
As you can see, the GeForce GTX 1660 Ti Max-Q is a capable video card. Despite the fact that it's an efficient GPU with lowered clocks, if your laptop is decently cooled, you can expect even more performance out of it. Speaking of efficiency, the performance of this graphics card is very good despite the fact that it has just 60W TGP.
Games like Far Cry New Dawn, Rise Of The Tomb Raider, or Battlefield V are not a problem for our Max-Q buddy. Lighter games like CS:GO or Dota 2 are just flying and if you play such titles, maybe a 144Hz display isn't a bad idea.
All laptops equipped with the GeForce GTX 1660 Ti Max-Q