[2019] LaptopMedia's Golden Laptop Award – BEST GAMING LAPTOPS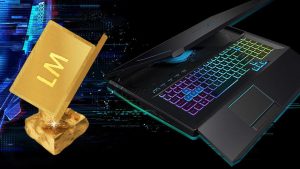 The RTX 2080 is the king of kings when it comes to raw GPU power. If you want the highest possible frame rates in modern games – the RTX 2080 (TU104) is your only option. A 144Hz screen isn't a problem with this graphics card – it'll "chew" the Ultra settings with high FPS. The 4K screens aren't a problem too – four times the pixels of 1080p combined with a decent amount of frame rates – the TU104 can handle that.
Some quick specs – RTX 2080 has 2944 shaders, 64 ROPs, 1380 MHz / 1590 MHz base/boost clock, 14000 MHz memory frequency, 8GB GDDR6 memory, 150W TGP, and а 256-bit memory bus. A monstrous graphics card and that's why it's a real challenge for every manufacturer to gentle the RTX 2080 in their machines.
We picked the best three RTX 2080-based laptops and today we're going to show you our medalists.
---
#3 Our bronze medalist – HP Omen X 2S 15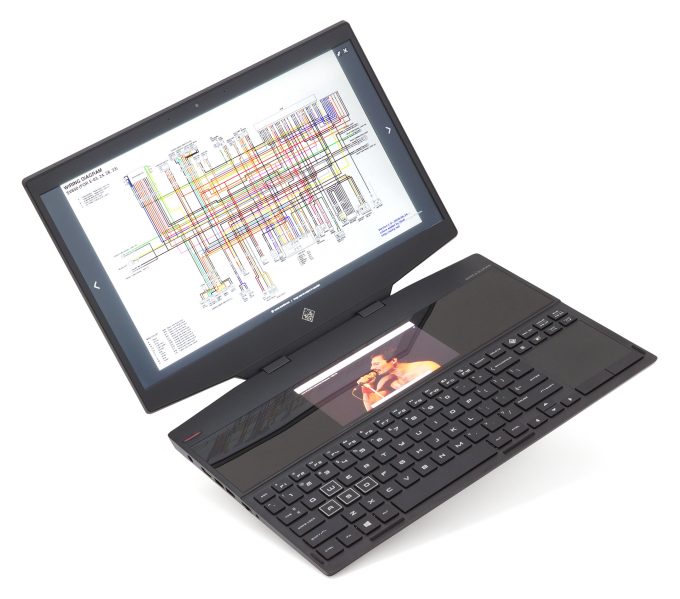 This particular HP notebook is with RTX 2080 Max-Q. Not the full-blown one but Omen X 2S 15 deserve an award and we really like it. In the following sentences, we will explain why.
The build quality of this notebook is excellent. The machine is made of aluminum and for the hardware that is fitted inside – it's thin and light (20mm profile and 2.35 kg weight). The device feels sturdy and robust. Opening the lid with one hand is an easy job – fast and stable, with no bends and squeak sounds.
When the lid is opened, the superb display is revealed. The panel (AUO30EB) has a 4K resolution, a 96% sRGB coverage, and an outstanding contrast ratio – 1440:1. Its viewing angles are comfortable and there is no sign of PWM usage. But wait a minute – there is a second display above the keyboard! That's a 6″ 1080p panel (ANX7530) and it has excellent viewing angles, very high maximum brightness (517 nits), and it has 100% sRGB coverage. The purpose of the second display – you can play a game on the main panel and for example, you can watch a football game on the second one. Very nice and useful.
Upgradability – up to 64GB DDR4 with a whooping frequency of 3200MHz. There are two M.2 PCIe slots with RAID 0 and Optane H10 support. When the laptop is still opened, let's see the cooling solution – half of the chassis is taken by it. There are two very big plates that cover the CPU and the GPU. Four heat pipes in total – one common is for the CPU/GPU combo, two pipes for the GPU, and one for the CPU. HP enhances the thermal conductivity with Thermal Grizzly Conductonaut liquid metal.

The custom keyboard looks and feels great. It has four rubber legs – they hold the lid when it's closed. The key travel is very good and on the right side of the keyboard, you will notice a touchpad and additional controls for the second display.
Yes, so much cool features are enough for our bronze medal.
You can check our in-depth review regarding the HP Omen X 2S 15 here.
---
#2 Our silver medalist – Acer Predator Triton 900 / Acer ConceptD 9
Optimus Prime is here – the Acer Predator Triton 900 and his (almost) twin brother – the Acer ConceptD 9. Both beasts have big 17.3″ screens and innovative hinge design. Please, don't expect extremely thin profiles and low weight here – it would be a disgrace for a full-blown RTX 2080 to be fitted in tiny space (and by the way that is absolutely impossible, you will need a fire extinguisher close to you). The two Acer devices have a bit over 23mm profiles and more than 4kg of weight (for every each of them). Which is more than fine because the hinge mechanism adds extra weight and thickness.
The Predator Triton 900 is gamer-oriented while the ConceptD 9 variant is aiming for the content creators.
Both displays are awesome – big, 17.3″ touchscreen panels with excellent viewing angles and good contrast ratios – 1070:1 (1010:1 after calibration) for the Triton 900 and 1400:1 for Concept9 (which comes with three preinstalled presets – Native, Adobe RGB, and sRGB color spaces). Both displays can fully cover the sRGB and Adobe RGB color gamma, and even the DCI-P3 color spectrum – thumbs up for those great panels! Both displays are PWM-free. You have a Stylus for both laptops, the panel of Concept9 has an extra layer that reduces the reflections for a better experience when you are using the pen (maybe while creating some content).
Above the keyboard of Triton 900, there is a glass grill that covers the cooling and on the left of it, you will find some additional cut-outs that provide extra air into the fans. The ConceptD 9 has a large ventilation grill with a lot of small holes and you can see the cooling as well. Speaking of the keyboard – the Triton uses an RGB backlit mechanical keyboard with a very long and pleasant key travel. The keyboard of Concept9 has mechanical switches and is suitable for long typing sessions. The NumPad is integrated into the touchpad on the right.
The two laptops share very similar cooling solutions – two big plates for the CPU and GPU and a total of six heat pipes. The left cooling fan is a very big one. A look-down and we can see the upgrade options – two RAM DIMMs with max supported memory size up to 32GB and two M.2 slots.
The two brothers are equipped with very beasty hardware and will serve you for a good amount of years ahead. Our Transformers are awarded with a silver medal.
You can check our in-depth review regarding the Acer Predator Triton 900 here. You can check the in-depth review of the Acer ConceptD 9 too.
Acer Predator Triton 900 configurations with RTX 2080:


Acer Predator ConceptD 9 configurations with RTX 2080:


---
#1 LaptopMedia's Golden Laptop goes to the Acer Predator Helios 700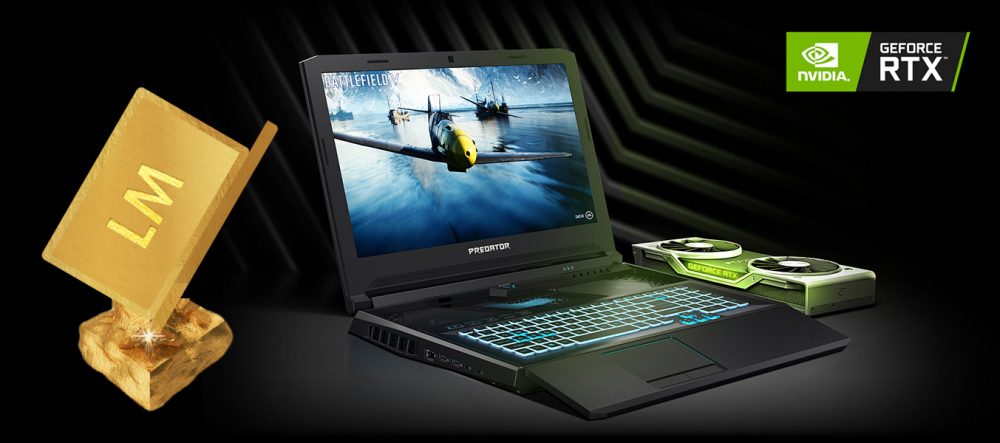 Ladies and gentlemen, our winner, the best gaming laptop of, the desktop killer – the Acer Predator Helios 700. That beast, that looks, that superb cooling. Ok, let's go check it out.
It's a real monster from every angle. The Acer Predator Helios 700 is a big and heavy machine (a 41.7 mm and 4.50 kg weight) but that's fine and we will tell you why. The main reason is the cooling solution.
The cooling uses a Vapor chamber, it has five copper heat pipes and two Aeroblade 3D fans. If you slid out the keyboard you will enhance the cooling because the fans will suck more air through the top vents – and you can see the cooling too which is behind a Gorilla Glass.
This is the coolest (hehe) gaming machine that we have ever tested – in our test lab it reached 36.1°C only – an astonishing result which is still unbeatable at the end of 2019.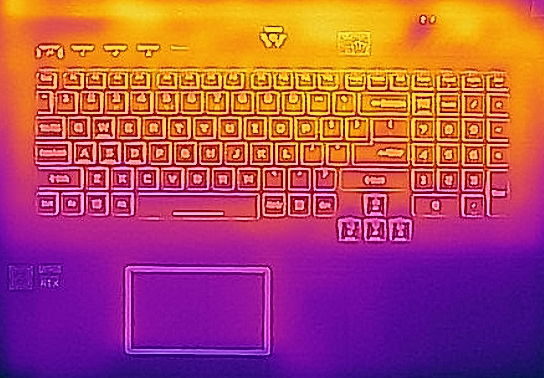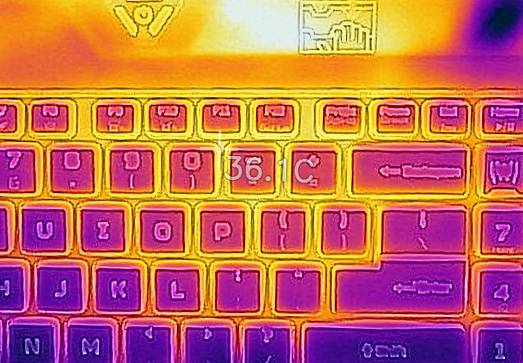 This machine is something like a portable desktop PC, not a true notebook. You have the option to overclock the internal hardware – the fans will ramp up for extra cooling, and the CPU and GPU will be in OC Mode which means higher frame rates. Have a look at our temperature table.
Average core temperature (base frequency + X); CPU temp.
| Core i9-9980HK (45W TDP) | 0:02 – 0:10 sec | 0:15 – 0:30 sec | 10:00 – 15:00 min |
| --- | --- | --- | --- |
| Acer Predator Helios 700 | 3.31 GHz (B+38%)@ 69°C | 3.33 GHz (B+39%)@ 73°C | 3.20 GHz (B+33%)@ 70°C |
Real gameplay
| NVIDIA GeForce RTX 2080 | GPU frequency/ Core temp (after 2 min) | GPU frequency/ Core temp (after 30 min) |
| --- | --- | --- |
| Acer Predator Helios 700 | 1647 MHz @ 65°C | 1632 MHz @ 69°C |
| Acer Predator Helios 700 OC Mode | 1791 MHz @ 61°C | 1783 MHz @ 62°C |
We are not done yet – the next one is the keyboard. It's comfortable for both typing and gaming because of its very long key travel and tactile feedback. The keyboard has a per-key RGB backlight too. As we already mentioned, the keyboard and the touchpad area can go downwards for extra cooling in OC Mode. By the way, that is an automatic process – slid this area down and OC mode will be on immediately. The palm-rest area will be dropped down at a certain angle for more comfort during typing or gaming.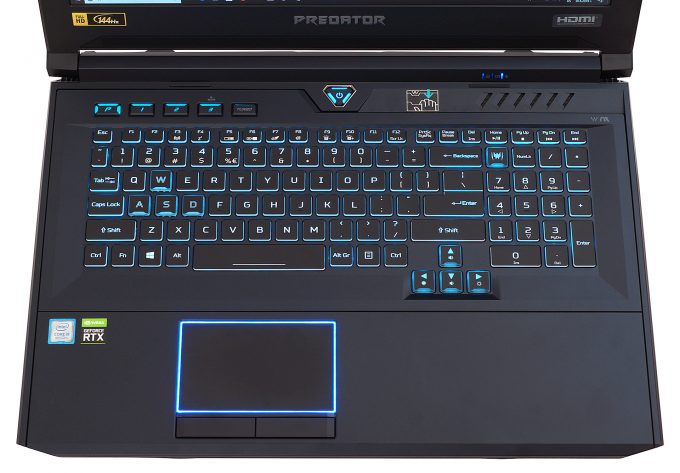 Now, the screen. It's a 17.3″ blazing-fast 1080p IPS panel with a 144Hz refresh rate. The model number is AUO B173HAN03.1 (AUO319D). It has nice viewing angles, good contrast ratio – 1130:1 (1050:1 after profiling), it covers 93% of the sRGB, and it doesn't use PWM to adjust its brightness levels. A great one.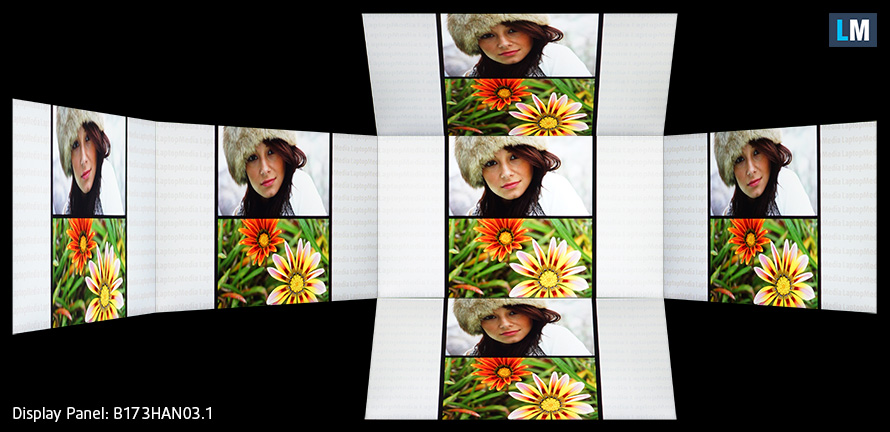 A true desktop-like performance combined with great comfort during gaming generated by the extremely cool internals and a superb display – there you go, that's why this is the best gaming laptop of 2019! Our gold medalist – the Acer Predator Helios 700. We want even more for the next year!
You can check our in-depth review regarding the Acer Predator Helios 700 here.