How to open the HP ProBook 450 G10 – disassembly and upgrade options
1. Unscrewing the Back Panel
To begin disassembling the HP ProBook 450 G10, first undo the five Phillips-head screws on the back. You will need a Phillips-head screwdriver for this task.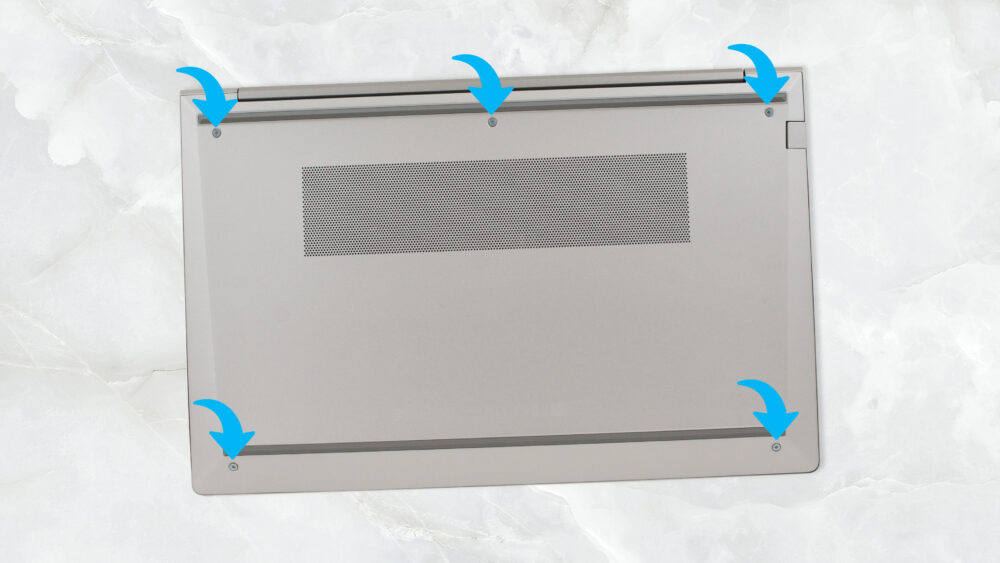 2. Removing the Back Panel
Once the screws are undone, use a plastic pry tool to detach the bottom panel. Start from the gap at the back for an easier and safer removal.
Caution: Be careful during this process to avoid damaging the device.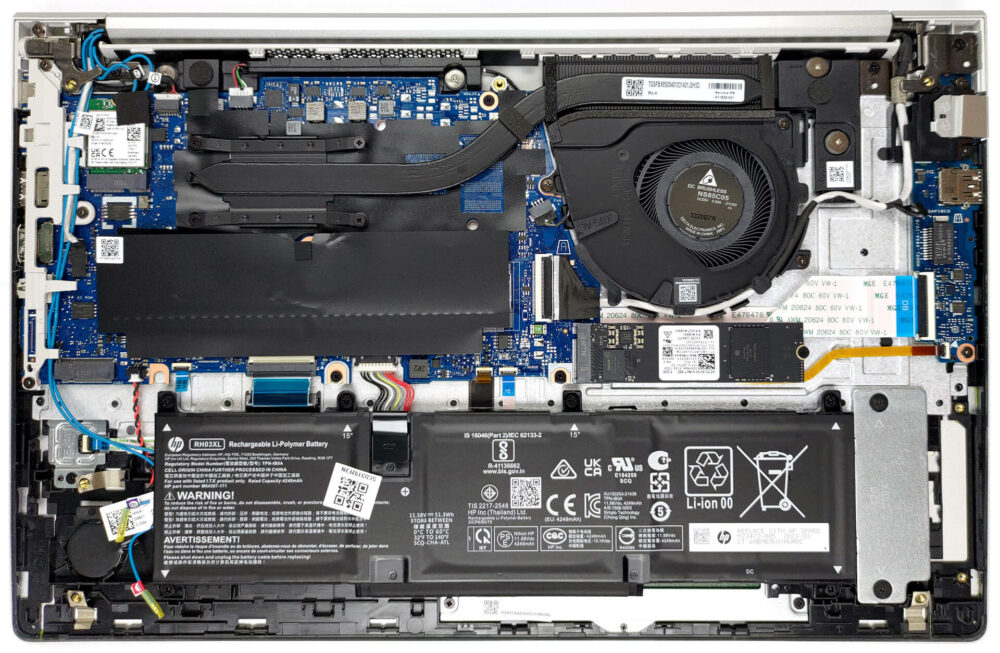 3. Disconnecting the Battery
The laptop comes with a 51.3Wh battery pack. To remove it, unplug it from the motherboard and undo the six Phillips-head screws that secure it to the chassis.

4. Assessing the RAM
The HP ProBook 450 G10 has two SODIMM slots that support DDR4 memory in dual-channel mode. This provides opportunities for memory upgrades, enhancing performance.
You can buy DDR4 RAM modules here: Buy from Amazon.co.uk (#CommissionsEarned)

5. Upgrading the Storage
Regarding storage, there are two M.2 PCIe x4 slots. One of these slots supports Gen 4 SSDs, providing the opportunity for significant storage expansion.
You can buy Gen 4 M.2 SSD modules here: Buy from Amazon.co.uk (#CommissionsEarned)

6. Understanding the Cooling System
The laptop features a simple cooling setup with only one heat pipe, one heat sink, and a single fan.
Note: Regular maintenance and cleaning of the cooling system can help maintain the laptop's performance and prolong its lifespan.

HP ProBook 450 G10 in-depth review
HP has been producing one of the most stable and cost-efficient business notebooks on the market - the ProBook 400 series. Today, we mark the debut of the 10th generation of this product with the HP ProBook 450 G10.Considering the changes seen up and down the field, it might seem a little disappointing that this machine did not get a design revamp. To be honest, though, the old one had nothing wrong with it, so we should cut HP some slack.Ultimately, this means that the G10 is a minor refresh over the G9, with the most prominent change being the switch to Raptor Lake CPUs. With that s[...]
Pros
Its keyboard is backlit, spill-resistant, and great for typing
Optional fingerprint reader and IR face recognition
Good contrast ratio and comfortable viewing angles (AUO AUO3DA3)
2x SODIMM + optional two M.2 PCIe slots for storage
Doesn't use PWM (AUO AUO3DA3)
2x Thunderbolt 4
Extremely quiet during load
Good battery life
Cons
Covers only 54% of sRGB (AUO AUO3DA3)
Lacks an SD card reader