Top 100 Best Laptops for Assassin's Creed Odyssey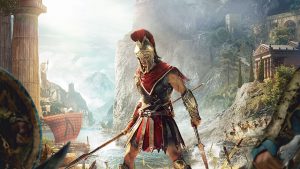 It is an action-packed, role-playing game played in third-person perspective. For the first time ever, Assassin's includes RPG elements– previous titles were simple action games. Odyssey takes place during the Peloponnesian War.
The player is impersonating a fictional character that is engaged during the War between Athens and Sparta. They can choose which side to back: Delian League of Athens or Peloponnesian League of Sparta. In general, Assassin's Creed series follows the story of a longtime conflict between Assassins and Templars.
Choose a game:
Choose graphics settings:
Choose desired FPS (Full HD, 1080p):
Intel Core i5-11400H
NVIDIA GeForce RTX 3050 (Laptop, 75W)
15.6", Full HD (1920 x 1080), 144 Hz, IPS
512GB SSD
8GB DDR4
2.26 kg (5 lbs)
Processor

Intel Core i5-11400H

VideoCard

NVIDIA GeForce RTX 3050 Ti (Laptop, 75W)

RAM

2x 4GB DDR4, 2933 MHz

STORAGE

512GB SSD

Display

16.1″, Full HD (1920 x 1080), 144 Hz, IPS

OS

Windows 11 Home
Processor

AMD Ryzen 5 5600H

VideoCard

NVIDIA GeForce RTX 3050 (Laptop, 75W)

RAM

16GB DDR4

STORAGE

512GB SSD

Display

16.1″, Full HD (1920 x 1080), IPS

OS

Windows 11 Home
Show me the best laptops for…