Análisis del Lenovo IdeaPad 5 (15″, 2022)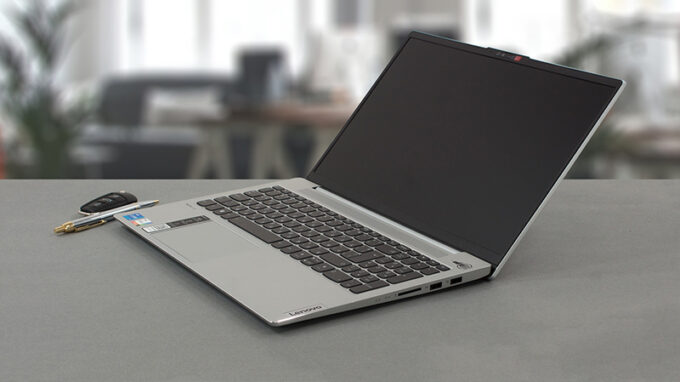 A veces todo lo que necesitas de tu portátil es que te acompañe en tu rutina diaria. Esto puede significar que llenará hojas de cálculo la mayor parte de su vida, o que devolverá correos electrónicos y verá alguna que otra película. Independientemente de eso, tu mejor apuesta será comprar algo que haya demostrado su eficacia a lo largo de los años.
La marca IdeaPad es una de las más vendidas en todo el mundo. Por supuesto, no es un secreto para nadie que la principal razón de sus buenas cifras de ventas es su bajo precio. Sin embargo, Lenovo está elevando su juego de presupuesto bajo-medio, y este año, el IdeaPad 5 (15″, 2022) hará feliz a mucha gente.
Estamos hablando de CPUs Intel de 12ª generación y de la posibilidad de elegir entre la serie U, más eficiente energéticamente, y la serie P, algo más potente. También puedes elegir una opción AMD si lo prefieres, aunque Team Red sólo suministra procesadores de actualización Ryzen 5000U.
Además, encontrarás una sorpresa en la calidad de construcción, así como en el frente de la pantalla, donde los paneles de 768p han sido desterrados para siempre. Sin embargo, sigue habiendo una opción TN entre las pantallas 1080p, que debería ignorarse por todos los medios.
Puedes consultar los precios y las configuraciones en nuestro sistema de especificaciones: https://laptopmedia.com/series/lenovo-ideapad-5-15-2022/
Contents
Hoja de especificaciones
BOE NV156FHM-N4S (BOE0AB0)
HDD/SSD
hasta 2000GB SSD
Ranura M.2
1x 2280 PCIe NVMe 4.0 x4 Ver foto
OS
Windows 11 Home, Windows 10 Pro, Windows 11 Pro, Windows 10 Home
Batería
57Wh, 3-cell, 57Wh, 45Wh, 3-cell
Material del cuerpo
Plastic / Polycarbonate, Aluminum
Dimensiones
356.67 x 233.13 x 16.9 - 17.9 mm (14.04" x 9.18" x 0.67")
1x USB Type-A
3.2 Gen 1 (5 Gbps)
1x USB Type-A
3.2 Gen 1 (5 Gbps), Sleep and Charge
2x USB Type-C
3.2 Gen 1 (5 Gbps), Power Delivery (PD), DisplayPort
Lector de tarjetas
MMC, SD, SDHC, SDXC
Conector de audio
3.5mm Combo Jack
Lector de huellas dactilares
Cámara web
HD / FHD with Privacy Shutter, Fixed Focus
Micrófono
Dual array microphone with noise-cancelling, support for Lenovo Voice Assistant (LVA), and Amazon Alexa
Altavoces
2x 2W Stereo Speakers,
Ranura de bloqueo de seguridad
¿Qué hay en la caja?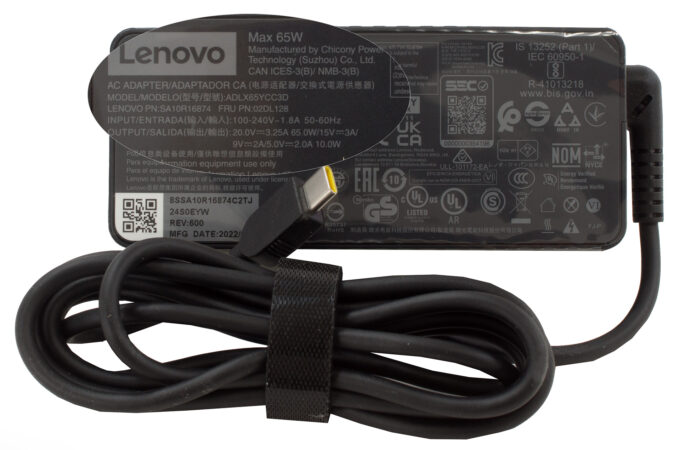 Dentro del paquete, encontrarás algo de documentación, un cargador USB Type-C de 65 W y un conjunto de conexiones de unidades SATA y accesorios de montaje.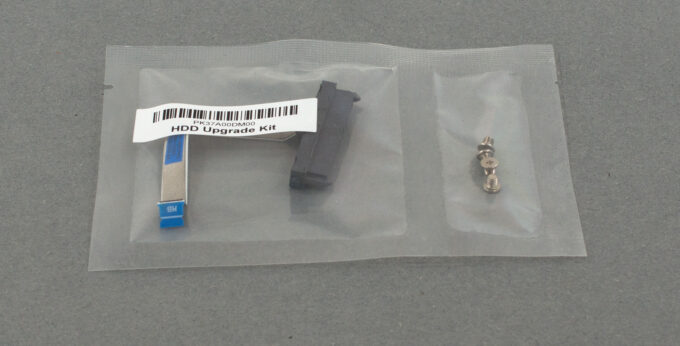 Diseño y construcción
Una vez más, puedes elegir entre dos opciones en cuanto al material de construcción. La primera incluye un diseño totalmente metálico, que tiene un perfil de 16,9 mm y pesa 1,85 kg. En la otra, encontrarás una unidad con tapa metálica y base de plástico, que es un poco más gruesa -17,9 mm- pero pesa menos -1,77 kg-.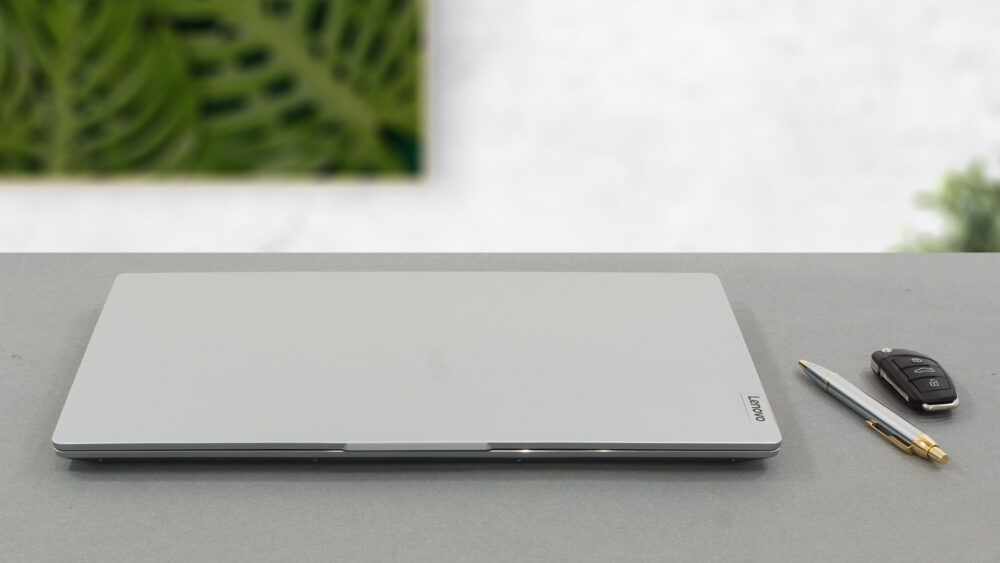 Pudimos hacernos con una unidad completamente metálica, y déjenos decirle que se siente realmente de primera calidad. Las esquinas de la base están biseladas y tienen un suave brillo. Tanto la tapa como la base son bastante resistentes a la flexión. Sin embargo, lo que más nos sorprendió es el hecho de que el portátil haya superado la prueba de durabilidad MIL-STD-810H (un número no revelado de estas pruebas).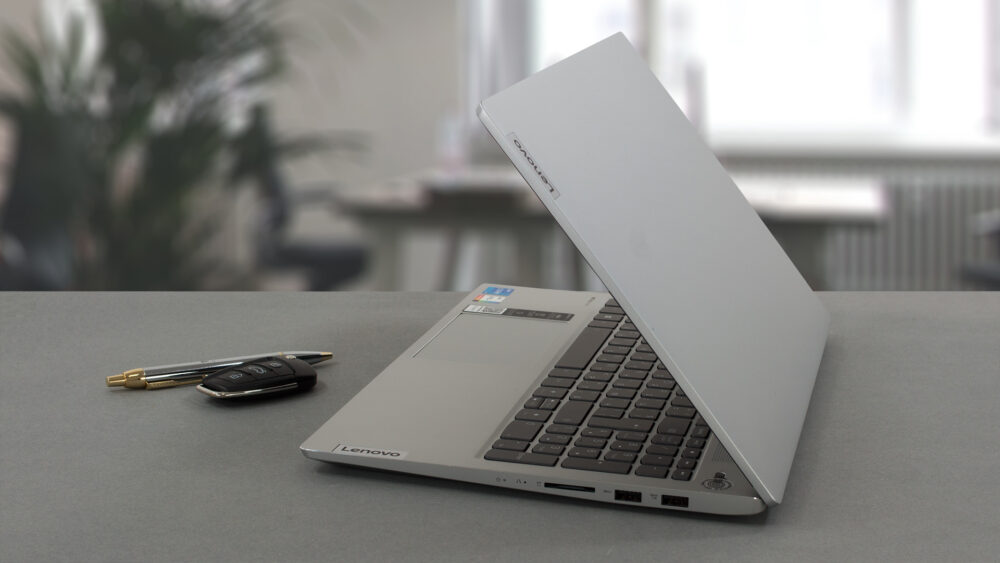 Otra característica sorprendente es que la tapa se puede abrir con una sola mano. Lenovo ha implementado un mecanismo, que levanta la base cuando la tapa pasa de un cierto ángulo. En nuestra opinión, el ángulo es demasiado grande, y rara vez se aprovechará esta función.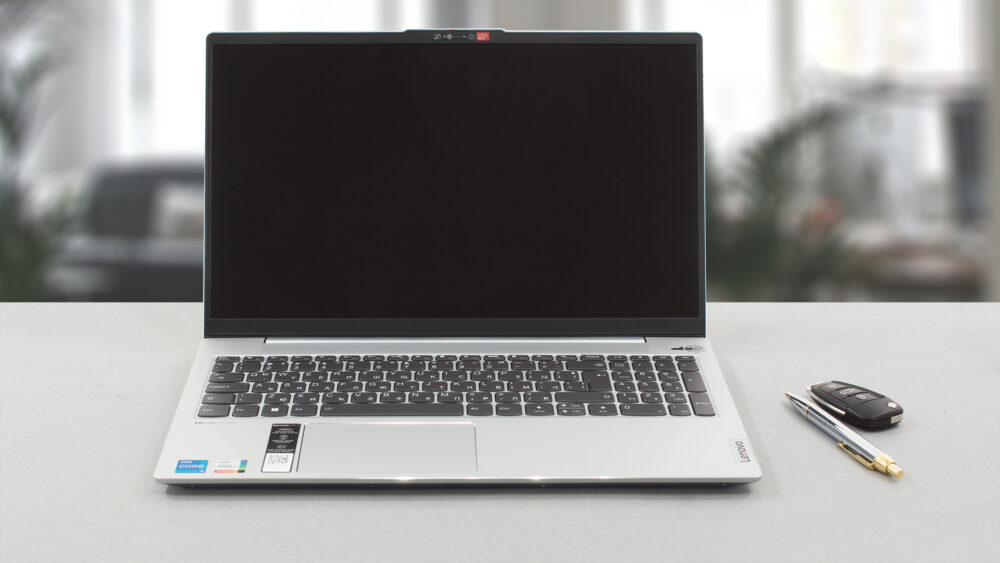 Por otro lado, los biseles alrededor de la pantalla mate son bastante finos. El superior alberga una cámara web Full HD con un obturador de privacidad en la parte superior.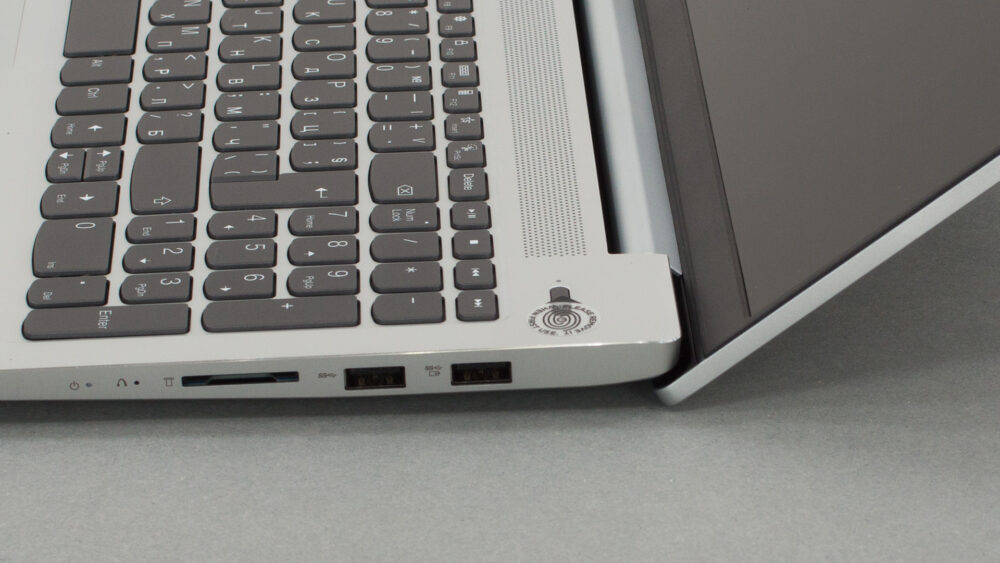 Lo siguiente es la base. Y ahí hay mucho que hacer. En primer lugar, hay una rejilla importante por encima del teclado. Está pensada para los altavoces estéreo, que son de tiro frontal. A su derecha, se encuentra el botón de encendido, que se encuentra al ras de la base, y cuenta con un lector de huellas dactilares opcional.
Luego viene el teclado, que es una unidad de tamaño completo con un NumberPad y una luz de fondo. La respuesta es relativamente rápida, pero el recorrido de las teclas es un poco corto para nuestro gusto.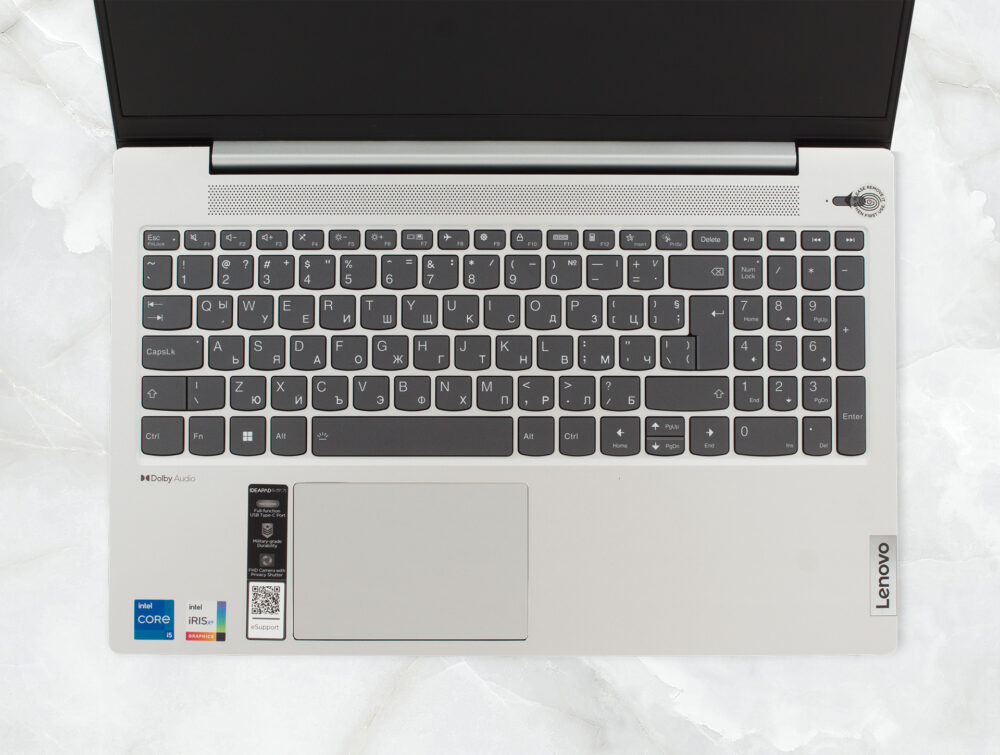 Justo debajo del botón de espacio es donde se encuentra el touchpad. Tiene una superficie de Mylar, que es bastante suave. El tamaño es de 69 por 104 milímetros, lo que es bastante normal.
Naturalmente, dado que los altavoces están colocados encima del teclado, el panel inferior queda sólo para la rejilla de ventilación. Aquí es donde el único ventilador extrae el aire frío. Luego se expulsa a través de una rejilla de ventilación situada entre la base y la tapa del dispositivo.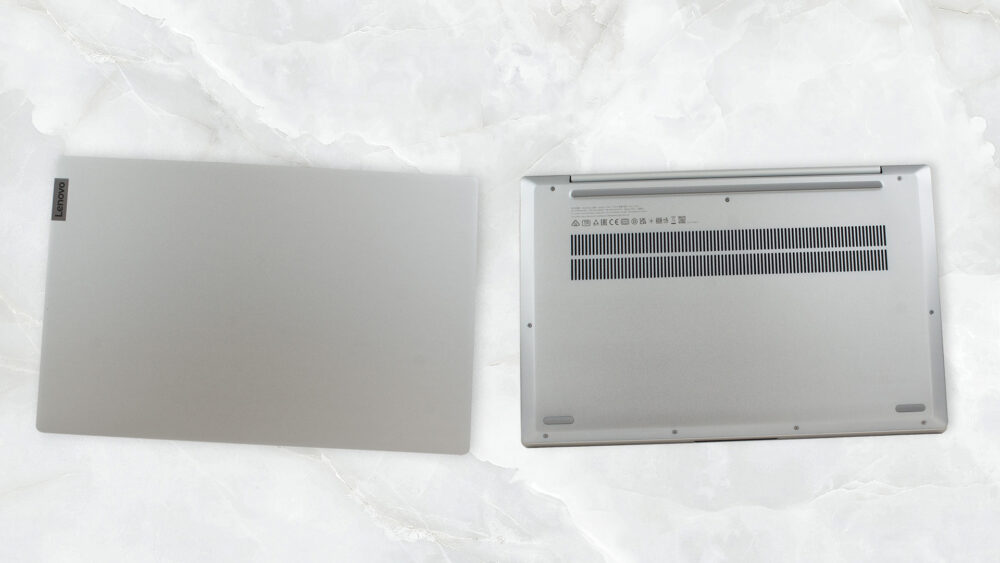 Puertos
En el lado izquierdo de la máquina, hay dos puertos USB Type-C 3.2 (Gen. 1), que se pueden utilizar para la carga. Luego, hay un conector HDMI 1.4b, y una toma de audio. Si cambias de lado, encontrarás dos puertos USB Tipo-A 3.2 (Gen. 1) y un lector de tarjetas SD. Por cierto, ambos USB Type-C admiten transferencia de datos, Power Delivery 3.0, y salida DisplayPort 1.2.
Desmontaje, opciones de actualización y mantenimiento
Para abrir este portátil, es necesario aflojar 9 tornillos de cabeza Torx. A continuación, haga palanca en el panel inferior con una herramienta de plástico, empezando por las dos esquinas delanteras.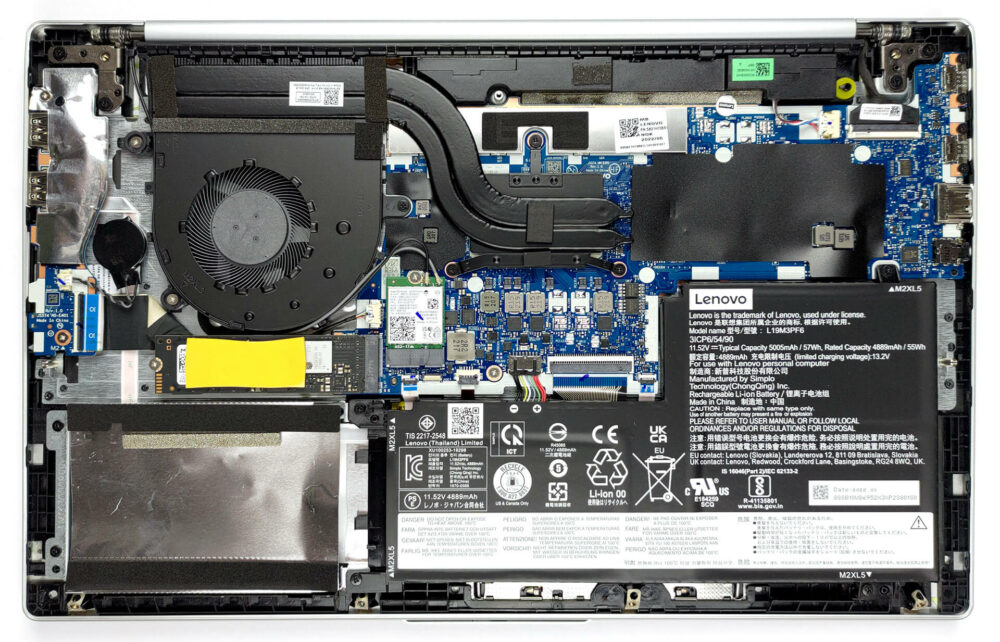 Nuestra configuración está equipada con una batería de 57Wh. Tiene una duración de 11 horas y 30 minutos de navegación web, o 9 horas y 30 minutos de reproducción de vídeo. Para extraerla, hay que aflojar 4 tornillos de cabeza Phillips y desenchufar el conector de la batería.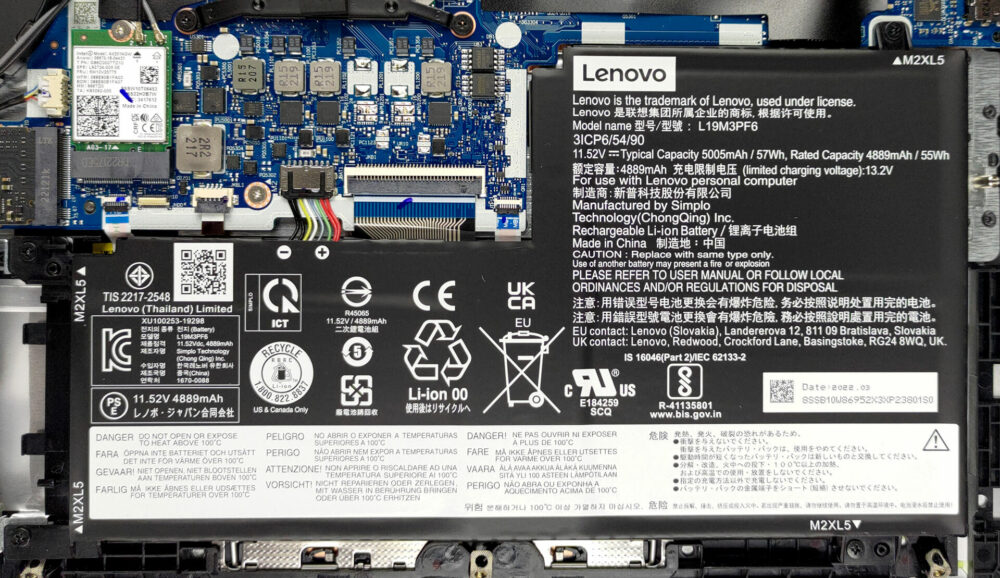 Por desgracia, la memoria está soldada a la placa base. Tienes hasta 16 GB de RAM DDR4, que funciona en modo de doble canal. En cuanto al almacenamiento, hay una ranura M.2 PCIe x4, que admite SSDs Gen 4. Además, tiene una ranura para unidades SATA de 2,5 pulgadas.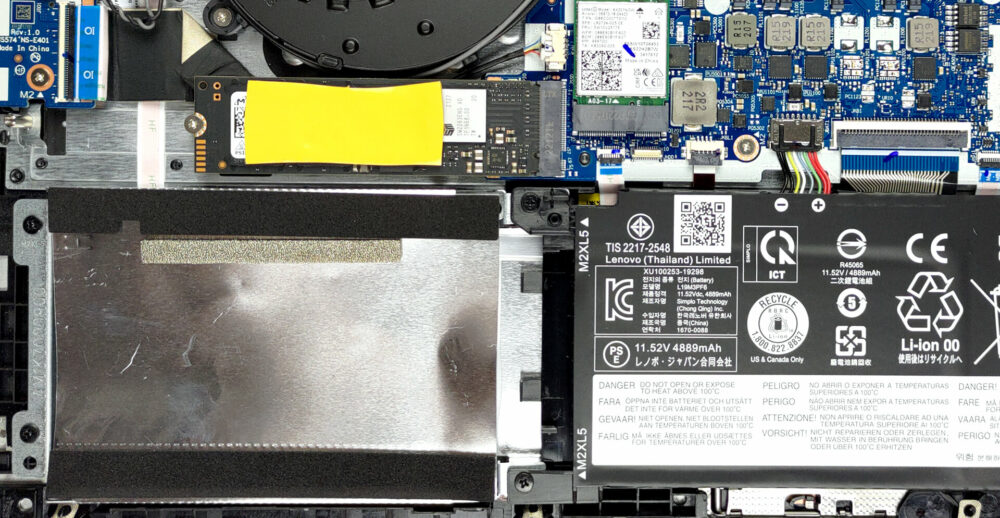 En cuanto a la refrigeración, hay dos tubos de calor que se encargan de la CPU. Además, tiene un ventilador, mientras que los VRM no se refrigeran.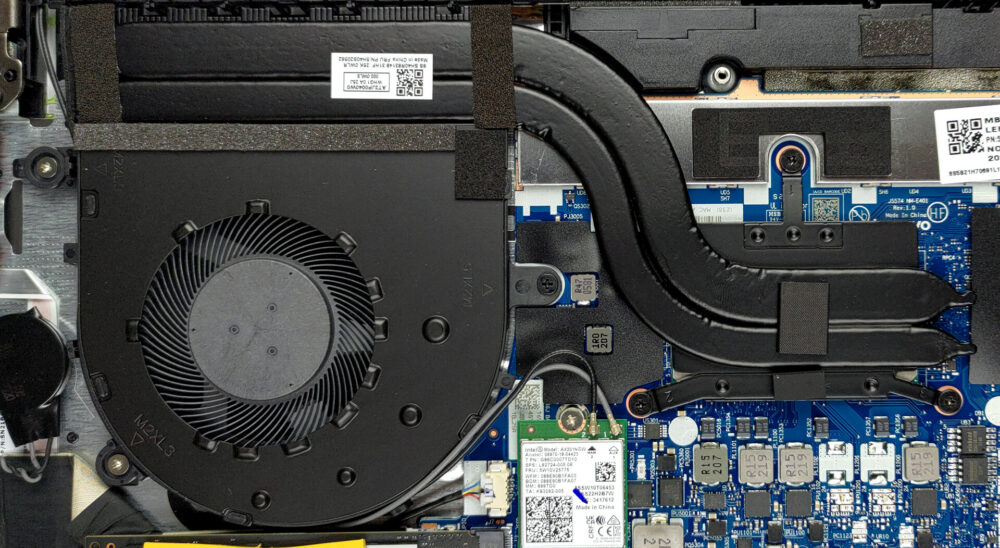 Calidad de la pantalla
El Lenovo IdeaPad 5 (15″, 2022) en nuestra configuración está equipado con un panel IPS Full HD con número de modelo BOE NV156FHM-N4S (BOE0AB0). Su diagonal es de 15,6″ (39,62 cm), y la resolución es de 1920 х 1080 píxeles. La relación de pantalla es de 16:9, y estamos ante una densidad de píxeles de – 142 ppi, y un paso de 0,18 х 0,18 mm. La pantalla se convierte en Retina cuando se ve a una distancia igual o superior a 60 cm (24″) (a partir de esta distancia el ojo deja de diferenciar los píxeles por separado, y es normal para mirar un portátil).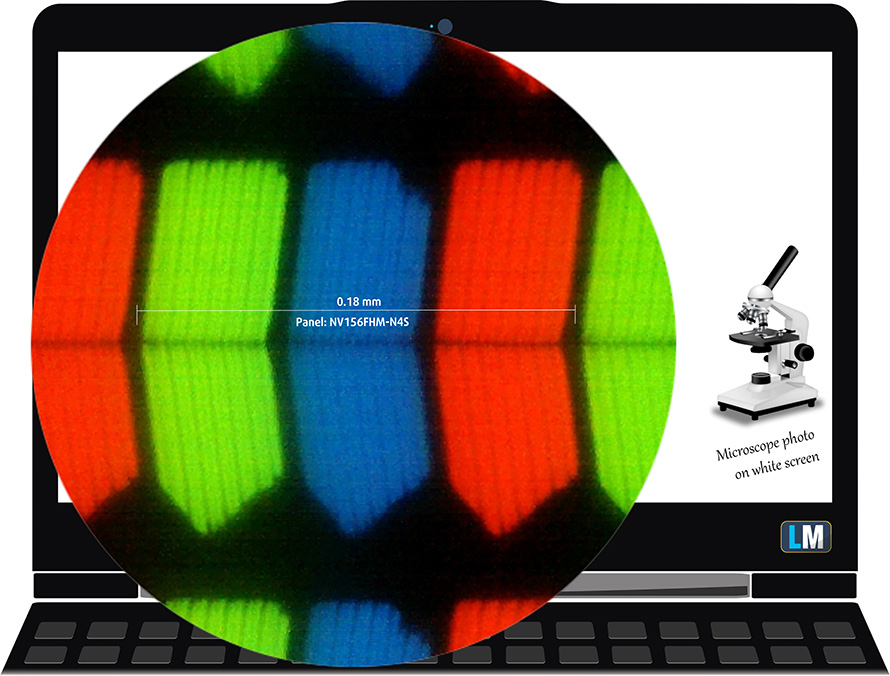 Los ángulos de visión son excelentes. Ofrecemos imágenes a 45° para evaluar la calidad de la imagen.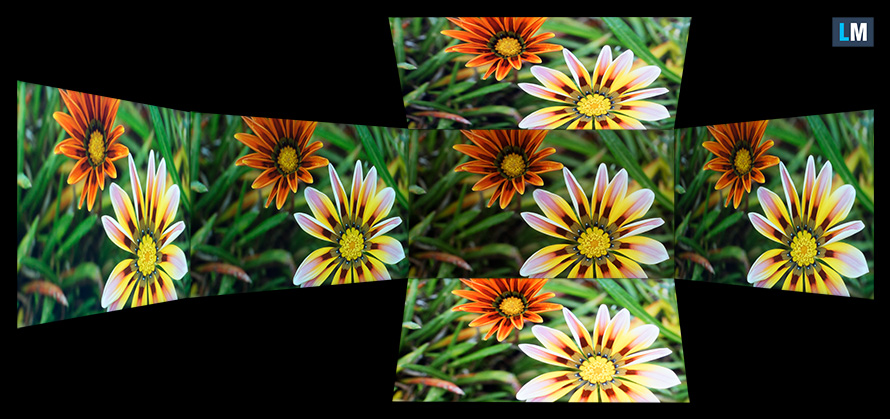 También un vídeo con el enfoque y la exposición bloqueados.
El brillo máximo medido de 374 nits en el centro de la pantalla y 350 nits como media para toda la zona, con una desviación máxima del 12%. La temperatura de color correlacionada en una pantalla blanca es de 7070K, más fría que el estándar sRGB de 6500K.
En la siguiente ilustración se puede ver cómo funciona la pantalla desde el punto de vista de la uniformidad. En otras palabras, la fuga de luz de la fuente de luz.
Los valores de dE2000 superiores a 4,0 no deberían darse, y este parámetro es uno de los primeros que deberías comprobar si pretendes usar el portátil para trabajos sensibles al color. La relación de contraste es buena: 1180:1.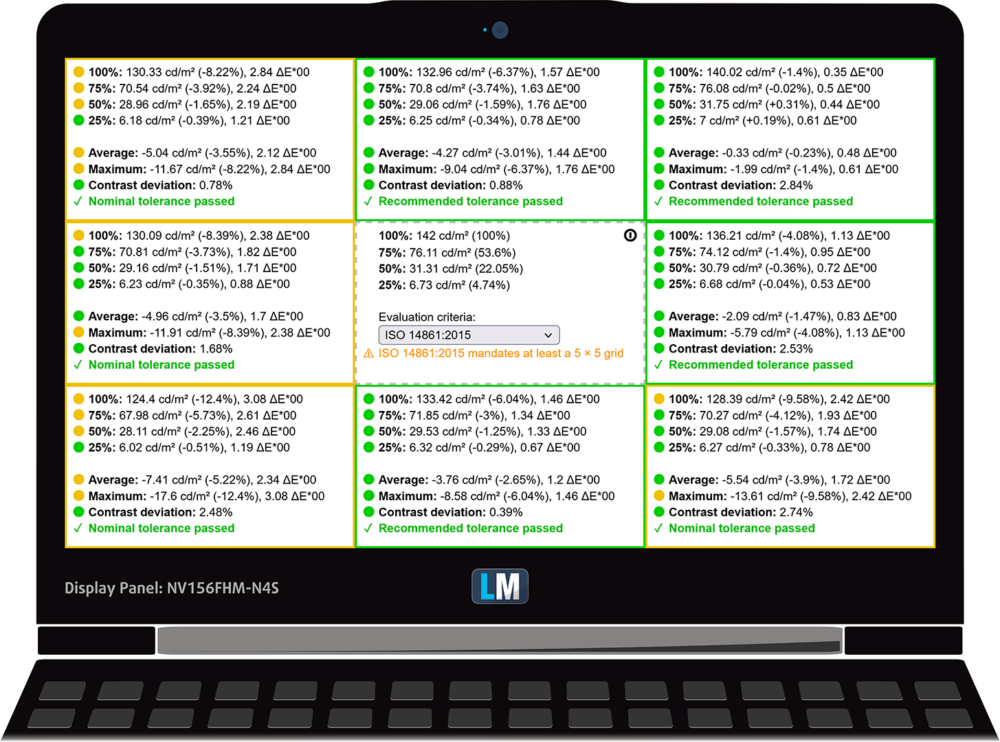 Para asegurarnos de que estamos en la misma página, nos gustaría hacer una pequeña introducción a la gama de colores sRGB y al Adobe RGB. Para empezar, está el Diagrama de Cromaticidad Uniforme CIE 1976 que representa el espectro visible de los colores por el ojo humano, dándole una mejor percepción de la cobertura de la gama de colores y la precisión del color.
Dentro del triángulo negro, verás la gama de colores estándar (sRGB) que está siendo utilizada por millones de personas en la televisión de alta definición y en la web. En cuanto al Adobe RGB, se utiliza en cámaras profesionales, monitores, etc. para la impresión. Básicamente, los colores dentro del triángulo negro son utilizados por todo el mundo y esta es la parte esencial de la calidad del color y la precisión del color de un portátil convencional.
Aun así, hemos incluido otros espacios de color como el famoso estándar DCI-P3 utilizado por los estudios de cine, así como el estándar digital UHD Rec.2020. Rec.2020, sin embargo, es todavía una cosa del futuro y es difícil que las pantallas actuales lo cubran bien. También hemos incluido la llamada gama de Michael Pointer, o gama de Pointer, que representa los colores que se dan de forma natural a nuestro alrededor cada día.
La línea de puntos amarilla muestra la cobertura de la gama de colores del Lenovo IdeaPad 5 (15″, 2022).
Su pantalla cubre el 50% del sRGB/ITU-R BT.709 (estándar web/HDTV) en CIE1976.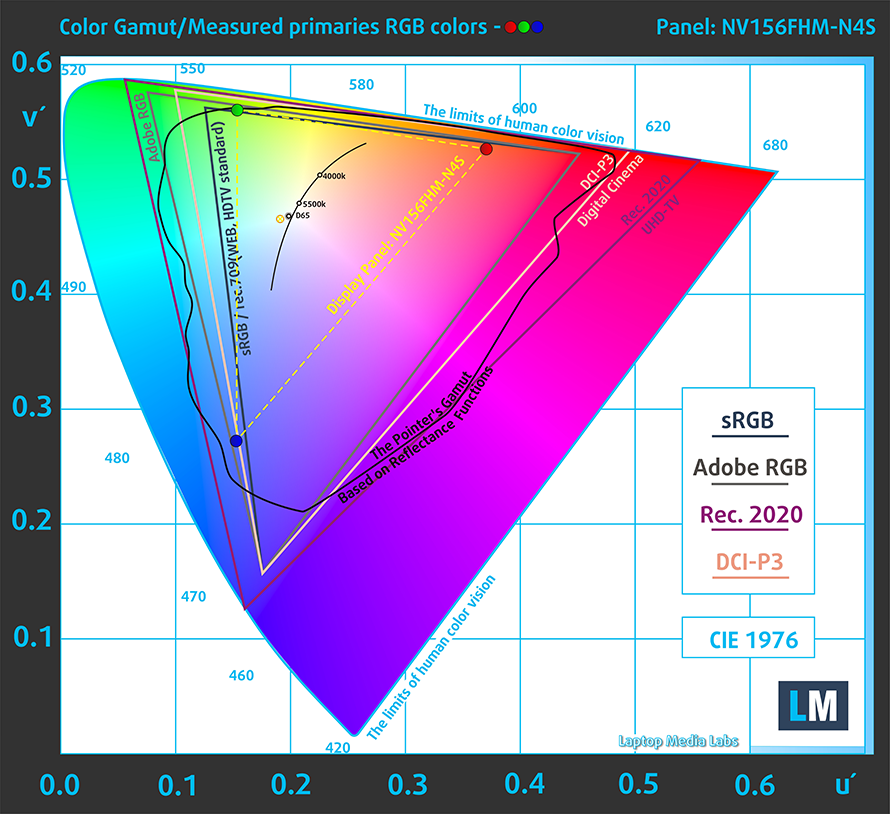 Nuestro perfil "Design and Gaming" ofrece una temperatura de color óptima (6500K) con una luminancia de 140 cd/m2 y un modo de gamma sRGB.
Probamos la precisión de la pantalla con 24 colores de uso común, como la piel humana clara y oscura, el cielo azul, la hierba verde, el naranja, etc. Puedes comprobar los resultados en condiciones de fábrica y también, con el perfil "Diseño y Juego".
Abajo puedes comparar las puntuaciones del Lenovo IdeaPad 5 (15″, 2022) con la configuración por defecto (izquierda), y con el perfil "Juego y diseño web" (derecha).
La siguiente figura muestra lo bien que la pantalla es capaz de reproducir las partes realmente oscuras de una imagen, lo que es esencial cuando se ven películas o se juega con poca luz ambiental.
La parte izquierda de la imagen representa la pantalla con la configuración de fábrica, mientras que la derecha es con el perfil "Gaming and Web Design" activado. En el eje horizontal se encuentra la escala de grises y en el eje vertical la luminancia de la pantalla. En los dos gráficos siguientes puedes comprobar fácilmente cómo maneja tu pantalla los matices más oscuros, pero ten en cuenta que esto también depende de la configuración de tu pantalla actual, la calibración, el ángulo de visión y las condiciones de luz del entorno.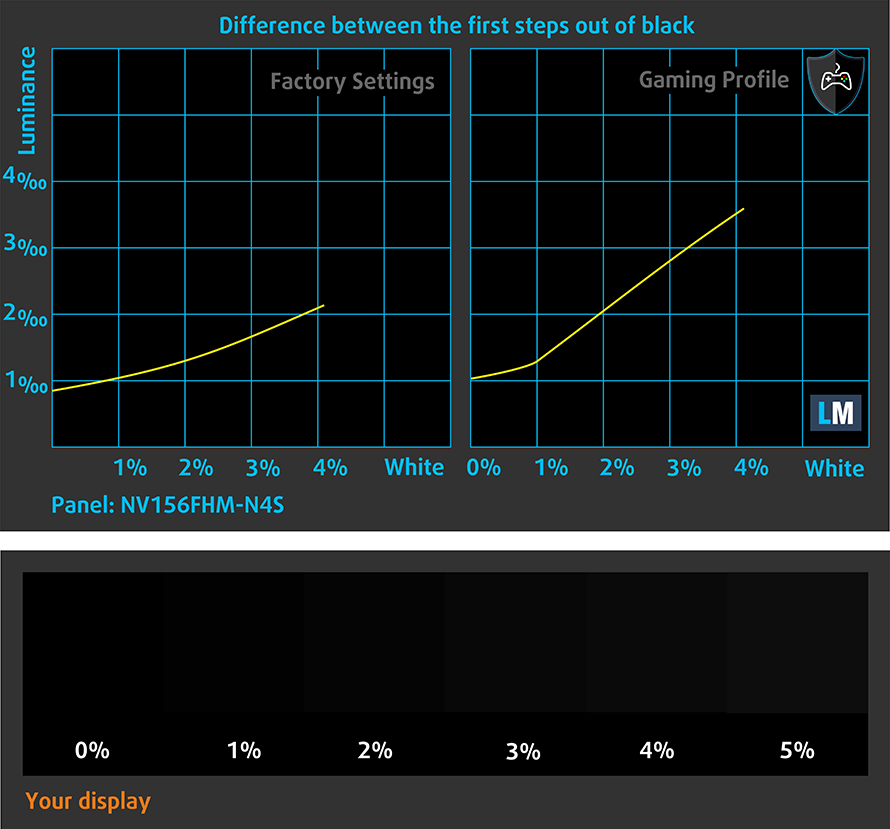 Tiempo de respuesta (capacidad de juego)
Probamos el tiempo de reacción de los píxeles con el método habitual de "negro a blanco" y "blanco a negro" del 10% al 90% y viceversa.
Registramos el tiempo de caída + el tiempo de subida = 19 ms.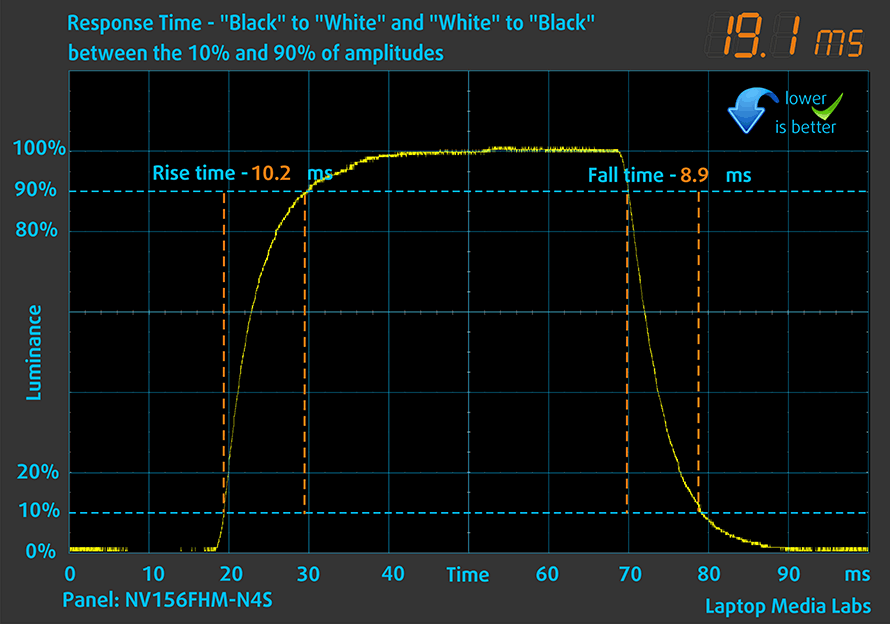 A continuación, comprobamos el tiempo de reacción de los píxeles con el método habitual "Gray-to-Gray" del 50% de blanco al 80% de blanco y viceversa entre el 10% y el 90% de la amplitud.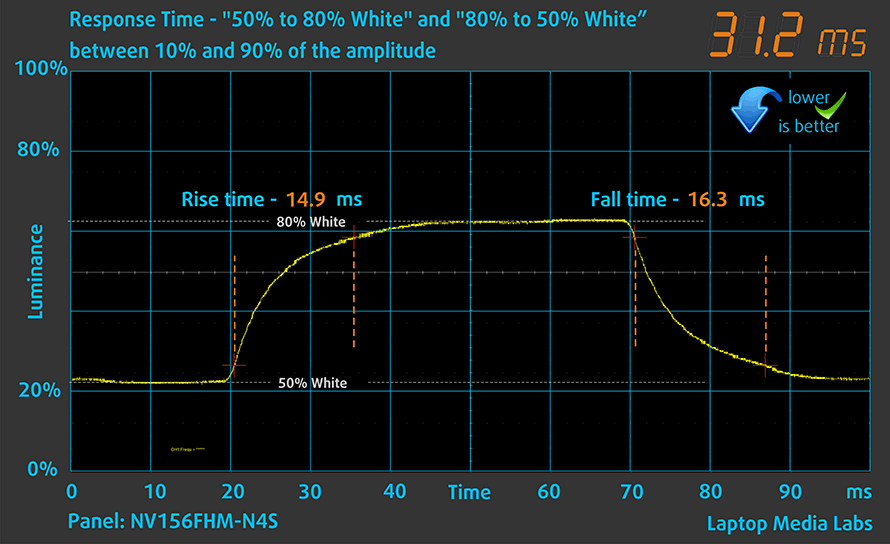 PWM (parpadeo de la pantalla)
La modulación por ancho de pulso (PWM) es una forma sencilla de controlar el brillo del monitor. Al bajar el brillo, la intensidad de la luz de fondo no se reduce, sino que la electrónica la apaga y la enciende con una frecuencia indistinguible para el ojo humano. En estos impulsos de luz, la relación de tiempo luz/no luz varía, mientras que el brillo permanece inalterado, lo que es perjudicial para tus ojos. Puedes leer más sobre esto en nuestro artículo dedicado a PWM.
La pantalla del Lenovo IdeaPad 5 (15″, 2022) no utiliza PWM para ajustar sus niveles de brillo en ningún momento. Esto hace que sea cómodo de usar durante largos periodos de trabajo, sin dañar tus ojos en este aspecto.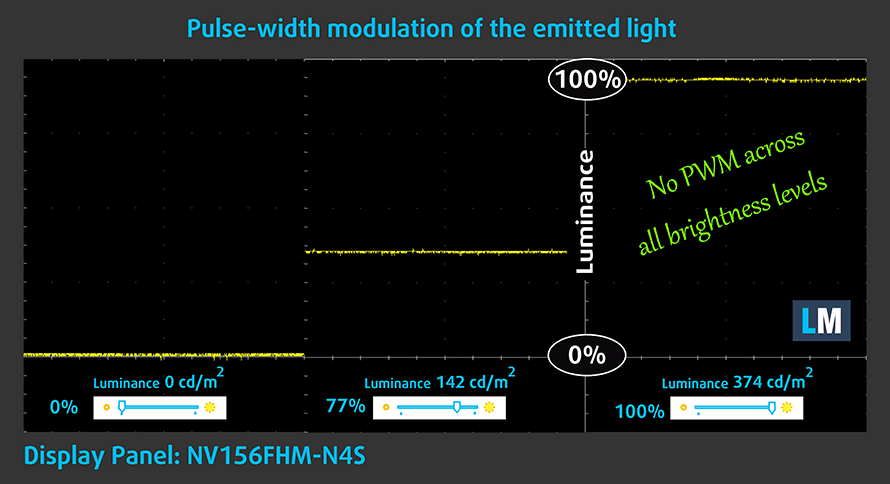 Emisiones de luz azul
La instalación de nuestro perfil Health-Guard no sólo elimina el PWM, sino que también reduce las dañinas emisiones de luz azul, al tiempo que mantiene los colores de la pantalla con precisión perceptiva. Si no estás familiarizado con la luz azul, la versión TL;DR es: emisiones que afectan negativamente a tus ojos, piel y todo tu cuerpo. Puedes encontrar más información al respecto en nuestro artículo dedicado a la luz azul.
Medición del nivel de brillo
Las pantallas con revestimiento brillante son a veces un inconveniente en condiciones de luz ambiental elevada. Mostramos el nivel de reflexión en la pantalla del portátil correspondiente cuando la pantalla está apagada y el ángulo de medición es de 60° (en este caso, el resultado es de 49,4 GU, que no es demasiado brillante).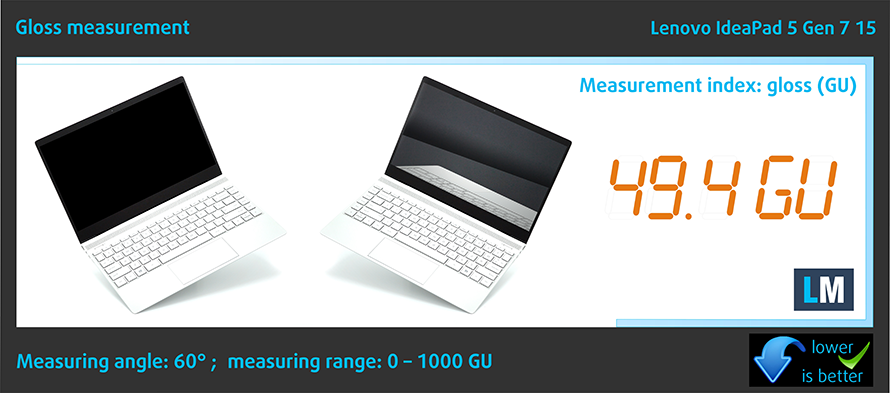 Comprar nuestros perfiles
Dado que nuestros perfiles se adaptan a cada modelo de pantalla, este artículo y su respectivo paquete de perfiles están pensados para configuraciones de Lenovo IdeaPad 5 (15″, 2022) con 15,6″ FHD IPS BOE NV156FHM-N4S (BOE0AB0).
*Si tiene problemas con la descarga del archivo adquirido, intente utilizar otro navegador para abrir el enlace que recibirá por correo electrónico. Si el destino de la descarga es un archivo .php en lugar de un archivo comprimido, cambie la extensión del archivo a .zip o póngase en contacto con nosotros en [email protected]
Lea más sobre los perfiles AQUÍ.
Además de recibir perfiles eficientes y respetuosos con la salud, al comprar los productos de LaptopMedia también apoyas el desarrollo de nuestros laboratorios, donde probamos los dispositivos para elaborar las reseñas más objetivas posibles.
Sonido
Los altavoces frontales del Lenovo IdeaPad 5 (15″, 2022) producen un sonido de calidad decente. Sin embargo, hay ligeras desviaciones en todo el rango de frecuencias.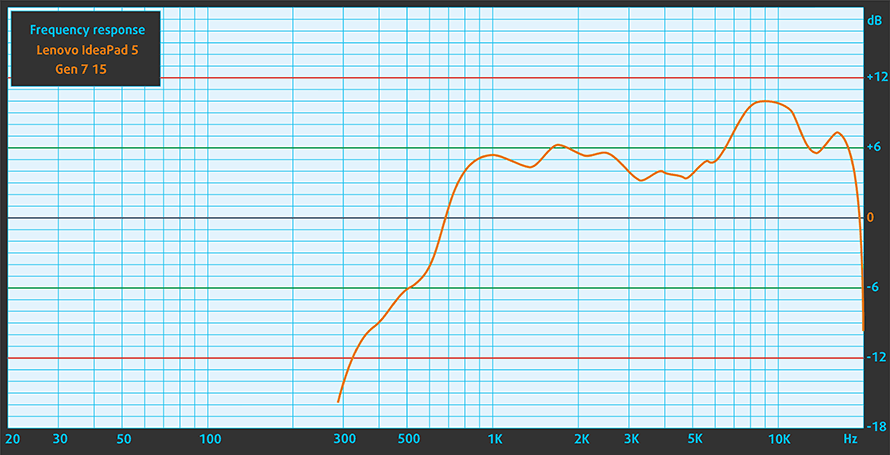 Controladores
Todos los drivers y utilidades para este portátil se pueden encontrar aquí: https://pcsupport.lenovo.com/us/en/products/laptops-and-netbooks/5-series/ideapad-5-15ial7/downloads/driver-list
Batería
Ahora, realizamos las pruebas de batería con la configuración de rendimiento de Windows Better activada, el brillo de la pantalla ajustado a 120 nits, y todos los demás programas desactivados excepto el que estamos probando en el portátil. Aquí, la batería de 57Wh dura 11 horas y 32 minutos de navegación web, o 9 horas y 27 minutos de reproducción de vídeo.
In order to simulate real-life conditions, we used our own script for automatic web browsing through over 70 websites.
For every test like this, we use the same video in HD.
Opciones de CPU
La versión Intel de este portátil se puede encontrar con el Core i3-1215U, Core i5-1235U, Core i7-1255U, Core i5-1240P, o Core i7-1260P.
Results are from the Cinebench R23 CPU test (the higher the score, the better)
Los resultados proceden de nuestra prueba de referencia de Photoshop (cuanto más baja sea la puntuación, mejor)
Opciones de GPU
En cuanto a los gráficos, tienes la Intel UHD Graphics para el Core i3 (debido a la memoria de un solo canal), la Iris Xe Graphics G7 con 80EUs para los Core i5s, y la Iris Xe Graphics G7 con 96EUs para los Core i7s. Además, puedes optar por una GPU dedicada en forma de NVIDIA GeForce MX550 con 2GB de VRAM GDDR6.
Pruebas de juego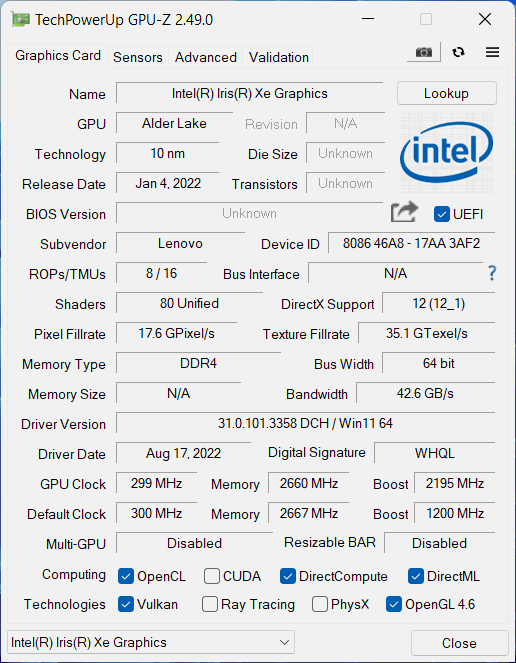 | CS:GO | HD 1080p, Bajo(Comprobar ajustes) | HD 1080p, Medio(Comprobar ajustes) | HD 1080p, MAX (Compruebala configuración) |
| --- | --- | --- | --- |
| Promedio de FPS | 76 fps | 50 fps | 31 fps |

| DOTA 2 | HD 1080p, Bajo(Comprobar ajustes) | HD 1080p, Normal (Comprobar ajustes) | HD 1080p, Alto (Comprobar ajustes) |
| --- | --- | --- | --- |
| FPS medios | 112 fps | 57 fps | 32 fps |
Temperaturas y confort

Carga máxima de la CPU
En esta prueba utilizamos el 100% de los núcleos de la CPU, monitorizando sus frecuencias y la temperatura del chip. La primera columna muestra la reacción del ordenador a una carga corta (2-10 segundos), la segunda columna simula una tarea seria (entre 15 y 30 segundos), y la tercera columna es un buen indicador de lo bueno que es el portátil para cargas largas como el renderizado de vídeo.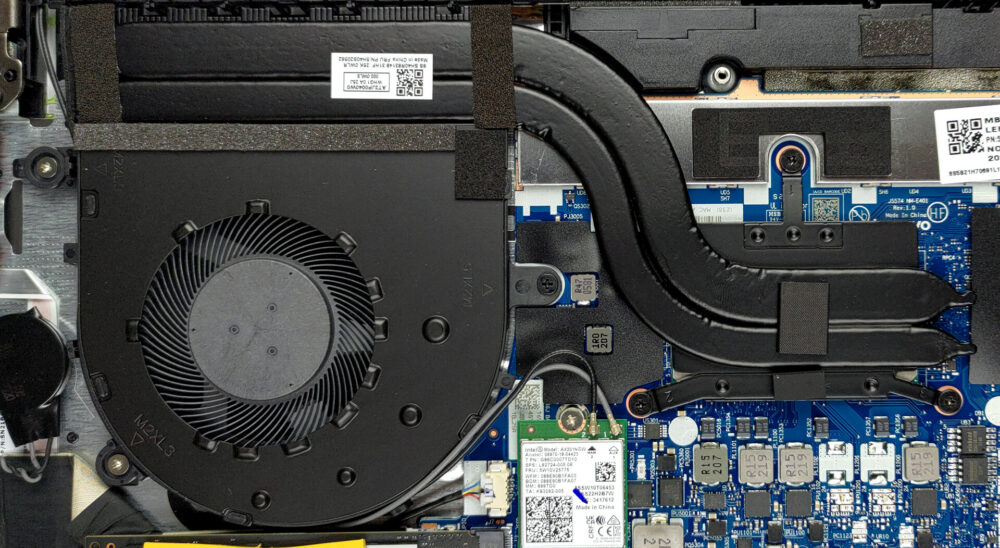 Frecuencia media de los núcleos P; frecuencia media de los núcleos E; temperatura de la CPU; potencia del paquete
| Intel Core i5-1235U (15W TDP) | 0:02 – 0:10 seg. | 0:15 – 0:30 seg. | 10:00 – 15:00 min |
| --- | --- | --- | --- |
| Lenovo IdeaPad 5 (15″, 2022) | 3,60 GHz @ 3,08 GHz @ 73°C @ 55W | 3,44 GHz @ 2,95 GHz @ 88°C @ 51W | 2,80 GHz @ 2,49 GHz @ 69°C @ 35W |
| Lenovo ThinkPad L14 Gen 3 | 3,20 GHz @ 2,77 GHz @ 83°C @ 44W | 3,10 GHz @ 2,71 GHz @ 94°C @ 43W | 1,89 GHz @ 1,95 GHz @ 72°C @ 20W |
| Acer Aspire Vero (AV14-51) | 3,63 GHz @ 2,87 GHz @ 84°C @ 55W | 2,73 GHz @ 2,36 GHz @ 81°C @ 33W | 2,49 GHz @ 2,23 GHz @ 79°C @ 28W |
| MSI Modern 14 (C12M) | 3,17 GHz @ 2,69 GHz @ 77°C @ 45W | 3,10 GHz @ 2,61 GHz @ 81°C @ 45W | 2,69 GHz @ 2,45 GHz @ 78°C @ 35W |
| Dell Latitude 15 5530 | 3,57 GHz @ 3,02 GHz @ 94°C @ 52W | 2,03 GHz @ 2,09 GHz @ 76°C @ 21W | 2,24 GHz @ 2,19 GHz @ 64°C @ 23W |
Sorprendentemente, el IdeaPad 5 (15″, 2022) es el dispositivo con mejor rendimiento en esta prueba. Termina la carga Prime95 con 35W de consumo sostenido y una temperatura de 69°C. Este sistema de refrigeración definitivamente podrá lidiar con los procesadores de la serie P de 28W.
Comodidad durante la carga completa
Lo que también es genial es que el gran ventilador mueve mucho aire, pero no produce demasiado ruido. Además, el punto más caliente del teclado siempre está por debajo de los 36°C.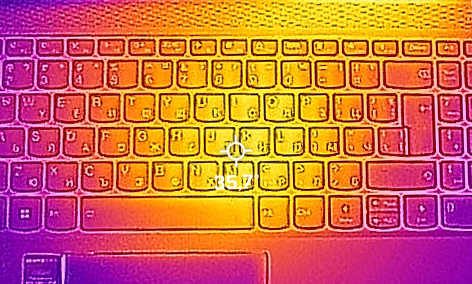 Veredicto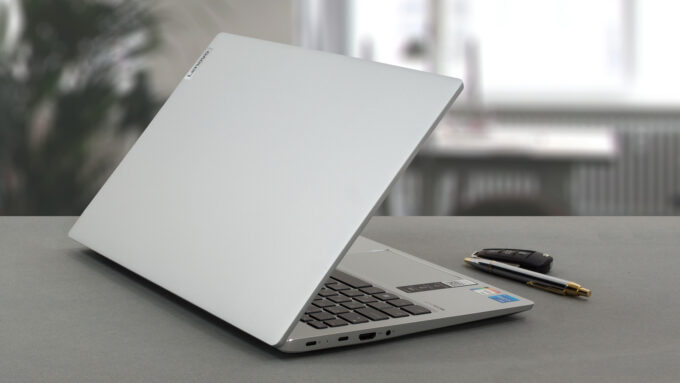 Vale, digamos que tienes unos 700-800 dólares en tu cuenta bancaria, que no están destinados a facturas, comida o strippers. Y necesitas desesperadamente un nuevo portátil, que vas a utilizar como conductor diario, y como caballo de batalla. ¿Qué deberías hacer? Bueno, si te gustan los juegos, puedes echar un vistazo al IdeaPad Gaming 3 (15″, 2022), o al Nitro 5 (AN515-58). Pero si no necesitas una máquina de juegos, e incluso prefieres algo que venga en un conjunto elegante, que tenga una construcción rígida y una sensación de calidad superior, entonces el IdeaPad 5 (15″, 2022) podría ser el dispositivo para ti.
Para ser completamente honestos, hay dos cosas que nos han pillado desprevenidos. La primera es, sin duda, la calidad de construcción del modelo totalmente metálico. No se flexiona, la tapa se abre con una sola mano, y lo único que nos decepcionó fue el sistema de elevación de la base, que funciona cuando la tapa está abierta demasiado.
El rendimiento, sin embargo, fue único. Incluso un chip de "15W" logra sostener 35W en carreras largas, lo que lo hace útil no sólo para la navegación diaria, sino también para la edición de fotos y, por qué no, para la animación o para el cálculo de ecuaciones complejas.
El panel IPS del Lenovo IdeaPad 5 (15″, 2022) tiene una resolución Full HD, ángulos de visión cómodos, una buena relación de contraste y una retroiluminación que no parpadea. Por desgracia, sólo cubre la mitad de los colores que se encuentran en la web, lo que hace que este panel sea inapropiado para el trabajo profesional con contenido relacionado con el color. Hay que tener en cuenta que Lenovo ofrece este dispositivo con otros paneles de 1080p, uno de los cuales presenta una supuesta cobertura del 100% de sRGB.
La duración de la batería también es bastante buena. Nuestro modelo está equipado con una unidad de 57Wh, que se sitúa en el medio del espectro – hay opciones con baterías de 45Wh y con 76Wh. En cualquier caso, nuestro dispositivo consigue 11 horas y media de navegación web, o 9 horas y media de reproducción de vídeo. En nuestra experiencia, hemos comprobado que los modelos AMD de la misma serie proporcionan una mejor duración de la batería, así que esto es lo que esperamos de la versión AMD del IdeaPad 5 (15″, 2022).
Sin embargo, lo que puede ser un verdadero rompedor de tratos es la falta de opciones de actualización de la memoria. Sólo tienes un máximo de 16GB de RAM soldada, lo que puede no ser suficiente en algunas ocasiones. Por otro lado, tiene una ranura M.2 PCIe x4 Gen 4 para el almacenamiento, así como una bahía para unidades SATA de 2,5 pulgadas con el cable y los tornillos de montaje incluidos.
Sí, hay un par de características adicionales, que serán bastante convincentes – como la cámara web Full HD con un obturador de privacidad, o el lector de huellas dactilares opcional, incrustado en el botón de encendido.
Sin embargo, el que hace la elección eres tú. Si te decides por el IdeaPad 5 (15″, 2022), asegúrate de que adquieres el modelo de 16 GB, ya que probablemente tendrás problemas con los 8 GB en el futuro.
Puedes consultar los precios y configuraciones en nuestro sistema de especificaciones: https://laptopmedia.com/series/lenovo-ideapad-5-15-2022/
Pros
Carga USB Type-C + tarjeta SD
Gran rendimiento computacional
Sin PWM (AUO B140HAN04.E)
Ángulos de visión cómodos y buena relación de contraste (AUO B140HAN04.E)
Buena duración de la batería
Soporte para M.2 PCIe x4 Gen 4 + bahía para unidades SATA de 2,5 pulgadas con accesorios de montaje
Cámara web Full HD con obturador de privacidad + lector de huellas dactilares opcional
Cons
Cubre sólo el 50% de sRGB (AUO B140HAN04.E)
La memoria está soldada a la placa base