ASUS TUF Gaming F15 (FX506) review – a decent performer that is easy on your budget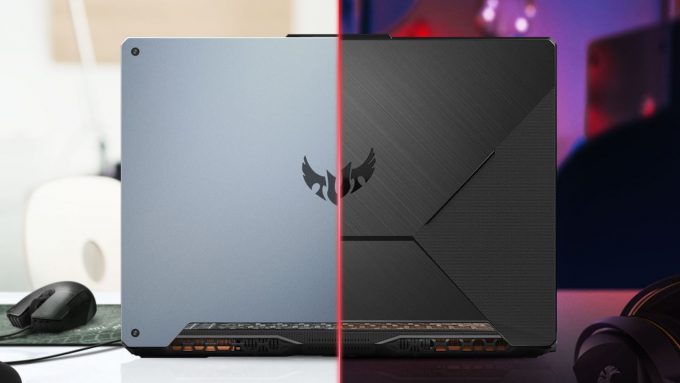 ASUS' TUF series has come a long way since their first TUF FX504 laptop. Not only did they broaden their pallet by offering AMD and Intel choices, but they have made effort to separate the brand from the shadow of ROG.
As Lao Tzu has once said, "Give a man a fish, and you feed him for a day. Teach him how to fish, and you feed him for a lifetime". Similarly, the TUF brand was thought the lessons of being a good laptop, which will prove more lucrative for the brand, than if they just leaned on getting people to buy the laptop just because of marketing, and the promises of the parent company – ASUS.
Of course, we are still yet to prove if what we just said applies to the TUF F15 (FX506). Ultimately, it is an Intel-based cousin to the TUF A15 (FA506), and the highest-tier configuration offers the octa-core Core i7-10870H in a combination with the NVIDIA GeForce GTX 1660 Ti. Additionally, there are more budget-friendly options like the Core i5-10200H/GTX 1650 combo.
By the way, the budget-conscious gamer will be happy to see a 144Hz 1080p IPS display, and Wi-Fi 6 onboard.
You can check the prices and configurations in our Specs System: https://laptopmedia.com/series/asus-tuf-gaming-f15-fx506/
Contents
Specs Sheet
Innolux N156HRA-EA1 (CMN1521)
HDD/SSD
hasta 8000GB SSD + hasta 2000GB HDD
OS
Windows 10 Home, Windows 11 Pro, Windows 11 Home, Windows 10 Pro
Material del cuerpo
Plastic / Polycarbonate, Aluminum
Dimensiones
359.8 x 256 x 24.7 ~ 24.9 mm (14.17" x 10.08" x 0.97")
2x USB Type-A
3.2 Gen 1 (5 Gbps)
1x USB Type-C
3.2 Gen 2 (10 Gbps)
Conector de audio
3.5 mm combo
Lector de huellas dactilares
Altavoces
2 Speakers, DTS: X Ultra
Ranura de bloqueo de seguridad
Kensington Lock
Todo ASUS TUF Gaming F15 (FX506) configuraciones
#CommissionsEarned
What's in the box?
Inside the package of this notebook, you will find either a 150W or a 180W power adapter, depending on the configurations. Also, there is the mandatory paperwork plus some stickers, which are becoming the face of ASUS TUF Gaming. By the way, ASUS is supplying you with the proprietory screws, connectors, and ribbon cable for SATA storage expansion.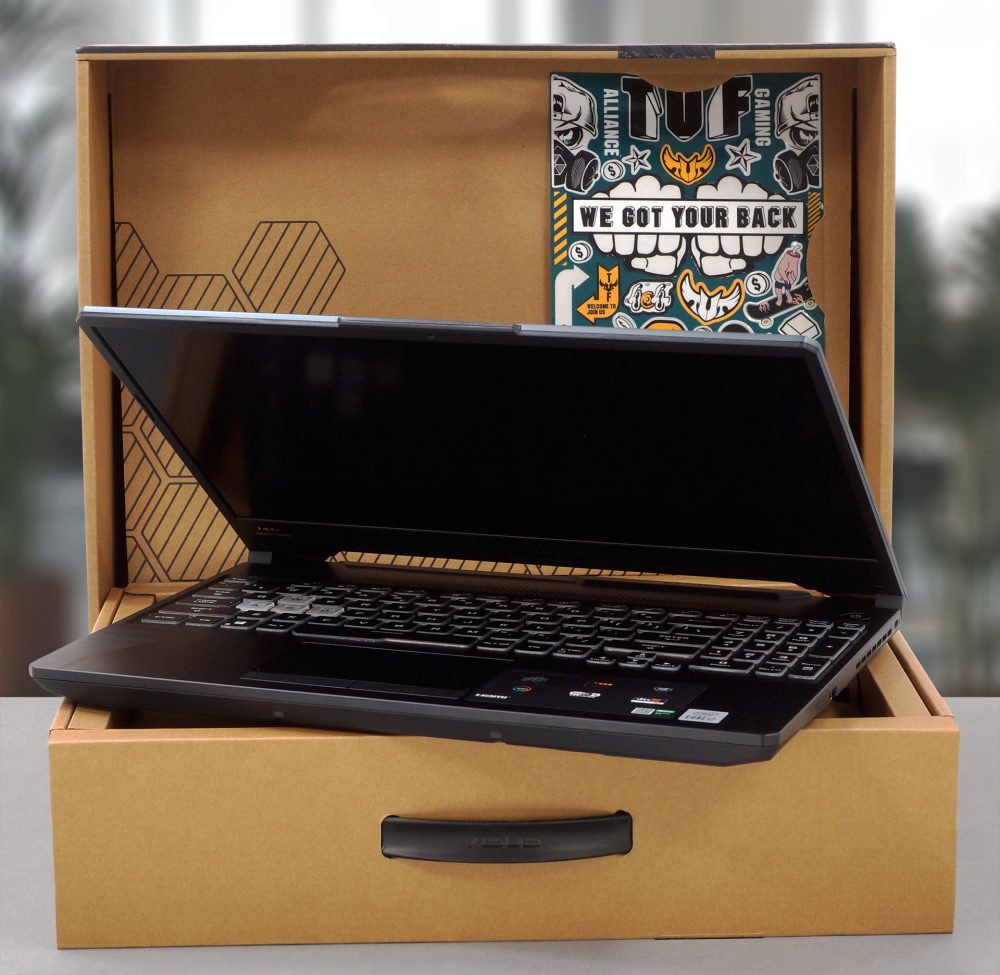 Design and construction
Similarly to last year's TUF A15, the F15 (FX506) can be purchased in two iterations regarding the design. The one we have here has a sleek aluminum lid, while the other features a plastic finish, with slightly more aggressive features. Either way, the chassis offers quite good structural integrity, despite being plastic. This is mainly thanks to the honeycomb design on the inside. ASUS also states that their machine is compliant with a plethora of MIL-STD-810H rigidity tests. As for the measurements, you get a laptop that has a profile of 24.7-24.9mm and weighs 2.30 kg – this is pretty much the middle ground for budget gaming.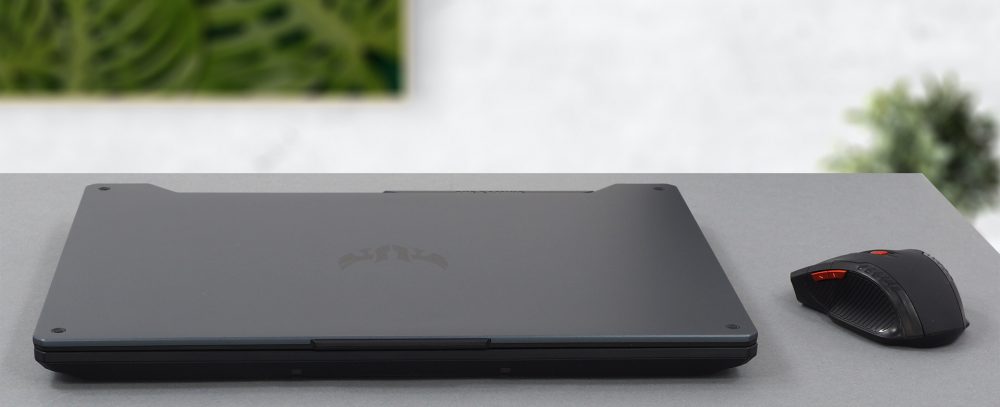 Although its lid can be opened with a single hand, the base lifts slightly from the ground, before it drops by itself, so we recommend using two hands for the process. In contrast to most of the ROG devices ASUS has released this year, the TUF F15 (FX506) has a Web camera above the matte display.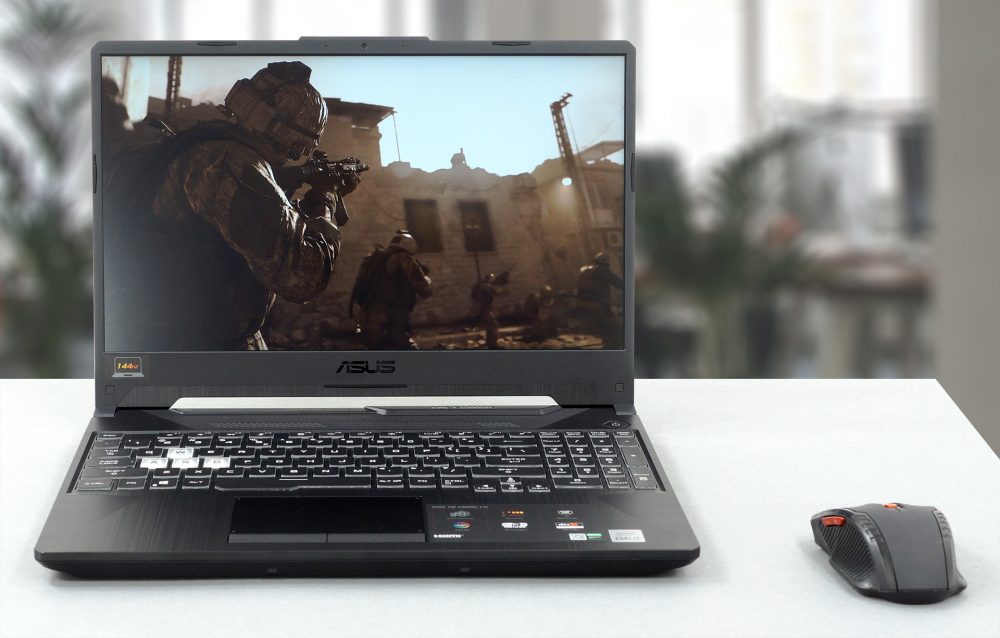 Let's take a look at the RGB backlit keyboard unit. It has a good key travel and somehow decent feedback, although it's not the clickiest out there. It is good to see that the Power button is separated from the keyboard and that there is a NumberPad section. Unfortunately, the Arrow keys are way too small for comfortable use. Thankfully, there is almost no deck flex.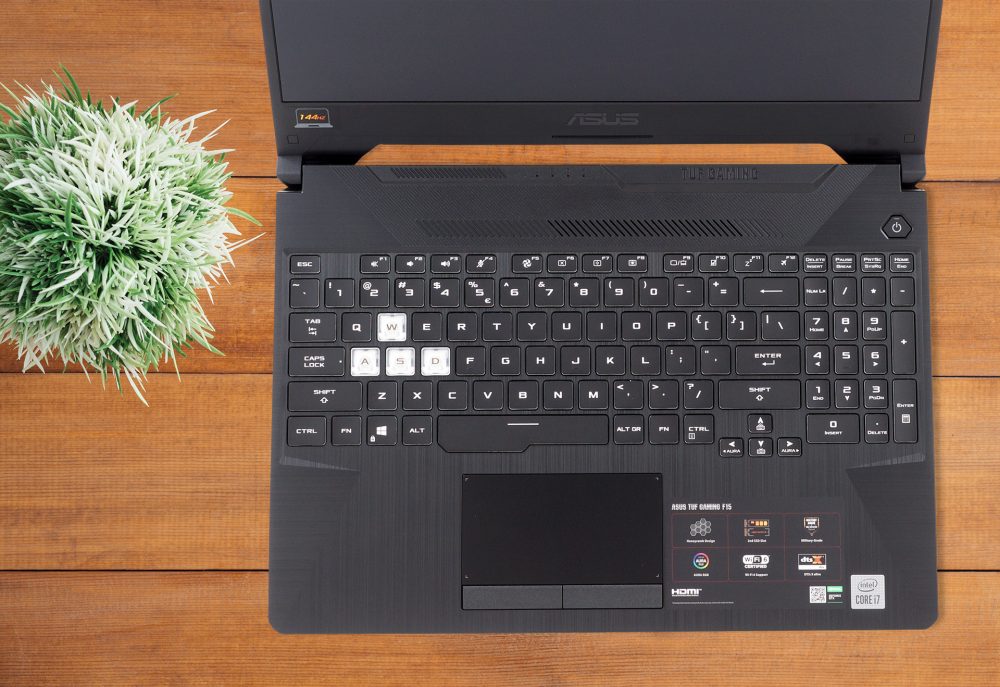 As for the touchpad, you get an extremely accurate unit, that works great in conjunction with the 144Hz display. It also has dedicated
buttons beneath the smooth touch-sensitive area, which will be liked by the masses.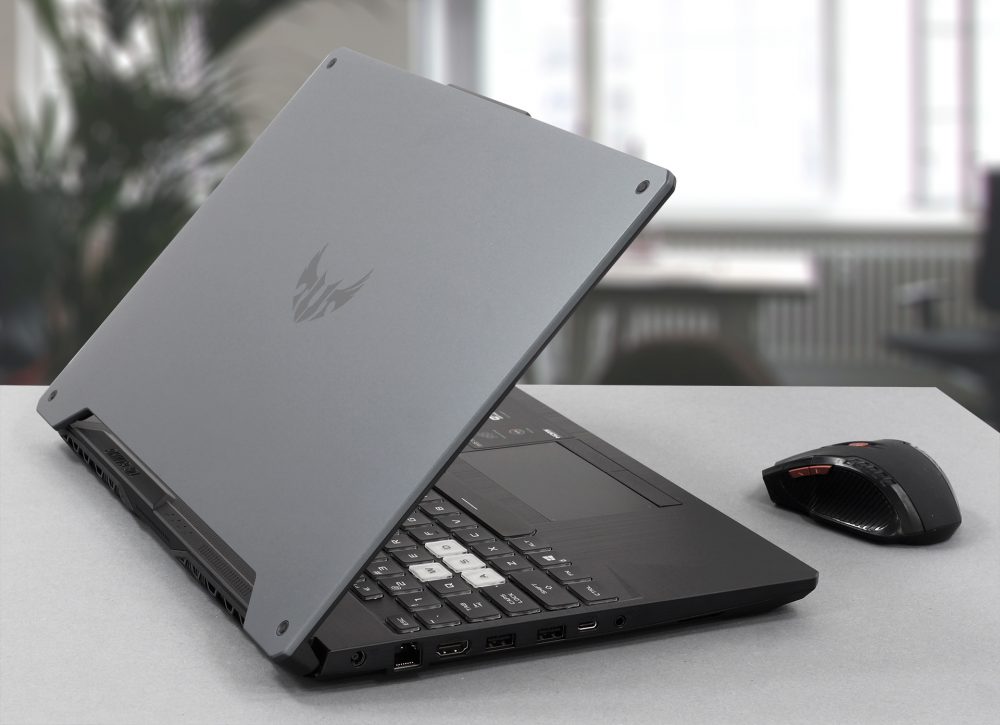 Now, the bottom panel is home to the speaker cutouts. But what is more interesting, is that the ventilation grills are almost fully blocked. However, as we found last year, the fans are sucking air from beneath the keyboard, as well, and probably the best explanation for partially closing the vents on the bottom is to channel the air in a specific way.
Hot air, respectively, goes out of the chassis from two grills on the back, and one on the right side of the notebook.

Ports
On the left side of the notebook, you will find the charging plug, an RJ-45 connector, an HDMI 2.0b connector, two USB Type-A 3.2 (Gen. 1) ports, a USB Type-C 3.2 (Gen. 2) port, and an audio jack. And on the right, there is only one USB Type-A 2.0 port, which would be best used as an external mouse or keyboard connector.
Disassembly, upgrade options and maintenance
To take this notebook apart, you need to undo 11 Phillips-head screws. As usual, the one in the bottom right corner remains attached to the bottom panel and slightly lifts the edge so you can start the prying process from there.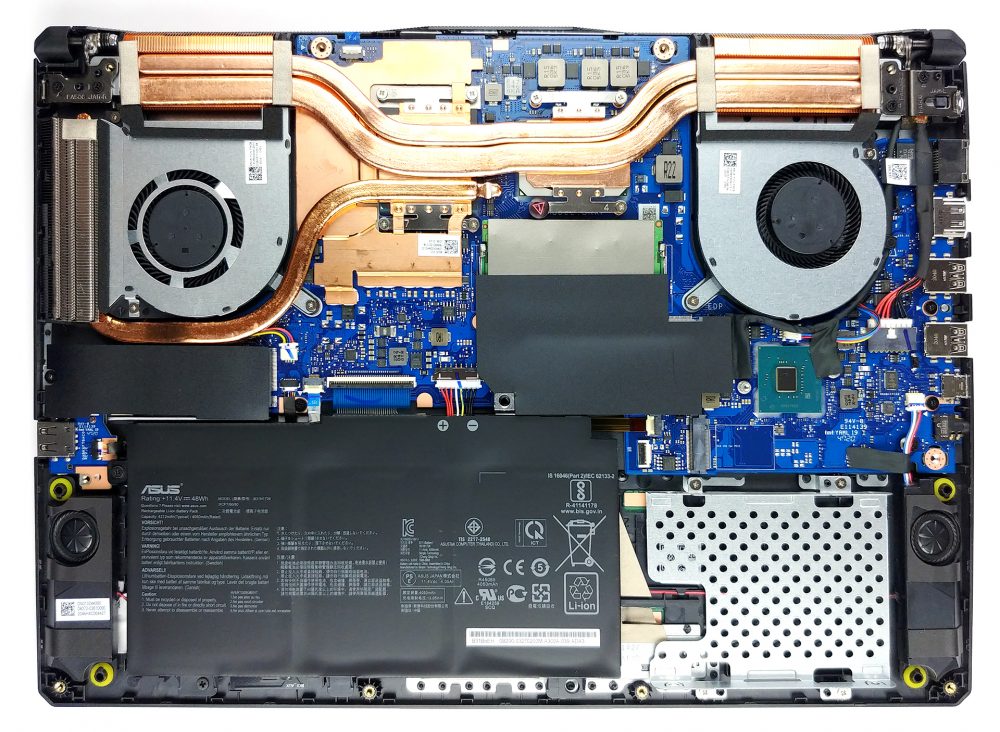 Inside we see a 48Wh battery pack. And thankfully, ASUS offers an option that comes with a 90Wh unit.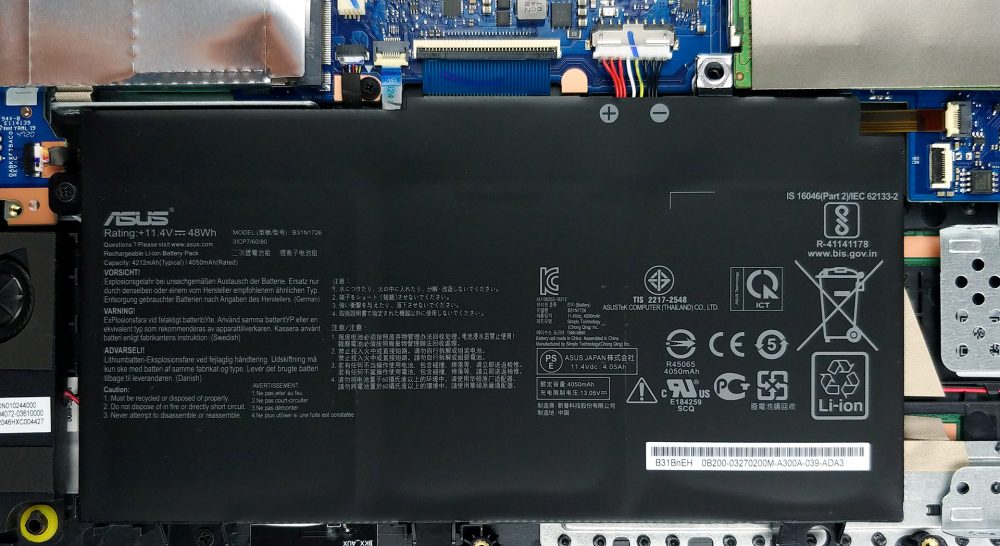 In terms of memory, there are two SODIMM slots, which should support up to 64GB of DDR4 RAM in dual-channel. Interestingly, there are two M.2 NVMe slots as well as a 2.5-inch SATA drive bay. However, if you manage to get a configuration with the larger battery, you won't get the option to expand the storage with a 2.5-inch device.
The cooling solution here includes two heat pipes shared between the CPU and the GPU, as well as a third one intended for the graphics card only. Additionally, there is a metal bracket that helps in dissipating the heat from the video memory modules. And although there are three heat sinks, ASUS opted against cooling the VRMs.

Display quality
ASUS TUF F15 (FX506) is equipped with a Full HD IPS panel, model number Innolux N156HRA-EA1 (CMN1521). Its diagonal is 15.6″ (39.62 cm), and the resolution 1920 х 1080 pixels. The screen ratio is 16:9, and we are looking at a pixel density of – 142 ppi, and a pitch of 0.18 х 0.18 mm. The screen turns into Retina when viewed at a distance equal to or greater than 60cm (24″) (from this distance one's eye stops differentiating the separate pixels, and it is normal for looking at a laptop).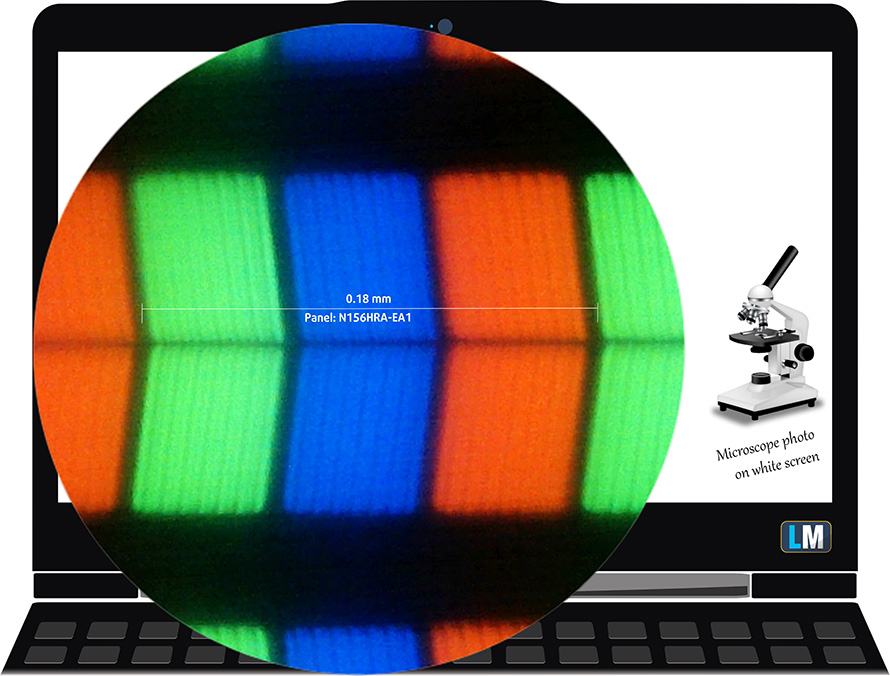 It has comfortable viewing angles. We offer images at 45° to evaluate image quality.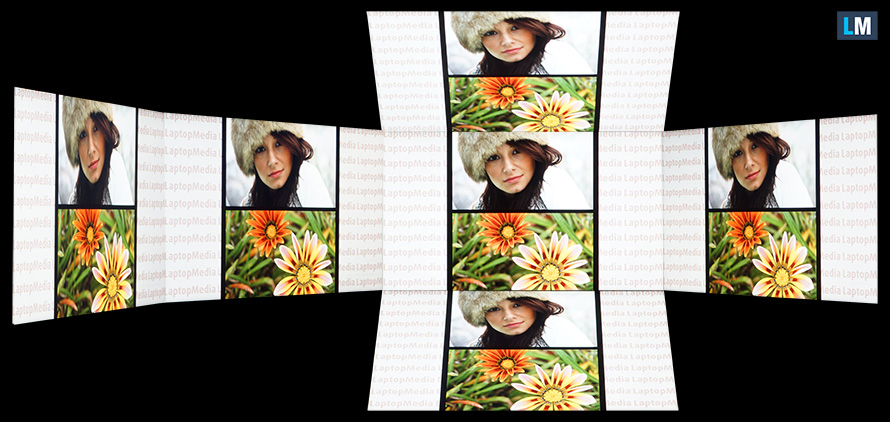 The measured maximum brightness of 306 nits in the middle of the screen and 278 nits as an average for the whole area, with a maximum deviation of 14%. The Correlated Color Temperature on a white screen is 6930K – slightly colder than the optimal for the sRGB standard of 6500K.
In the illustration below you can see how the display performs from a uniformity perspective. In other words, the leakage of light from the light source.
Values of dE2000 over 4.0 should not occur, and this parameter is one of the first you should check if you intend to use the laptop for color-sensitive work. The contrast ratio is good – 1480:1.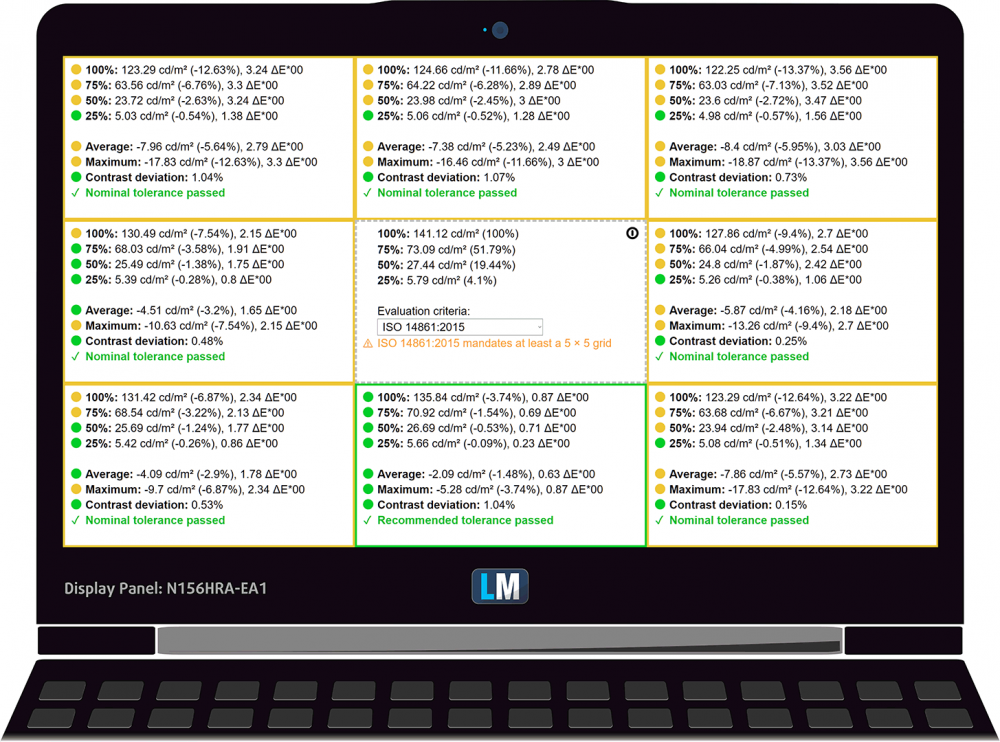 To make sure we are on the same page, we would like to give you a little introduction to the sRGB color gamut and the Adobe RGB. To start, there's the CIE 1976 Uniform Chromaticity Diagram that represents the visible specter of colors by the human eye, giving you a better perception of the color gamut coverage and the color accuracy.
Inside the black triangle, you will see the standard color gamut (sRGB) that is being used by millions of people on HDTV and on the web. As for the Adobe RGB, this is used in professional cameras, monitors, etc for printing. Basically, colors inside the black triangle are used by everyone and this is the essential part of the color quality and color accuracy of a mainstream notebook.
Still, we've included other color spaces like the famous DCI-P3 standard used by movie studios, as well as the digital UHD Rec.2020 standard. Rec.2020, however, is still a thing of the future and it's difficult for today's displays to cover that well. We've also included the so-called Michael Pointer gamut, or Pointer's gamut, which represents the colors that naturally occur around us every day.
The yellow dotted line shows ASUS TUF F15 (FX506)'s color gamut coverage.
Its display covers only 57% of the sRGB/ITU-R BT.709 (web/HDTV standard) in CIE1976.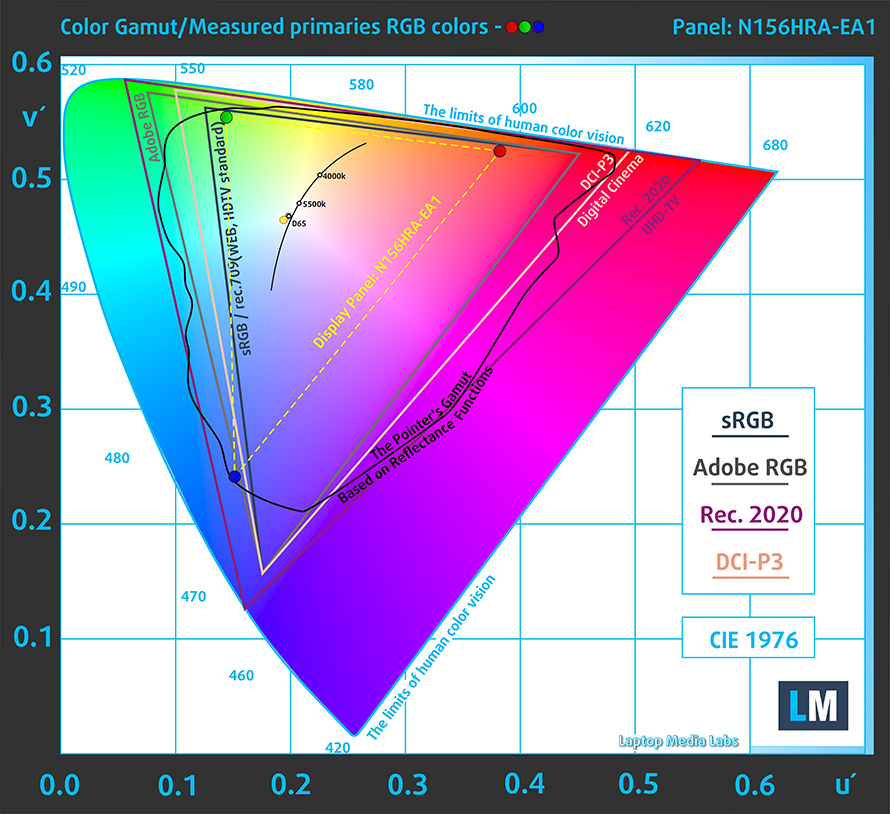 Our "Design and Gaming" profile delivers optimal color temperature (6500K) at 140 cd/m2 luminance and sRGB gamma mode.
We tested the accuracy of the display with 24 commonly used colors like light and dark human skin, blue sky, green grass, orange, etc. You can check out the results at factory condition and also, with the "Design and Gaming" profile.
Below you can compare the scores of ASUS TUF F15 (FX506) with the default settings (left), and with the "Gaming and Web design" profile (right).
The next figure shows how well the display is able to reproduce really dark parts of an image, which is essential when watching movies or playing games in low ambient light.
The left side of the image represents the display with stock settings, while the right one is with the "Gaming and Web Design" profile activated. On the horizontal axis, you will find the grayscale, and on the vertical axis – the luminance of the display. On the two graphs below you can easily check for yourself how your display handles the darkest nuances but keep in mind that this also depends on the settings of your current display, the calibration, the viewing angle, and the surrounding light conditions.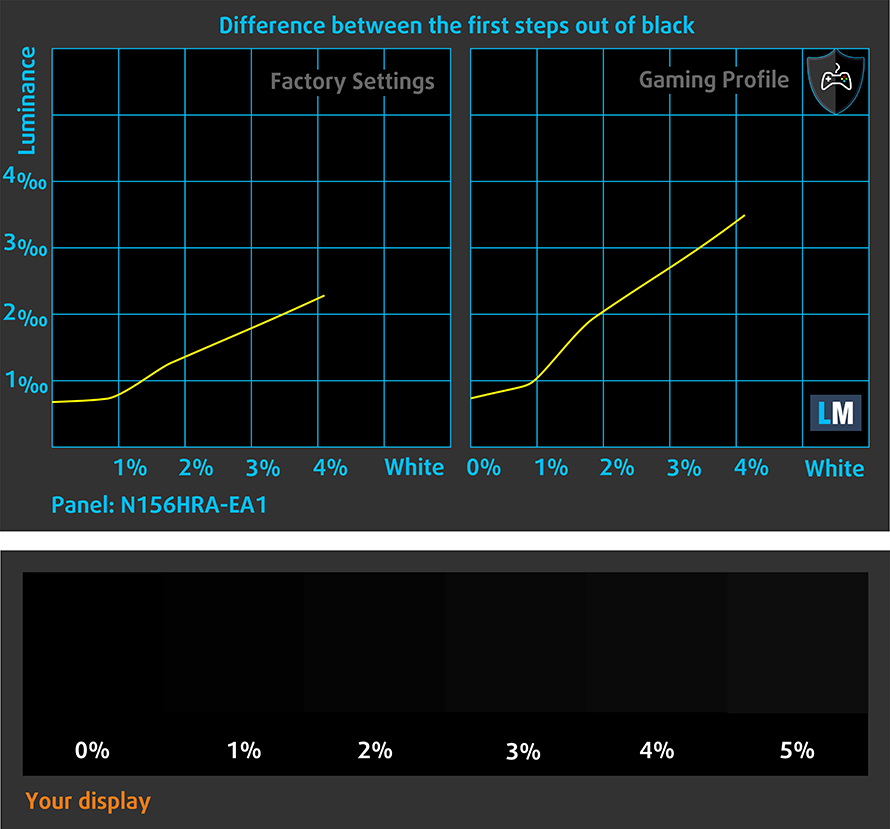 Response time (Gaming capabilities)
We test the reaction time of the pixels with the usual "black-to-white" and "white-to-black" method from 10% to 90% and vice versa.
We recorded Fall Time + Rise Time = 21 ms.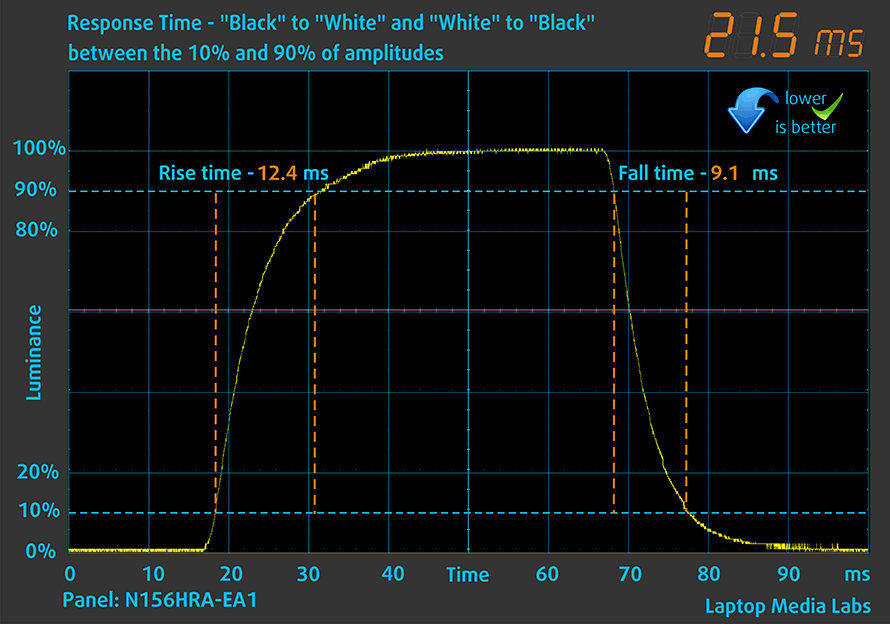 After that, we test the reaction time of the pixels with the usual "Gray-to-Gray" method from 50% White to 80% White and vice versa between 10% and 90% of the amplitude.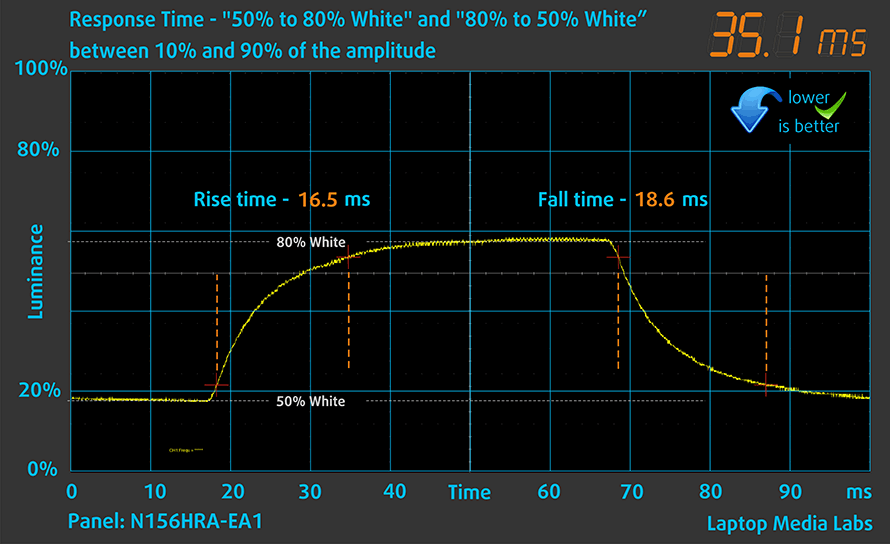 PWM (Screen flickering)
Pulse-width modulation (PWM) is an easy way to control monitor brightness. When you lower the brightness, the light intensity of the backlight is not lowered, but instead turned off and on by the electronics with a frequency indistinguishable to the human eye. In these light impulses, the light/no-light time ratio varies, while brightness remains unchanged, which is harmful to your eyes. You can read more about that in our dedicated article on PWM.
ASUS TUF F15 (FX506)'s backlight doesn't flicker at any brightness level. This makes it comfortable for long work periods, without introducing any additional eyestrain in this aspect.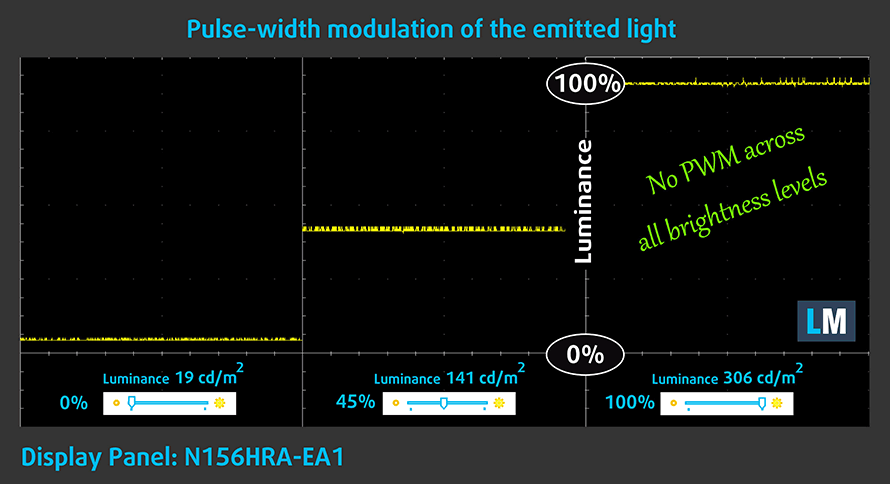 Blue light emissions
Installing our Health-Guard profile not only eliminates PWM but also reduces the harmful Blue Light emissions while keeping the colors of the screen perceptually accurate. If you're not familiar with the Blue light, the TL;DR version is – light emissions that negatively affect your eyes, skin, and your whole body. You can find more information about that in our dedicated article on Blue Light.
Conclusion
ASUS TUF F15 (FX506) in the configuration we tested has a 144Hz IPS panel with a Full HD resolution, comfortable viewing angles, good contrast ratio, and a non-flickering backlight. Unfortunately, the color coverage is rather narrow, with 57% of the sRGB gamut. Also, the fast 144Hz refresh rate is paired with slow pixel response times, which results in ghosting in fast-paced games.

Buy our profiles
Since our profiles are tailored for each individual display model, this article and its respective profile package are meant for ASUS TUF F15 (FX506) configurations with 15.6″ FHD IPS Innolux N156HRA-EA1 (CMN1521).
*Should you have problems with downloading the purchased file, try using a different browser to open the link you'll receive via e-mail. If the download target is a .php file instead of an archive, change the file extension to .zip or contact us at [email protected]
Read more about the profiles HERE.
Además de recibir perfiles eficientes y respetuosos con la salud, al comprar los productos de LaptopMedia también apoyas el desarrollo de nuestros laboratorios, donde probamos los dispositivos para elaborar las reseñas más objetivas posibles.
Sound
ASUS TUF F15 (FX506)'s speakers are not the best out there, but they still sound decent. However, we saw deviations from clarity across the entire frequency spectrum.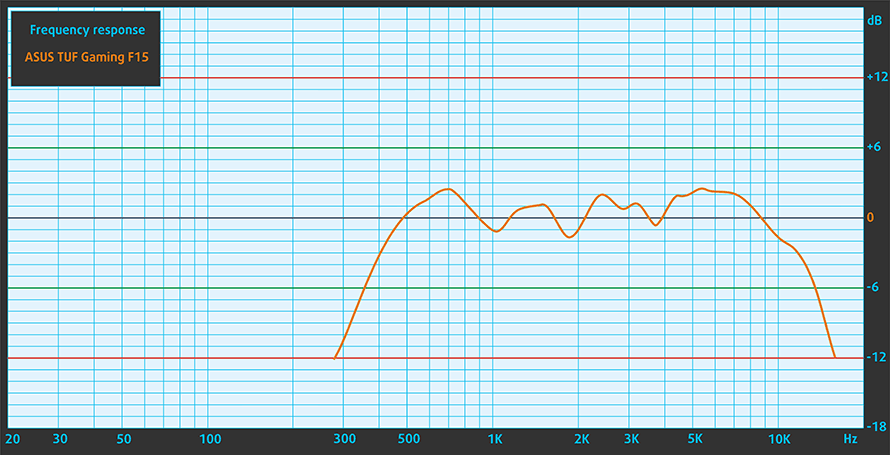 Drivers
All of the drivers and utilities for this notebook can be found here: https://www.asus.com/Laptops/For-Gaming/TUF-Gaming/ASUS-TUF-Gaming-F15/HelpDesk_Download/

Battery
Now, we conduct the battery tests with Windows Better performance setting turned on, screen brightness adjusted to 120 nits and all other programs turned off except for the one we are testing the notebook with. As we said, our unit was equipped with the smaller 48Wh battery pack. It was able to deliver 5 hours of web browsing, 4 hours and 43 minutes of video playback, and under an hour of gaming.
Para simular las condiciones de la vida real, utilizamos nuestro propio script de navegación automática por más de 70 sitios web.
Para cada prueba de este tipo, utilizamos el mismo vídeo en HD.
Utilizamos la prueba de F1 2017 en bucle para simular el juego real.
CPU options
Currently, this model can be equipped with Core i5-10300H, Core i7-10750H, and Core i7-10870H.
Los resultados proceden de la prueba de CPU Cinebench 20 (cuanto mayor sea la puntuación, mejor)
Los resultados proceden de nuestra prueba de referencia de Photoshop (cuanto más baja sea la puntuación, mejor)
GPU options
And for the graphics, you get a rather budget spectrum of devices – the GTX 1650, GTX 1650 Ti, and the GTX 1660 Ti.
Los resultados proceden de la prueba 3DMark: Time Spy (Graphics) (cuanto mayor sea la puntuación, mejor)
Los resultados proceden de la prueba 3DMark: Fire Strike (Graphics) (cuanto mayor sea la puntuación, mejor)
Los resultados proceden de la prueba comparativa Unigine Superposition (cuanto mayor sea la puntuación, mejor)
Gaming tests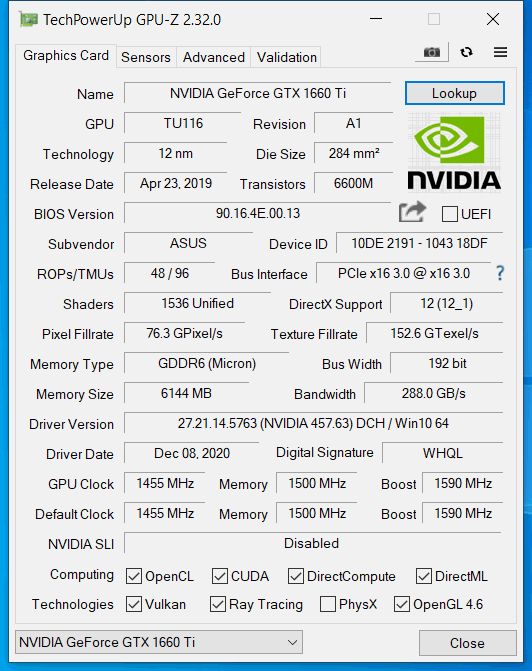 Temperatures and comfort
Max CPU load
In this test we use 100% on the CPU cores, monitoring their frequencies and chip temperature. The first column shows a computer's reaction to a short load (2-10 seconds), the second column simulates a serious task (between 15 and 30 seconds), and the third column is a good indicator of how good the laptop is for long loads such as video rendering.
Average core frequency (base frequency + X); CPU temp.
| Intel Core i7-10870H (45W TDP) | 0:02 – 0:10 sec | 0:15 – 0:30 sec | 10:00 – 15:00 min |
| --- | --- | --- | --- |
| ASUS TUF F15 (FX506) (Turbo Mode) | 3.06 GHz (B+39%) @ 73°C @ 82W | 2.82 GHz (B+28%) @ 75°C @ 68W | 2.43 GHz (B+10%) @ 73°C @ 50W |
| MSI GP66 Leopard (High Performance) | 3.49 GHz (B+59%) @ 95°C @ 85W | 3.34 GHz (B+52%) @ 95°C @ 76W | 3.24 GHz (B+47%) @ 93°C @ 70W |
| MSI GP76 Leopard (High Performance) | 3.67 GHz (B+67%) @ 95°C @ 103W | 3.53 GHz (B+60%) @ 95°C @ 94W | 3.33 GHz (B+51%) @ 90°C @ 80W |
Interestingly, ASUS was more lenient with the power limit on the Core i7-10870H, especially when compared to the MSI GP66 and GP76 Leopard, where they were able to maintain up to 70W and 80W respectively. This results in a significantly lower clock speed, but also a lower temperature on the CPU die, which can be a good tradeoff in some occasions.
Real-life gaming
| NVIDIA GeForce GTX 1660 Ti | GPU frequency/ Core temp (after 2 min) | GPU frequency/ Core temp (after 30 min) | GPU frequency/ Core temp (max fans) |
| --- | --- | --- | --- |
| ASUS TUF F15 (FX506) | 1716 MHz @ 75°C | 1725 MHz @ 71°C | – |
| MSI GF75 Thin 10Sx | 1663 MHz @ 80°C | 1628 MHz @ 86°C | – |
| HP Omen 15 2020 (15-ek0000) | 1628 MHz @ 72°C | 1601 MHz @ 77°C | – |
| Dell G5 15 5500 | 1455 MHz @ 83°C | 1440 MHz @ 91°C | – |
| ASUS TUF A17 (F706) | 1667 MHz @ 77°C | 1666 MHz @ 79°C | – |
| MSI GL75 | 1714 MHz @ 66°C | 1708 MHz @ 68°C | 1726 MHz @ 62°C |
| Lenovo Legion Y7000 (2019) | 1669 MHz @ 66°C | 1646 MHz @ 71°C | – |
| Lenovo Legion Y540 | 1761 MHz @ 76°C | 1752 MHz @ 82°C | – |
| Acer Nitro 5 (AN515-54) | 1660 MHz @ 78°C | 1635 MHz @ 84°C | – |
When we were using the "Turbo" preset from the Armoury Crate we saw very high frequencies and a well-maintained temperature. However, this was at the expense of high noise from the fans. It is also worth mentioning, that this unit's GPU works at 90W of TGP.
Gaming comfort
Thankfully, though, the hottest spot on the keyboard measured at only 37°C. Even more importantly, the WASD area remains cool, because it is located right above one of the fans, and it draws air through the keyboard.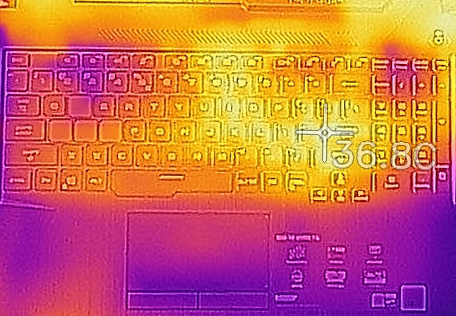 Verdict
Okay, guys, this is a notebook that may provide a different experience, depending not only on the configuration but on the actual model, itself. Some units pack a 90Wh battery, which should provide great screen-on times, but on the other hand, it lacks the 2.5-inch SATA drive bay. Respectively, the 48Wh unit provides horrendous battery life but enables the option of further storage expansion. On the bright side, there are still two M.2 NVMe slots for SSDs, and two RAM SODIMM slots for up to 64GB of DDR4 memory in dual-channel mode.
Interestingly, the computational performance was below the average for the Core i7-10870H in our case. And the reason for that is the modest power limit at which it operates. The benefit of that is the lower temperature, which enables more cooling capacity for the GPU.
ASUS TUF F15 (FX506) in the configuration we tested has a 144Hz IPS panel with a Full HD resolution, comfortable viewing angles, good contrast ratio, and a non-flickering backlight. Unfortunately, the color coverage is rather narrow, with 57% of the sRGB gamut. Also, the fast 144Hz refresh rate is paired with slow pixel response times, which results in ghosting in fast-paced games.
So, this notebook happens to be a good allrounder with tech that is now inferior to the latest found on the market. But given the fact, that the availability of notebooks equipped with the Ampere graphics cards is still incredibly low, going for a GTX 1660 Ti is a very sensible decision – both in terms of price, and performance.
Personally, we would choose the TUF A15, because of its superior processors, based on AMD's Zen 2 architecture, or even look elsewhere, because the F15 (FX506) lacks an SD card reader and Thunderbolt connectivity. Nevertheless, should you see a good deal on the market, we couldn't and wouldn't stop you from getting it.
Pros
Capable cooling
Two M.2 PCIe slots and two RAM SODIMM slots
The display doesn't flicker at any brightness level (AUO B156HAN08.2)
Budget-concsious
Wi-Fi 6 and an RGB backlight
Cons
144Hz panel has slow pixel response times (AUO B156HAN08.2)
Tiny Arrow keys
Covers only 57% of the sRGB gamut
No Thunderbolt connector and SD card reader
You can check the prices and configurations in our Specs System: https://laptopmedia.com/series/asus-tuf-gaming-f15-fx506/