Razer Blade Pro 17 (2021) vs Blade Pro 17 (2020) – what are the differences?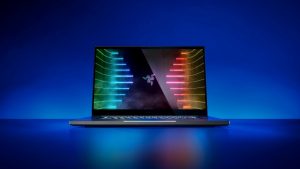 The 2020 version of the Razer Blade Pro 17 is a good gaming device and it seems that the 2021 variant will enhance the whole experience. This one is placed higher among the Razer laptop series because it offers some good features like great display options, powerful video cards, and good built quality.
It seems like the new one is no different. It comes with 8-core CPUs under the shell, you can have it with the latest NVIDIA Ampere mobile GPUs, and the optional 4K display complement the whole high-end picture.
Okay, let's start with the design as always. Like the other new Razer 2021 laptops, the Razer Blade Pro 17 isn't that different when compared to the last year's model. For a 17-incher, the profile is definitely thin – just 19.9mm. For a big laptop that can be equipped with a flagship video card, the weight of 2.75 kg seems normal. We like the thin bezels around the big display.
And while we are still talking about design, let's see some other important things in this regard.

We have a per-key RGB Razer Chroma backlit keyboard with anti-ghosting tech and a big touchpad with multi-touch gestures.
A look up and the display is in front of us. The 1080p 360 Hz panel looks like a great piece of hardware for gaming and there is a 1440p option as well that still has a high refresh rate of 165 Hz. For people with wallets wide enough, Razer offers a 4K 120 Hz display.
In terms of power, this one has nothing to hide. The CPU is the Intel Core i7-10875H and the main event is the GPU options. The NVIDIA Ampere video cards are the heart of the new Razer Blade Pro 17 devices. The top option is the flagship GeForce RTX 3080 but if you don't need all that power, the GeForce RTX 3070 is a great choice too that will save you some money. We don't know the exact GPU versions (TGP) but we'll update the specs below when we find them out. Anyway, these video cards will for sure offer some decent performance bump compared to last year's devices that can be found with up to GeForce RTX 2080 Super Max-Q.
All configurations of the Razer Blade Pro 17 (2021):
All configurations of the Razer Blade Pro 17 (2020):