Razer Blade 15 (2021) vs Blade 15 (2020) – what are the differences?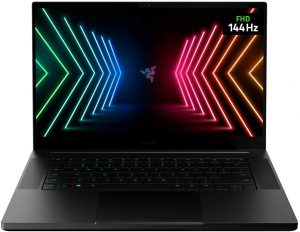 The base models are always important because most of the time, users are buying them instead of some mid-rangers or high-end notebooks because of the affordable price tag. Well, the Razer Blade 15 is not a typical base device but actually, Razer really calls it "Base Model". Since we are in 2021, a new, updated variant has been revealed to the public, and yes, that's the Razer Blade 15 (2021).
From the outside, there is nothing new and actually, it's not a needed thing. Razer has its own distinctive design and its laptops are easily recognizable among the other brands. So, the new one has a 2020 look which has its positives – the device has thin bezels around the display (the lower "chin" is a bit on the thick side but nothing too serious). The whole thin visual representation is supplemented by the profile that is just 19.9 mm – exactly the same as the 2020 model. Speaking of identical specs, the new one weighs almost just like the old one – 2.09 kg.
It seems that Razer has decided to keep the keyboard and the touchpad unchanged. The keyboard is a Razer Chroma RGB unit and because it's a base model this one offers a single-zone RGB backlight. The touchpad is big which means more gliding surface for your fingers which is good in situations when you don't have a mouse around you.
The real upgrades are hidden under the hood. For starters, the CPU is still the same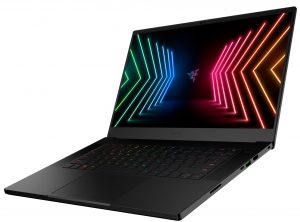 – Intel Core i7-10750H. It sounds okay for a base model and a processor with 6 cores and 12 threads is still enough for most games on the market. GPU-wise, the new Razer Blade 15 can be configured with some fresh NVIDIA Ampere offerings – the GeForce RTX 3060 or GeForce RTX 3070.
The 2021 version can be picked with more powerful video cards compared to the old variant that can be bought with up to GeForce RTX 2070.  Still, the default GPU option is the GeForce GTX 1660 Ti which is a decent and affordable mid-range product without RTX capabilities.
When it comes to displays, we can spot a 144 Hz IPS panel with a 1080p resolution (probably the same as the last year's). For users who want a crisper image, there is a QHD option that is equipped with a high-refresh-rate too – 165 Hz. This one will cost you an additional amount of money, but the higher resolution panel combined with an RTX 3070 or RTX 3060 probably will provide you better gaming experience than the base 1080p display.
All configurations of the Razer Blade 15 (2021):
All configurations of the Razer Blade 15 (2020):