[Premilinary] AMD Radeon RX 6800M vs NVIDIA GeForce RTX 3080 (Laptop, 130W) – AMD have a contender for sure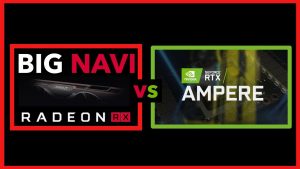 We could be at a turning point in the mobile GPU space, as laptops with the Radeon RX 6800M are starting to enter the market. We previously talked about how AMD is on the right path, thanks to a leak from AMD's driver releases. It showed that Team Red is preparing a high-end laptop GPU to rival the RTX Ampere 3000-series cards from NVIDIA. That was all the way back in March and low and behold, now, in June, the RX 6800M is out and available in several laptops. Let's see how it performs against the card that it's competing against, the RTX 3080 (Laptop, 130W).
Today we are comparing the RX 6800M against the RTX 3080 (Laptop, 130W).
This comparison is preliminary and will be updated when we have more tests available.

Specs table
| | RX 6800M | RTX 3070 (Laptop, 130W) |
| --- | --- | --- |
| Architecture | RDNA 2 | Ampere |
| Lithography | 7 nm | 8 nm |
| Base / Max Frequency | 2321MHz / 2581MHz | 1110MHz / 1545MHz |
| Memory Type | GDDR6-1600MHz | GDDR6-1500MHz |
| Memory capacity | 12GB | up to 16GB |
| Cores | 2560 | 6144 |
| Power Consumption | 145W+ | 130W |
| Memory bus | 192-bit | 256-bit |
| Memory bandwidth | 384 GB/sec | 384 GB/sec |
GPU benchmarks
Keep in mind that these aren't our own results, so take them with a grain of salt, as there are a lot of things that can affect the performance of the cards on a day-to-day basis. We start off and end with the 3DMark Time Spy Graphics test, where the RTX 3080 stood its ground with a 4% lead.
RX 6800M
RTX 3080 (Laptop, 130W)
3DMark Time Spy Graphics
11200
11665 (

+4%

)
Conclusion
These results aren't set in stone and anything can change. For all its worth, we would advise you to wait for our own reviews of laptops with the RX 6800M, so you can make the most informed decision. NVIDIA has dominated the mobile GPU market for a while, despite losing the throne in the CPU space. It feels like NVIDIA isn't safe even in the space that they dominated for so long. The RX 6800M doesn't need to be better, it just needs to be competitive, so people see that there are other viable alternatives.

All laptops with the RTX 3080 (Laptop, 130W):