[Preliminary] Apple M2 vs Apple M1 – So far, it looks pretty good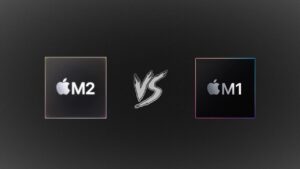 The new Apple M2 CPU is supposed to be a clear upgrade to the M1 which has already aged up a bit, being released more than a year and a half ago. Still, Apple devices do have good longevity, so the SoC is pretty relevant. With the new M2, the 5nm process is retained, but there is a new architecture for the performance and efficiency cores, dubbed "Avalanche" and "Blizzard", which replace the "Firestorm" and "Icestorm" cores on the M1.
The core count is still the same, with four performance and four efficiency cores. The bigger change stems down to the graphics, with Apple giving the M2 a GPU with either 8 or 10 cores, contrasting the 7 or 8 GPU cores on the M1.
The new SoC also uses LPDDR5 RAM, whereas the M1 has the older LPDDR4x, which in both chips, are put under an umbrella called unified memory, which means less travel time between the different types of memory, ensuring faster communication and better speeds.
And now, there seem to be some leaks and Geekbench results that are flooding the internet. Being the first responders that we are, we are right on the case, delivering a comparison between the Apple M2 and the M1.
Keep in mind that these are preliminary results and these tests aren't our own and you should take them with a grain of salt. 
You can learn more about both SoCs here: Apple M2 / Apple M1
Here is our Top Laptop CPU Ranking, where you can see how most laptop CPUs stack up against each other.

CPU benchmarks
The new M2 SoC shows some CPU improvements, scoring 14% higher in the Geekbench 5 Single-core score, and 20% higher in the Geekbench 5 Multi-core score.
Geekbench 5
Single-core
Multi-core
Apple M2
1919(

+14%

)
8928(

+20%

)
Apple M1
1687
7433
Conclusion
This is a nice increase in CPU performance from one generation to the next. Also, according to Apple itself, the bigger increase should be in the GPU department, where we see a core count increase, with up to a 10-core GPU. However, as we know, the M1 is a highly configurable and flexible chip to tinker with, as Apple was quick to roll out the M1 Pro, Max, and Ultra, so it would be a fair assessment that we can see M2 Pro, Max, or Ultra in the near future.

All laptops with the Apple M2 (8-core GPU):
All laptops with the Apple M2 (10-core GPU):
All laptops with the Apple M1: