[Preliminary] Apple M2 vs Apple M1 Pro – the new architecture pulls ahead in some workloads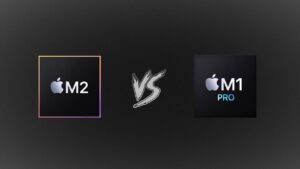 With the new Apple M2 being close to hitting the shelves, both online and in physical stores, people are starting to wonder, is this new M2 SoC worth it?
To give you a starting point in answering the question, we have a preliminary comparison between the M2 and the two versions of the M1 Pro, with both the 8-core and the 10-core model. So far these are leaked Geekbench 5 scores, which aren't official in any way, but probably do have some truth in them, in terms of how the chip performs under different types of loads.
Keep in mind that these are preliminary results and these tests aren't our own and you should take them with a grain of salt. 
You can learn more about both SoCs here: Apple M2 / Apple M1 Pro (8-core) / Apple M1 Pro (10-core)
Here is our Top Laptop CPU Ranking, where you can see how most laptop CPUs stack up against each other.

Specs table
| | M2 | M1 Pro |
| --- | --- | --- |
| Process Node | 5nm | 5nm |
| Transistors | 20 billion | 33.7 billion |
| CPU Cores | 8 | 8 or 10 |
| GPU Cores | 8 or 10 | 14 or 16 |
| Memory Bandwidth | 100 GBps | 204.8 GBps |
| Maximum Memory | 24GB | 64GB |
CPU benchmarks
The new M2 core looks to be more powerful by itself, with the M2 scoring 9% higher in single-core, but the higher memory bandwidth and the straight-up RAM size lead of the M1 Pro make it more powerful in Multi-core, with both the 8-core and the 10-core version outperforming the M2 by 9% and 31%, respectively.
Geekbench 5
Single-core
Multi-core
Apple M2
1919 (

+9%

)
8928
Apple M1 Pro (8-core)
1768
9731
Apple M1 Pro (10-core)
1768
11680
Conclusion
The new architecture of the M2 looks to be better, with a decent lead in the Single-core benchmark. However, the M2 isn't really made for continuous strenuous load, and it shows in the Multi-core test, which gives the M1 Pro the time to spread its wings properly and actually show off what it can do. The more interesting thing will be the M2 Pro and Max versions, which for sure will challenge the top of Intel and AMD.

All laptops with the Apple M2 (8-core GPU):
All laptops with the Apple M2 (10-core GPU):
All laptops with the Apple M1 Pro (8-Core):
All laptops with the Apple M1 Pro (10-Core):