[Preliminary] Apple M2 Max vs NVIDIA GeForce RTX 3080 Ti (Laptop) – Having around half of the power of a 3080 Ti feels pretty good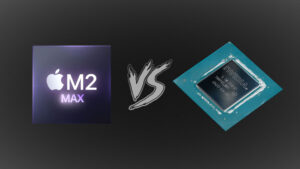 Benchmark websites are already filling up with scores of the new M2 Pro and M2 Max, both in terms of CPU and GPU performance. Apple is really proud of what they've created in terms of graphics, saying that you'd be able to comfortably tackle any Creator problem, as well as do a fair bit of gaming. To give you a sort of a preview of what's about to come, we're comparing the biggest and baddest GPU that Apple has to offer against NVIDIA's most powerful laptop offering. Of course, we're talking about the new 38-core GPU inside the M2 Max, which is going against the RTX 3080 Ti (Laptop).
Today we're giving you a preliminary comparison between the M2 Max and the RTX 3080 Ti (Laptop).
Keep in mind that these are preliminary results so you should take them with a HUGE grain of salt. As always, we'd recommend you swing by us when we review the new MacBooks with the M2 Max, in order to get an accurate performance assessment. 
Full Specs: Apple M2 Max / NVIDIA GeForce RTX 3080 Ti (Laptop)

GPU benchmarks
Geekbench 5 OpenCL
Apple M2 Max GPU (38-core)

72172

NVIDIA GeForce RTX 3080 Ti (Laptop)
129734 (

+80%

)
The Apple M2 Max's GPU is pretty powerful, and while it can't catch up to the 3080 Ti, it offers enough punch for any type of work. Also having around half of the performance of the 3080 Ti in a MacBook feels great, especially when you factor in the other factors of the MacBook Pro, like the display and the efficiency that it provides.
What looks to be on the level of the Apple M2 Max's GPU is the RTX 3060 (Laptop), as well as the RX 6700S from AMD. The AMD GPU is specifically made for thinner and more portable laptops, similar to MacBook Pro 14. On the other hand, the RTX 3060 comes in a lot of different TGP variants, so many MacBook competitors are likely to utilize lower TGPs.
| | Geekbench 5 OpenCL |
| --- | --- |
| Apple M2 Max GPU (38-core) | 72172 |
| NVIDIA GeForce RTX 3060 (Laptop) | 82448 |
| AMD Radeon RX 6700S | 77632 |
Conclusion
Apple is stepping up big with its graphics, designing something with enough power for both computational work and some gaming on the side, which better rounds out the MacBooks as devices. Surely, there aren't many people who would buy an Apple product strictly to play games, but having the option is great. However, you also have to keep in mind that this is the top M2 Max that we're talking about and if you want a MacBook Pro outfitted with it, you'd have to pay a pretty penny for it. Below we have the current available pricing on the new MacBook Pro 14 and 16, which both come with the M2 Max.

All laptops with the Apple M2 Max:
All laptops with the NVIDIA GeForce RTX 3080 Ti (Laptop):