[Preliminary] Apple M2 Max vs Apple M1 Max – A sizeable increase in all types of performance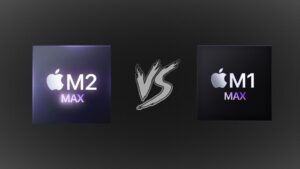 With the release of the new M2 Pro and Max, everyone is wondering how well the new chips will perform. While we can't give you a concrete answer right now, what we can do is compare what information is available online, with Geekbench being our best friend. To fill in the gap while we're waiting for the new MacBooks, today we have a preliminary comparison between the new Apple M2 Max and last year's M1 Max, in which we'll be showing both CPU and GPU scores.
Here is our Top Laptop CPU Ranking, where you can see how most laptop CPUs stack up against each other.
Keep in mind that these results aren't our own so you shouldn't trust them completely. As soon as we can get the new MacBooks for review, we'll update them with our own tests and benchmarks. 
You can learn more about both SoCs here: Apple M2 Max / Apple M1 Max

Specs sheet
| | Apple M2 Max | Apple M1 Max |
| --- | --- | --- |
| Process Node | 5nm | 5nm |
| Transistors | 67 billion | 57 billion |
| CPU Cores | 12 | 10 |
| GPU Cores | 38 | 32 |
| Memory Bandwidth | 400 GBps | 400 GBps |
| Maximum Memory | 96GB | 64GB |
Performance
CPU benchmarks
The M2 Max comes with a decent performance upgrade, having a 14% higher Single-core score and a 23% higher Multi-core score.
Geekbench 5
Single-core
Multi-core
Apple M2 Max
1970 (

+14%

)
15338 (

+23%

)
Apple M1 Max
1726
12482
GPU benchmarks
Apple also makes gains when it comes to graphics performance. The M2 Max has a 27% lead in the Geekbench Metal benchmark as well as a 19% higher score on the OpenCL benchmark.
Geekbench 5
Metal
OpenCL
Apple M2 Max
84416 (

+27%

)
73167 (

+19%

)
Apple M1 Max
66567
61500
Conclusion
The M2 Max is a worthy successor to the M1 Max, making a decent incremental gain in both computational and graphics performance. Now, what you have to decide for yourself, is if you want to spend the extra money on a new MacBook Pro with an M2 Max, or get a last year's version with the M1 Max. In our opinion, you should still wait and read (or watch) reviews when the laptops start hitting shelves, as it's still too early to tell.

All laptops with the Apple M2 Max:
All laptops with the Apple M1 Max: