[Preliminary] Apple M1 vs Intel Core i9-10980HK – The M1 is better in Single-core, but loses in Multi-core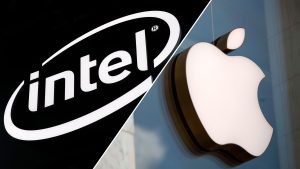 With Apple's recent announcement of its newest Apple M1 chip, the Internet went insane. Not only were they dropping Intel, as a provider for CPUs for their Mac devices. They were entering a whole new market, with the CPU market being right now overtaken by AMD.
We talked about some of the disadvantages that these new non-Intel machines bring, and you can check it out here. Today we are comparing this new M1 chip against the Intel Core i9-10980HK.
More info about Apple M1:
https://laptopmedia.com/processor/apple-m1/
More info about Core i9-10980HK:
https://laptopmedia.com/processor/intel-core-i9-10980hk/
This comparison is preliminary and it will be updated when we have more tests available.
Specifications
When specs are concerned the Core i9 takes the upper hand. It has 8 cores and 16 threads and a boost clock speed of up to 5.10GHz. The M1 is based on ARM designs and features the big.LITTLE architecture, which has 4 energy-efficient cores to handle background tasks, and 4 high-performance cores, which handle the tasks that need full power.
CPU benchmark
We only have one test to go off of but from these results, we can say with certainty that the M1 is a serious competitor and should not be underestimated. It outperformed the Core i9 in Single-core benchmarks by 22% but lost in the Multi-core one by 19%.
Geekbench 5
Single-core
Multi-core
Apple M1
1687 (

+22%

)
7433
Intel Core i9-10980HK
1376
8837 (

+19%

)
Conclusion
Apple has managed to pump out every last drop of performance from their new CPU. This coupled with MacOS's great software optimization, makes this new chip a very scary competitor among other high-performance oriented CPUs. 22% increase in Single-core performance against a Core i9 is a fantastic base to build off of for the future. Yes, it lost in the Multi-core, but it still scored impressively high.
All laptops with the Apple M1:
All laptops with the Intel Core i9-10980HS: