[Preliminary] Apple M1 vs Intel Core i5-10210U – Apple proves that they know how to make processors, with the M1 being 73% better in Single-core, and 143% better in Multi-core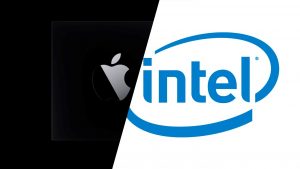 Apple made some bold claims when they revealed their new M1 SoC, which ranged from it being multiple times faster than the most popular Windows laptop CPU. According to our data, our most popular CPU is the Intel Core i5-10210U, so we thought of comparing them, in order to see if Apple's claims hold any value. So far in our other preliminary comparisons, the M1 hasn't lost.
We still haven't tested the Apple M1 ourselves so you shouldn't trust this comparison with full certainty.
More info about Apple M1: https://laptopmedia.com/processor/apple-m1/
More info about Intel Core i5-10210U: https://laptopmedia.com/processor/intel-core-i5-10210u/
This comparison is preliminary and it will be updated when we have more tests available.
Specifications
As far as specifications are concerned, from the little information that we have available, the Apple M1 has 8 cores that are arranged in a big.LITTLE configuration. This means that the CPU cores are divided into two with 4 cores for power-efficiency and 4 cores for maximum performance. The Intel Core i5-10210U has 4 cores and 8 threads, and a boost clock of 4.20GHz.
CPU benchmark
In Geekbench 5 Single-core the Apple M1 won with a 73% advantage, and as for Multi-core, it won again this time with a 143% advantage. These scores were expected, as the M1 is aimed to battle the high-end CPU offerings from AMD and Intel, and the Core i5-10210U is far away from that.
Geekbench 5
Single-core
Multi-core
Apple M1
1687 (

+73%

)
7433 (

+143%

)
Intel Core i5-10210U
975
3061
Conclusion
Apple's claims, while being outrageous, turn out to hold some value. The M1 was 73% better in Geekbench 5 Single-core test, and 143% better in the Multi-core test. With the CPU market becoming more diverse with more competitors entering the space, it should mean that the consumers should get better products in the future since competition drives innovation.
All laptops with the Apple M1:
All laptops with the Intel Core i5-10210U:
Apple proves that they know how to make processors, with the M1 being 73% better in Single-core, and 143% better in Multi-core