[Preliminary] Apple M1 vs AMD Ryzen 9 4900HS – The M1 proves its superiority once again with performance gains with up to 54%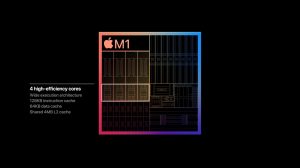 Ever since the Apple M1 got revealed, fans and enthusiasts have been waiting for it to hit the market, in order to see how it performs and if it can compete with the best offerings from both Intel and AMD. Well, some benchmarks have been released, but we still haven't done our own tests, so take these scores with a pinch of salt. Today we will have the Apple M1 compete vs the AMD Ryzen 9 4900HS in order to see how good is this new M1 processor.
More info about Apple M1:
https://laptopmedia.com/processor/apple-m1/
More info about Ryzen 9 4900HS:
https://laptopmedia.com/processor/amd-ryzen-9-4900hs/ 
This comparison is preliminary and it will be updated when we have more tests available.
Specifications
From the available info that we have, we know that the Apple M1 is an 8-core processor, which uses the popular among smartphone CPUs, big.LITTLE architecture. This means that the CPU cores are divided into two with 4 cores for power-efficiency and 4 cores for maximum performance. The Ryzen 9 has 8 cores and 16 threads, and a boost clock of 4.30GHz.
CPU benchmark
In Geekbench 5, the Apple M1 was better in both the Single-core and the Multi-core test, by 54% and 5% respectively. These numbers are really impressive and show that Apple really knows what they are doing when it comes to designing and engineering processors.
Geekbench 5
Single-core
Multi-core
Apple M1
1687 (

+54%

)
7433 (

+5%

)
AMD Ryzen 9 4900HS
1093
7081
Conclusion
Apple has entered the CPU space with a bang, taking wins vs the best of the best from both Intel and AMD. This time It brought the Ryzen 9 4900HS down to its knees. It was 54% better in Single-core performance and 5% better in Multi-core performance.
All laptops with the Apple M1:
All laptops with the AMD Ryzen 9 4900HS: