[Preliminary] Apple M1 vs AMD Ryzen 7 4800H – the little ARM chip by Apple takes the win again, this time with up to 54%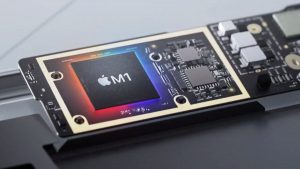 At the most recent Apple event, the company unveiled its newest CPU that the new MacBooks are set to be equipped with. Here we talk a little bit about what disadvantages this brings. This new M1 chip was presented to be the king among its competitors from the already established CPU manufacturers like AMD and Intel.
Some CPU benchmark scores were discovered and the results are surprising for everyone. Today, after our Apple M1 vs Intel Core i7-10750H comparison, we will also compare the newly announced Apple M1 against the very popular in its class AMD Ryzen 7 4800H.
More info about Apple M1:
https://laptopmedia.com/processor/apple-m1/
More info about the AMD Ryzen 7 4800H:
https://laptopmedia.com/processor/amd-ryzen-7-4800h/
This comparison is preliminary and it will be updated when we have more tests available.
Specifications
All the information that we have on the Apple M1 shows us that it has 8 cores and uses the big.LITTLE architecture. What this means is that the CPU cores are divided, so that we have 4 power-efficient cores that handle light tasks and background processes and 4 high-power cores, that kick in when maximum performance is needed. The Ryzen 7 also has 8 cores but has double the number of threads.
CPU benchmarks
In the Single-core test, the M1 outperformed its AMD rival for today by 54%. As for the Multi-core benchmark, the results were a lot closer, but the Apple M1 managed to defeat the Ryzen 7 once more, by 13%.
Geekbench 5
Single-core
Multi-core
Apple M1
1687 (

+54%

)
7433 (

+13%

)
AMD Ryzen 7 4800H
1093
6591
Conclusion
We believe that stronger competition is always better for the consumers and this new Apple M1 chip is a great contender. Apple's engineers always seem to make the most of what they are given. The M1 showed a 54% increase in Single-core performance and a 13% increase in Multi-core performance. We can't wait to get our hands on a device with the M1, so stay tuned for when we do.
Here are all configurations featuring Apple M1 in our Specs System:
…and all configurations with AMD Ryzen 7 4800H: