[Preliminary] Apple M1 Pro (8 core) vs Intel Core i7-11800H – Intel wins but single-core performance goes to Apple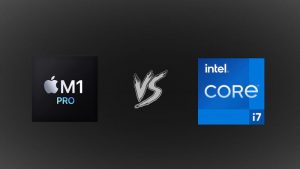 Continuing the preliminary comparisons, today we have the 8-core M1 Pro going against a proven competitor in the face of the Core i7-11800H. The processors work in an entirely different way, as the M1 Pro is built using the big.LITTLE architecture, featuring six high-powered Firestorm cores and two low-powered Icestorm cores.
The latter is mainly used for background and low resource tasks, conserving battery life, on the other hand, the Firestorm cores kick in when maximum performance is needed. The Core i7 uses 8 cores with equal power, which comes in handy when it comes to performing, but doesn't give the best results in terms of battery life.
This comparison is preliminary, featuring results that aren't our own. We will update this and other preliminary comparisons as soon as we get our hands on the new MacBook Pro 14 and Pro 16 and test them for ourselves.
Here is our Top Laptop CPU Ranking where you can find the best-performing CPUs for laptop devices.
Full Specs: Apple M1 Pro (8-core) / Intel Core i7-11800H

Specs table
| | M1 Pro (8-core) | Core i7-11800H |
| --- | --- | --- |
| Process Node | 5nm | 10nm |
| Transistors | 33.7 billion |  – |
| CPU Cores | 8 |  8 |
| GPU Cores | 14 or 16 |  – |
| Memory Bandwidth | 204.8 GBps |  51.2 GBps |
| Maximum Memory | 64GB |  128GB |
 CPU benchmark
The Core i7 comes close to beating the M1 Pro in Geekbench 5, but the latter still performs 13% and 9% better in the Single-core and Multi-core stages of the benchmark, respectively.
Geekbench 5
Single-core
Multi-core
Apple M1 Pro (8-core)
1768 (

+13%

)
9731 (

+9%

)
Intel Core i7-11800H
1559
8949
Moving over to Cinebench R23, we see that the M1 Pro (8-core) still wins in the Single-Core benchmark, but it Multi-Core, the Intel wins with a 61% margin.
Cinebench R23
Single-core
Multi-core
Apple M1 Pro (8-core)
1562 (

+5%

)
8769
Intel Core i7-11800H
1492
14088 (

+61%

)
Conclusion
Here, we can comfortably say that the Core i7-11800H is significantly better when it comes to Multi-Core raw performance. However, Apple is becoming a dangerous player in the semiconductor market, and everyone else has to watch out. It's only a matter of time before we see a Mac Pro featuring a souped-up M1 chip, which could spell disaster for the brands that we have known to love (or hate) such as AMD and Intel.

All laptops with the Apple M1 Pro (8-core):
All laptops with the Intel Core i7-11800H: