[Preliminary] Apple M1 Max vs Intel Core i7-11800H – Intel should be worried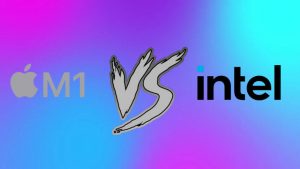 Keeping on with our coverage of the new MacBook Pro laptops and the hardware powering them, today we have a comparison between the Apple M1 Max SoC and the Core i7-11800H. The Core i7 came out of the factory swinging, managing to punch way above its weight, delivering faster results even against a Ryzen 9 5900HS.
Today it will have the biggest challenge of its life, as it goes against the M1 Max. However, keep in mind that we will be using preliminary results, so nothing is set in stone. You should always wait for our in-depth reviews, where we test the CPU, GPU, and everything else properly.
Here is our Top Laptop CPU Ranking where you can find the best-performing CPUs for laptop devices.
Full Specs: Apple M1 Max / Intel Core i7-11800H

Specs table
| | M1 Max | Core i7-11800H |
| --- | --- | --- |
| Process Node | 5nm | 10nm |
| Transistors | 57 billion | 57 billion |
| CPU Cores | 10 | 8 |
| GPU Cores | 24 or 32 | 0 |
| Memory Bandwidth | 400 GBps |  – |
| Maximum Memory | 64GB |  – |
 CPU benchmark
The M1 Max manages to outperform the Core i7-11800H, delivering an 18% higher score in the single-core benchmark, and a 44% higher score in the Multi-core benchmark.
Geekbench 5
Single-core
Multi-Core
Apple M1 Max
1749 (

+18%

)
11542 (

+44%

)
Intel Core i7-11800H
1481
8007
On the other hand, Cinebench R23 shows a different picture. Here, the difference is 5% in Single-Core in favor of the M1 Max, while Intel takes its own with a 14% lead in Multi-Core.
Cinebench R23
Single-core
Multi-Core
Apple M1 Max
1562 (

+5%

)
12376
Intel Core i7-11800H
1492
14088 (

+14%

)
Conclusion
When we were expecting a CPU to topple the Core i7-11800H in comparison, we didn't think it would be made by the people in Cupertino. However, the M1 Max, as of now, looks like a beast, and we don't think there is a mobile processor that can touch it right now. Considering the results in Cinebench R23, the M1 Max chip might be more suitable for quick tasks, while the Core i7-11800H should be better in rendering 3D models and videos. Well, of course, if you are not using Apple's own software.

All laptops with the Apple M1 Max:
All laptops with the Intel Core i7-11800H: