NVIDIA GeForce MX350 vs AMD Radeon RX Vega 7 – the MX350 is 15% faster but the performance of Vega 7 is impressive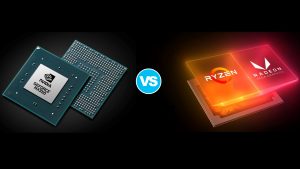 The mobile Zen 2 processors are on the market for some time and their success is inevitable – they combine powerful CPU and decent iGPU into a single chip. Not so long ago, the Intel Iris G7 was probably the most powerful integrated graphics card but right now things have changed – AMD Radeon RX Vega 7 and Vega 8 are the kings of the iGPUs and there is no doubt in that.
That's why for today's comparison we picked NVIDIA's most powerful low-end GPU right now – the GeForce MX350 and its contender will be the Radeon RX Vega 7. Both are fresh products so it'll be interesting to see the end result.
See all configurations with GeForce MX350 / AMD Radeon RX Vega 7
Contents
Specs overview
The NVIDIA GeForce MX350 is the successor of the MX250 but it's much different than the previous-gen GPU. In short, the MX350 is the good "old" GTX 1050 but the memory bus is cut to just 64-bit and the TGP is decreased a lot – 25W. However, at least on paper, the new NVIDIA low-end king seems like a much more capable graphics card compared to the MX250. First of all, it's a Pascal video card that is based on the GP107 chip, and it has 640 shader units and 16 ROPs. The base and the boost frequencies are the 1354 MHz and 1468 MHz, respectively. The memory is clocked at 7008 MHz.
The AMD Radeon RX Vega 7 is an integrated video card. This means that it has 512 MB memory but it uses the system RAM as well when games need more than half a gigabyte of video memory. At least in our case, this process is automatic and there is no option in BIOS to increase or decrease the amount of system memory that the iGPU can use. We saw 8150 MB allocated system memory for the iGPU solely in DOOM Eternal when we applied the Ultra Nightmare preset.
Apart from that, this iGPU has 448 shader units, 8 ROPs, and the combined default TDP can vary between 15W and 45W because this integrated GPU can be found in AMD Ryzen 7 4700U that has just 15W TDP and the best possible scenario is the AMD Ryzen 7 4800H that has 45W TDP. In our case, our test sample comes with AMD Ryzen 7 4800HS – this is the same CPU as the non-HS one but it has 35W TDP which is still enough for Vega 7.
GPU comparison table
 

GeForce MX350

Radeon RX Vega 7

Architecture
Pascal
Vega
GPU chip
GP107
GCN
Shader units
640

(+43%)

448
ROPs
16

(+100%)

8
Base Clock (MHz)
1354
–
Boost clock (MHz)
1468
1600

(+9%)

Memory clock (MHz)
7008
system memory dependable
Memory size (MB)
2048
512MB + allocated system memory
Memory type
GDDR5
DDR4
Memory bus width (bit)
64
–
TGP (Total Graphics Power)
25W
up to 15 – 45W

(+up to 80%)

DirectX version
12.1
12.1
Technology
14nm
7nm
RTX capabilities
No
No
Release date
02.2020
01.2020
Detailed specs
Link
Link
Synthetic benchmarks
Results are from the 3DMark: Fire Strike (Graphics) benchmark (higher the score, the better)
Results are from the Unigine Superposition benchmark (higher the score, the better)
Gaming tests and gameplay videos (ext. monitor)
It's time to check the real-life performance of these two video cards.














Minecraft
Full HD, Minimum (Check settings)
Full HD, Maximum (Check settings)

GeForce MX350

527 fps

(+31%)

43 fps

Radeon RX Vega 7

401 fps
47 fps

(+9%)


Rocket League
Full HD, H.Performance (Check settings)
Full HD, H.Quality (Check settings)

GeForce MX350

226 fps

(+67%)

90 fps

(+96%)

Radeon RX Vega 7

135 fps
46 fps







Team Fortress 2
Full HD, Low (Check settings)
Full HD, MAX (Check settings)

GeForce MX350

117 fps
105 fps

(+33%)

Radeon RX Vega 7

126 fps

(+8%)

79 fps

eFootball PES 2020
Full HD, Low (Check settings)
Full HD, High (Check settings)

GeForce MX350

65 fps

(+5%)

39 fps

(+3%)

Radeon RX Vega 7

62 fps
38 fps









Performance summary (gaming tests)
The NVIDIA GeForce MX350 is 15% faster on average compared to the AMD Radeon RX Vega 7 but the latter is a very capable iGPU.
| GeForce MX350 vs Radeon RX Vega 7 | Full HD, Low | Full HD, Medium | Full HD, High | Full HD, Ultra | Average difference % |
| --- | --- | --- | --- | --- | --- |
| GeForce MX350 | +19% | +14% | +11% | +17% | +15% |
| Radeon RX Vega 7 | | | | | |
Verdict
The performance of these two GPUs is perfectly fine. First of all, the MX350 is faster compared to the MX250 and that's good news for people who need a budget gaming machine. Our test machine was decently cool and quiet during testing – the low TGP definitely helps for that because the GPU doesn't dissipate a lot of heat. Of course, the thermals and the noise levels can vary from machine to machine (ergo, some other MX350-based devices can be not-so-cool under load and that will lead to decreased performance as well) so pick your configuration carefully.
On the other hand, the AMD RX Vega 7 really surprises us – it's a really fast iGPU that isn't too far away from the performance levels of the MX350 and in some games, it's faster than it. The Vega iGPU is showing higher FPS results in DOTA 2, Battlefield V, DOOM, Rainbow Six Siege (Very High and Ultra), and League Of Legends. The results in Doom Eternal are mindblowing for an integrated video chip – the Vega 7 was running the game on Ultra Nightmare like a boss (well, with FPS between 25 and 35 but that's more than fine for an integrated GPU) while the MX350 was struggling even on Low because it was completely out of video memory. So, nice job AMD, the RX Vega 7 may be 13% slower compared to the GeForce MX350 but it shows us a good performance for a video card that is "hidden" into a CPU. And because of that, we are eager to see how fast is the new AMD Radeon Vega 8. Stay tuned!
All laptops equipped with the NVIDIA GeForce MX350
All laptops equipped with the AMD RX Vega 7