NVIDIA GeForce MX250 (10W) vs Intel Iris Plus G4 – despite its lower TDP the 10W GPU is almost two times faster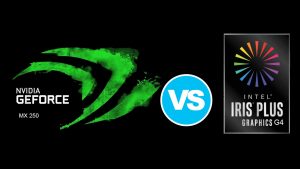 The Intel Iris Plus G4 is a capable mid-range iGPU that takes place in the newest Intel 10nm Ice Lake SoCs. In our previous articles, we saw that it's on par with some low-end dedicated video cards like the NVIDIA MX110 and the MX130 is clearly faster than the integrated Intel UHD Graphics 620. Since we already know that the MX250 has two versions – a 25W (1D13) and a 10W (1D52) one we decided to compare it with the Iris G4.
NVIDIA has cut down 15W of TDP and they reduced the frequencies of the 10W chip a lot and there you have it – a battery-friendly MX250 which isn't that slow by any means. We have a dedicated article regarding the performance gap between the 25W and 10W variant of MX250 and in the end, the "smaller" MX250 shows that it's still a good GPU when it is cooled well enough.
Now, let's see if the reduced clock and TDP of the MX250 (10W) will help Iris Plus G4 to get close to the performance level of the NVIDIA's low-end GPU.
See all configurations with GeForce MX250 (10W) / Intel Iris Plus G4
Contents
Specs overview
The GeForce MX250 (10W) has up to 4GB GDDR5 memory, a 64-bit memory bus, 384 shader units, and 16 ROPs. The base and boost frequencies are 937 MHz and 1038 MHz, respectively, while the memory clock is set to 7000MHz. This is a Pascal-based GPU that uses the GP108 chip.
At the same time, the Intel Iris Plus G4 is an iGPU with 48 shaders and 300 MHz – 1100 MHz base and boost clocks. It uses system memory because it doesn't have a dedicated one – sometimes the user can set the desired amount of the RAM that can be used as a video memory but in most cases, this feature is automatically controlled by the BIOS settings of the laptop. If the GPU load is heavy, the TDP can hit up to 25W and even more – which is higher than the modest 10W of the MX250.
GPU comparison table
 

GeForce MX250 (10W)

Intel Iris Plus G4

Architecture
Pascal
iGPU in 10th gen SoCs
GPU chip
GP108
Iris G4
Shader units
384
48
ROPs
16 (

+50%)

–
Base Clock (MHz)
937
300
Boost clock (MHz)
1038
1100
Memory clock (MHz)
7000
depends on RAM frequency
Memory size (MB)
2048-4096
variable
Memory type
GDDR5
DDR4
Memory bus width (bit)
64
–
TGP (Total Graphics Power)
TDP:10W
TDP: 12-25+W
DirectX version
12.1
12.1
Technology
14nm
10nm
RTX capabilities
No
No
Release date
02.2019
02.2019
Detailed specs
NVIDIA GeForce MX250 (10W)
Intel Iris Plus G4
Benchmark time.
Synthetic benchmarks
Despite its lower TDP, the MX250 (10W) shows to the Iris G4 who's the boss – it's 38% faster on average in these synthetic benchmarks.
| GeForce MX250 (10W) over Intel Iris Plus G4 | 3Dmark Fire Strike (G) | Unigine Heaven 3.0 | Unigine Heaven 4.0 | Unigine Superposition | Average difference % |
| --- | --- | --- | --- | --- | --- |
| NVIDIA GeForce MX250 (10W) | 29% | 62% | 54% | 6% | 38% |
| Intel Iris Plus G4 | | | | | |
Gaming tests
The synthetic benchmarks are just for checking the raw performance of the GPUs but now let's see some gaming test.

Well, the 10W version of GP108 is a lot faster than its mid-range iGPU rival. If you tend to play CS:GO often, the NVIDIA GPU will provide you with a much better experience than the Intel's product. Still, the latter is good for Low preset only, which isn't that bad for an integrated graphics solution.

DOTA 2 – the 10W MX250 is always faster than the Intel Iris Plus G4. However, the latter is able to handle the game at Low and Medium settings with a decent amount of FPS.
Performance summary (gaming tests)
No matter the games, no matter the settings, the MX 250 (10W) is 98% faster on average than Intel Iris Plus G4.
| NVIDIA MX250 (10W) over Intel Iris Plus G4 | Full HD, Low | Full HD, Normal | Full HD, High | Average difference % |
| --- | --- | --- | --- | --- |
| NVIDIA GeForce MX250 (10W) | +60% | +104% | +131% | +98% |
| Intel Iris Plus G4 | | | | |
Verdict
Sometimes that "game of TDPs" can be a bit confusing for the consumer – you really don't know what version of the MX250 is configured in some laptop because there is no info about it on the box. That's why you have to make a little research before buying a new MX250-based device because there are two possible cases – you want maximum performance with the 25W version or you need a GPU with a good performance to Watt ratio, ergo, the 10W variant. The latter isn't slow by any means and it's able to show good FPS results in most games alongside lower power consumption and dissipated heat. If you don't care about the last two factors and you don't want to spend a fortune on a new laptop – the 25W variant of GP108 is the way to go.
The Intel Iris Plus G4 is here to show you that NVIDIA hasn't "taken away the sunshine" from the MX250 with the 10W one. The Iris iGPU is one of the fastest iGPUs but when compared to the MX250 (no matter the version of it) it lacks a big amount of performance. Nope, it's not slow, it's just an iGPU. If you need a really thin laptop with great battery life and you play low-demanding games from time to time, the Intel integrated solution is one of the best choices on the market right now (and a bit pricey too).
All laptops equipped with the NVIDIA GeForce MX250 (10W)
All laptops equipped with the Intel Iris Plus G4