NVIDIA GeForce MX230 vs Intel Iris Plus G7 – when the latter is adequately cooled it's an iGPU beast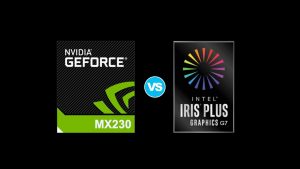 The NVIDIA MX230 is a popular affordable graphics solution that comes from NVIDIA and can be found in a lot of inexpensive and mid-range laptops. This GPU is good enough if you want to play games at Low settings or maybe at Medium provided that the game is not that graphically intensive.
Still, this video card isn't bad at all and it has decent power when compared to some of its smaller siblings like MX130 and MX150. We already know that it's a lot faster than some AMD iGPUs like the RX Vega 8 and that's why we are going to compare it with the Intel Iris Plus G7 which is Intel's top dog among its iGPUs.
The latter is an integrated graphics card but it's no joke when it comes to pure performance, especially when it's placed in a laptop with good cooling that allows the iGPU to show its full potential. That's why we picked the Microsoft Surface Laptop 3 13.5 laptop which is a great performer. Keep in mind that our test machine comes with a single RAM stick – if the memory was in dual-channel mode the GPU would show even better results (the iGPUs use system memory ergo, faster memory – higher performance, dual-channel RAM – even better performance).
We saw that the Intel Iris G7 is faster than theMX110, almost on par with the MX130, and it has no chance against NVIDIA's low-end GPU king – the MX250. So, let's see how it'll stand up when compared to the MX230.
See all configurations with GeForce MX230 / Intel Iris Plus G7
Contents
Specs overview
The GeForce MX230 is something like an NVIDIA MX250 (but it has fewer shaders and decreased frequencies). It's based on the Pascal architecture and it has 256 shader units, 16 ROPs, 1519 MHz / 1531 MHz base and boost clocks, a 64-bit memory bus, and 7000 MHz memory frequency.
The Intel Iris Plus G7 looks like a monster of an iGPU, well, at least on paper. Unfortunately, when it's compared to the MX230 it doesn't shine that much. The Iris G7 is part of a 10nm Intel SoC and it has 64 EUs, 300 MHz / 1100 MHz base and boost frequencies. The memory size is variable because it can be adjusted automatically by BIOS or sometimes the user has full control over it (depends on the machine, manufacturer, BIOS version, etc). Additionally, the memory clock of Iris G7 is directly related to memory frequencies.
GPU comparison table
 

GeForce MX230

Intel Iris Plus G7

Architecture
Pascal
iGPU in 10th gen SoCs
GPU chip
GP108
Iris G7
Shader units
256 (

+300%

)
64
ROPs
16
–
Base Clock (MHz)
1519 (

+406%)

300
Boost clock (MHz)
1531 (

+39%)

1100
Memory clock (MHz)
7000
depends on RAM frequency
Memory size (MB)
2048-4096
variable
Memory type
GDDR5
DDR4
Memory bus width (bit)
64
–
TGP (Total Graphics Power)
TDP: 10-30W (

+20%)

TDP: 12-25+W
DirectX version
12.1
12.1
Technology
14nm
10nm
RTX capabilities
No
No
Release date
02.2019
01.2019
Detailed specs
Link
Link
It's time for some benchmarks.
Synthetic benchmarks
The MX230 doesn't look that fast, especially in the newest benchmark here – Unigine Superposition.
| GeForce MX230 over Intel Iris Plus G7 | 3Dmark Fire Strike (G) | Unigine Heaven 3.0 | Unigine Heaven 4.0 | Unigine Superposition |
| --- | --- | --- | --- | --- |
| NVIDIA GeForce MX230 | 1% | 24% | 19% | |
| Intel Iris Plus G7 | | | | 42% |
Gaming tests
Ok, it's time to see the real-life tests that include two popular and low-demanding games – CS:GO and DOTA 2.

In low-to-medium loads, the iGPU isn't too far away from its discrete rival but when the stress is getting heavier (Max settings) the iGPU can't keep up with the MX230 because of the restrictions – memory and total TDP of the whole SoC.

In DOTA 2, we observe the same situation like the one above – at Low or Medium setting the iGPU is closer or a bit faster than the MX230 but at High preset, it lacks power (or maybe it needs a bit higher power limit)
Performance summary (gaming tests)
The MX230 is the faster GPU in this comparison, but only at High settings. If you plan to play on Low or Medium, the iGPU is very close to its NVIDIA rival.
| GeForce MX230 over Intel Iris Plus G7 | Full HD, Low | Full HD, Normal | Full HD, High | Average difference % |
| --- | --- | --- | --- | --- |
| NVIDIA GeForce MX230 | | +6% | +65% | 20% |
| Intel Iris Plus G7 | +12% | | | |
Verdict
We are a bit surprised by the final result of this comparison. The Intel Iris Plus G7 is a great performer when it's placed in a notebook with a nice cooling. If you need a compact device that doesn't come with a dedicated graphics card and you play light games or maybe heavier games at Low settings the Iris G7 looks like a good choice. It doesn't add additional weight because it's part of the Ice Lake SoC, it's more battery-friendly than MX230, and it'll not heat up the internals quite as much.
You will have (perhaps) a slim, light, compact, cool, and decently fast laptop with good iGPU that can handle a lot of games. Ok, the MX230 is faster when it comes to maxed-out visuals but somehow MX230 and High settings sound a bit strange in one sentence – we think that you got the point.
Ultimately, MX230's biggest advantage is the price – sure, we counted a lot of pros regarding the Intel iGPU but the end price of a good laptop with Iris Plus G7 is definitely on the high side. If your budget is tight, the NVIDIA GPU is one of the good options that are in front of you. Yes, it's not that battery-friendly, it dissipates more heat, but it'll (probably) save you a few hundred bucks. Don't forget that the devices configured with the MX250 aren't that much more expensive than the MX230-based ones so you can check them out too. Also, the MX250 is much faster than Iris G7.
All laptops equipped with the NVIDIA GeForce MX230
All laptops equipped with the Intel Iris Plus G7