NVIDIA GeForce MX110 vs Intel Iris Plus G4 – there's no clear winner here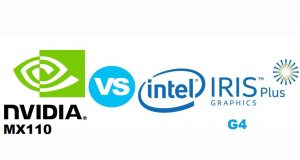 The GeForce MX110 is a popular low-end dedicated graphics from NVIDIA. This GPU can be found mostly in affordable notebooks because it's a really cost-effective graphics solution. The MX110 is the "people's champ" – low price, acceptable performance in light to mid-heavy games, low power consumption, and it doesn't heat up too much the other internals of the notebooks.
On the other hand, the Intel Iris Plus G4 is a mid-range integrated graphics card – part of the latest Ice Lake CPUs. You can find the Intel Iris G4 in Core i5-1035G4, Core i5-1030G4, or Core i3-1000G4. We already saw its power – it's faster than the older UHD variants as well as AMD RX Vega 8/10.
We will clash the NVIDIA least powerful dedicated graphics card vs a modern iGPU from Intel.
See all configurations with GeForce MX110 / Intel Iris Plus G4
Contents
Specs overview
The MX110 has much more shader units, a higher base clock and it has 2GB video memory. The Intel Iris G4 has a higher boost clock and bigger TDP. Nothing more to say here, those are really less-powerful graphics.
GPU comparison table
 

MX110

Intel Iris Plus G4

Architecture
Maxwell
iGPU in 10th gen SoCs
GPU chip
N16V-GMR1
Iris G4
Shader units
256 (

+433%

)
48
ROPs
8
–
Base Clock (MHz)
965 (

+222%)

300
Boost clock (MHz)
993
1100 (

+11%)

Memory clock (MHz)
5012
depends on RAM frequency
Memory size (MB)
2048
variable
Memory type
DDR3/GDDR5
DDR4
Memory bus width (bit)
64
–
TGP (Total Graphics Power)
TDP: 5-12W
TDP: 12-25+W (

+140% – 108%)

DirectX version
12.0
12.1
Technology
28nm
10nm
RTX capabilities
No
No
Release date
01.2018
01.2019
Detailed specs
Link
Link
Let's check the benchmarks.
Synthetic benchmarks
Maybe because of its newer optimized architecture, the Intel Iris G4 is faster than the MX110 in every synthetic benchmark.
| GeForce MX110 over Intel Iris Plus G4 | 3Dmark Fire Strike (G) | Unigine Heaven 3.0 | Unigine Heaven 4.0 | Unigine Superposition | Average difference % |
| --- | --- | --- | --- | --- | --- |
| NVIDIA GeForce MX110 | | | | | |
| Intel Iris Plus G4 | 33% | 16% | 19% | 51% | 30% |
Gaming tests
The iGPU was faster in the section above but the real-life gameplay tests are much more important.

If you play CS:GO you may know that every FPS counts. The Intel Iris Plus G4 is able to drive the Source-based game with 64 FPS on Low settings which is acceptable. The MX110 is faster on Medium and Max settings but 40FPS isn't good enough for a game like this.

Wow, that was unexpected – the iGPU is faster than the dedicated graphics in DOTA 2.

Both GPUs can deliver acceptable FPS value in GTA V but the MX110 is the faster one.
Performance summary (gaming tests)
The Intel Iris Plus G4 is much closer to MX110 than you think. Both GPUs are good low-end performers.
| GeForce MX110 over Intel Iris Plus G4 | Full HD/768p HD, Low | Full HD/768p, Normal | Full HD/768p, High |
| --- | --- | --- | --- |
| NVIDIA GeForce MX110 | – | +6% | – |
| Intel Iris Plus G4 | 19% | – | – |
Verdict
If we have to be honest, we are a bit surprised by the power of the Intel Iris G4 Plus – in a good way. Keep in mind that the overall performance may vary from machine to machine. The Iris G4 Plus will not perform that good in a bad-cooled laptop with a single channel memory. If you want everything from it you need a machine with a good cooling and dual-channel LPDDR4-3733 MHz memory – but the end price of this device will be a hefty one. The iGPU uses system memory too and you have to allocate more memory for it – 1 or 2GB RAM. If you have 8GB RAM in total things are getting a bit complicated because if you set 2GB for the iGPU you will have 6GB system memory and in some situations that isn't enough.
Still, the Intel G4 graphics is for the ones who don't need additional heat from a dedicated GPU alongside good CPU performance (Iris Plus G4 can be found in the latest Ice lake SoCs) and play light games from time to time
That's why the MX110 is a bit "safer choice" – it has its own memory, it doesn't dissipate much heat and even in a bad-cooled laptop, it'll perform decently (i.e. better than the Iris G4).
All laptops equipped with the NVIDIA GeForce MX110
All laptops equipped with the Intel Iris Plus G4