Lenovo Legion Slim 7 (2021) vs Lenovo Legion Slim 7 (2020) – what are the differences?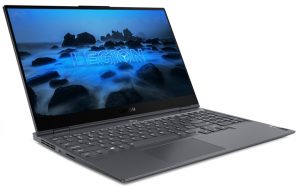 For the people who like the performance and looks of the regular Lenovo Legion 7, but need a device that is more portable, and weighs less, Lenovo has made a device specifically for you.
The Legion Slim 7 (2021), while not being on the level of the Legion 7 (16″) still offers plenty of performance for both gaming and work, which is ideal when paired with the lighter body and smaller dimensions.
Today we are here to compare it to its predecessor, the 2020 version of the Legion Slim 7 to see what are the differences and if the new device is worth it, or should you just buy the last year's model, which will have a lower price, especially now when its replacement is here.
As always, we like to begin on the exterior, where both devices share the same Legion design that we all know and love. It is sleek, stylish and some people like that it doesn't give off "gamer" vibes. As for the build quality, it is superb, with metal being used through and through. The weight of both of them is quite the same with the Slim 7 (2021) weighing 1.90 kg and the older Slim 7 (2020) weighing 1.86 kg.
Continuing on with the displays, the Legion Slim 7 (2020) has more choices for displays, with three available options: two Full HD IPS panels, one with a 60Hz refresh rate and the other with 144Hz. The third option is a 4K IPS panel, which is there mostly for creators and designers, who need detail and vibrant colors. As for the Legion Slim 7 (2021), it has two display choices, eliminating the Full HD 60Hz option, and going straight to 165Hz. The second choice is a 4K IPS display with amazing color coverage and great detail.
Moving over to the area with the most improvement, the internals. Here Lenovo has chosen the newest Ryzen 5000-series of mobile CPUs for the Legion Slim 7 (2021), with the Ryzen 7 5800H being the best option available (currently). The Legion Slim 7 (2020) also uses AMD hardware, this being the 4000-series Ryzen, with the Ryzen 9 4900H being the best of the available bunch.
For the graphics, you have the RTX 3000-series of GPUs, with the best available card being the RTX 3060 Max-Q, which is an upgrade over the Legion Slim 7 (2020), which uses the RTX 2060 Max-Q.
Storage and RAM-wise the Legion Slim 7 (2020) can be bought with up to 16GB of DDR4 memory and 1000GB of storage. As for the Legion Slim 7 (2021), it straight up doubles these numbers, with 32GB of RAM and 2000GB of SSD storage, both by NVMe.
All Lenovo Legion Slim 7 (2020) configurations:
All Lenovo Legion Slim 7 (2021) configurations: