Intel Core i9-9980HK vs i9-9880H – the battle of the behemoths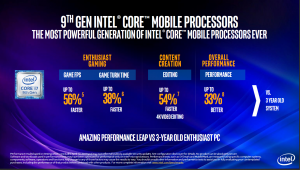 We saw some really interesting stuff going on in 2019. First of all, the 10nm Ice Lake CPUs are here (finally), as well as Comet Lake too (both are Intel 10th gen CPUs). Everybody is talking about the efficiency of those CPUs, their powerful iGPUs, etc.
Well, 2019 is over now and we'll start 2020 with the best mobile CPUs out there. Yes, the big boys, the two most powerful mobile CPUs on the market at the beginning of 2020 are i9-9980HK and i9-9880H. Both were released in Q2 2019 and in terms of processing power they are still unbeaten.
Those two are really close on paper, but let's clash them and we will see which one is better and why.
Quick Specs
The bulk prices for 1000 units are $583.00 for the i9-9980HK and $556.00 i9-9880H – 5% price difference.
Both CPUs have 8 cores and 16 threads, 16MB cache, 45W TDP, Intel UHD 630 iGPU, and DDR4-2666, LPDDR3-2133 as max supported memory frequencies. The main difference is in the frequencies – the i9-9980HK boost a bit higher with its 2.40 GHz – 5.00 GHz base and boost clock while the i9-9880H has just a bit lower ones – 2.30 GHz – 4.80 GHz.
The UHD 630 in the i9-9980HK is clocked at 1250 MHz and the one in the i9-9880H has a bit reduced core frequency – 1200 Mhz (which is almost nothing in terms of GPU performance). Intel doesn't provide TDP-up and TDP-down values for the i9-9980HK – those 5GHz turbo clocks are no joke.
More detailed specs here – Intel Core i9-9980HK / Intel Core i9-9880H
Specs table:
| | Intel Core i9-9980HK | Intel Core i9-9880H |
| --- | --- | --- |
| Cores / Threads | 8 / 16 | 8  / 16 |
| Base / Max frequency | 2.40 – 5.00 GHz | 2.30 – 4.80 GHz |
| Cache | 16 MB Intel Smart Cache | 16 MB Intel Smart Cache |
| TDP / up / down | 45W / – / – | 45W / – / 35W |
| Memory support | DDR4-2666, LPDDR3-2133 | DDR4-2666, LPDDR3-2133 |
CPU Benchmarks
Ok, the i9-9980HK has almost 8% better score – chances are you will not spot the difference between those two high-end CPUs.
Results are from the Cinebench 20 CPU test (the higher the score, the better)
Results are from our Photoshop benchmark test (the lower the score, the better)
Think twice
The whole idea about mobile i9s is the need for that power. If you are a power user and you edit photos and videos on a daily basis, if you convert videos with Handbrake regularly, and if you are compressing huge amounts of data – well, the i9-9980HK and i9-9880H are the right choices for you. Of course, if you can afford a machine configured with one of those two giants.
We will not talk about the iGPU performance because it would be silly – you won't find a machine with Core i9 and iGPU only – a dedicated GPU is always in the mix. If you don't care about graphics performance just get a notebook with a less power-hungry graphics card – it will save you money and you will not pay for something that you don't need at all.
Do you need all that power? If you just use your laptop for social media, YouTube and maybe a couple of opened tabs in your Web browser don't buy a laptop with Core i9 CPU – you don't need it. Yes, yes, you can't swag in front of your friends but you can save a lot of money – a Core i7 or i5 machine will be a much better and smart choice for your needs.
If your work demand a high-end CPU, the Core i9-9980HK and i9-9880H are the best mobile processors that money can buy. Pick your notebook carefully – either of the two CPUs dissipates a lot of heat and will need a very, very good cooling solution especially for long periods of heavy loads. A bad cooled i9-9980HK can perform worse than an i9-9880H if the latter is in a machine with a good cooling solution. If you are going to spend a big amount of money on a machine with one of those Coffee Lake 8-core 16-thread monsters do some research and pick a notebook with a well-designed cooling.
That's why the digits in the name aren't important – i9-9980HK or i9-9880H –  it doesn't matter, the performance is almost the same. The end-price of the particular device is important. The i9-9980HK is 5% more expensive than i9-9880H and around 8% faster (it depends on the specific load/software/laptop model). Just an example – If you find a laptop with i9-9880H (with good cooling) which is 15% cheaper than the one with i9-9980HK just get it (if you can afford it and if you need it) – you will save some bucks and the overall performance will be almost the same.
All laptops with Core i9-9980HK:
All laptops with Core i9-9880H: