Intel Core i9-9880H vs Core i7-8700 – laptop vs desktop – surprising results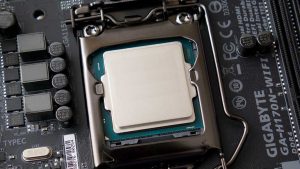 Laptop hardware technology has gone a long way recently. Last year we had the first mainstream six-core processor from Intel – the Core i7-8750H and this year they updated their game with the eight-core Core i9-9880H. However, have we reached a state where a laptop CPU is better than a desktop processor?
Visit our Top Laptop CPU Ranking to check these two and many more CPUs.
Specs overview
Before we show you the results, let's take a look at the specifications of both processors – the Core i9-9880H is rated at 45W TDP, whereas the Core i7-8700 – at 65W – significantly more – but yet, we are talking about a desktop CPU. Despite that, both of them are built on a 14nm manufacturing process. Concerning the clock speeds the octa-core Core i9-9880H works at a Base frequency of 2.30 GHz and reaches up to 4.80 GHz in Turbo, while the hexa-core Core i7-8700 goes from 3.20 GHz to 4.60 GHz.
Memory-wise both of them max out at 128GB of DDR4 memory, and at the same time, both of them are housing the Intel UHD Graphics 630 iGPU.
You can check out the full specs of the Intel Core i9-9880H and the Intel Core i7-8700.
Benchmarks
Core i9-9880H snatches the victory with a 22% difference to its competitor.
Results are from the Cinebench 20 CPU test (the higher the score, the better)
Results are from our Photoshop benchmark test (the lower the score, the better)
Conclusion
This comparison shows exactly how much has the technology advanced. And we are not yet talking about a major architecture change. Laptops (with the appropriate thermal solution) are now being ever so close to their bulky desktop compatriots, further making 2019, a great year to get a gaming laptop.
All laptops equipped with the Intel Core i9-9880H
All laptops equipped with the Intel Core i7-8700