Intel Core i7-10710U vs i7-8665U – no more whiskey for the latter, it's 40% slower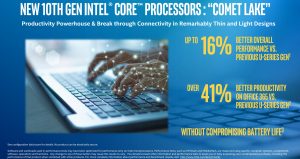 Not so long ago, the Core i7-8665U was the king of the ULV CPUs. By the way, this one is still a decent chip – it's equipped with enough cores, threads, cache, and power to be a competitive product these days. Unfortunately, there are new-gen processors that are now faster and maybe a better deal than the Whiskey Lake ex-champion (i7-8665U).
From our previous articles, we concluded that the i7-1065G7 is a better buy than i7-8665U because it has more performance, much better iGPU, and they both cost almost the same amount of money. When we looked at the price of i7-10710U we noticed that the latter isn't that expensive compared to its older Whiskey Lake sibling. It's a good idea to compare i7-10710U and i7-8665U and to see which one has a better price/performance ratio.

Quick Specs
Bulk prices (for 1000 units) – $443 for the i7-10710U and $409 for i7-8665U. This is not something to write home about – just an 8% price difference. Considering the fact that the Comet Lake CPU has more cores it looks like a better choice but let's see the graphs.
Now, some quick specs. The i7-10710U is a 10th gen Comet Lake CPU (the top dog of its 14nm ULV generation) with 6 cores and 12 threads. The i7-8665U looks like a bit more modest chip with 4 cores and 8 threads. The latter has higher base and boost frequencies than its Comet Lake contender – 1.10 GHz – 4.70 GHz to 1.90 – 4.80 GHz. The i7-10710U shines with bigger cache size (12MB vs 8MB), better max supported memory frequencies (DDR4-2666, LPDDR3-2133 vs DDR4-2400, LPDDR3-2133 ), and almost the same TDP levels as the i7-8665U ones (the Comet Lake CPU has a bit higher TDP down value).
As for the iGPU –  the Comet Lake CPUs use Intel UHD Graphics which a rebranded UHD 620 (the one that i7-8665U has). So, they are virtually the same.
More detailed specs here – Intel Core i7-10710U / Intel Core i7-8665U
Quick specs table:
| | Intel Core i7-10710U | Intel Core i7-8665U |
| --- | --- | --- |
| Cores / Threads | 6 / 12 | 4 / 8 |
| Base / Max frequency | 1.10 – 4.70 GHz | 1.90 – 4.80 GHz |
| Cache | 12 MB Intel Smart Cache | 8 MB Intel Smart Cache |
| TDP / up / down | 15W / 25W / 12.5W | 15W / 25W / 10W |
| Memory support | DDR4-2666, LPDDR3-2133 | DDR4-2400, LPDDR3-2133 |
Let's check the benchmarks.

CPU Benchmarks
The performance gap between those two processors is a big one – 64%.
Results are from the Cinebench 20 CPU test (the higher the score, the better)
Results are from our Photoshop benchmark test (the lower the score, the better)
Verdict
The result is clear enough – the Core i7-10710U is a much better deal than i7-8665U. It's the newer gen CPU with better performance, improved heat dissipation, and it's a bit more battery-friendly. With 6 cores and 12 threads, this CPU is good enough for almost everything that a mobile user can demand. Its multitasking is on another level, compared to i7-8665U – you can browse the Web with ease, you can download something, you can listen to music, and at the same time, you can compress big amounts of data (just an example). For just 8% more money you can have a much better and faster product – the i7-10710U. With UHD Graphics you can play some light games like DOTA 2 or CS:GO. If you need more graphics power you have to pick a laptop with a dedicated GPU.
The i7-8665U isn't bad at all, it just doesn't have that kind of performance (as i7-10710U) and its biggest drawback is the price – too much for such a CPU. The power is definitely there, especially if it's combined with decent dedicated graphics it'll be a good gaming combo – but only if you find it on some hefty discount.

All laptops with Core i7-10710U:
All laptops with Core i7-8665U: