Intel Core i7-10710U vs i5-10210U – this is a tough call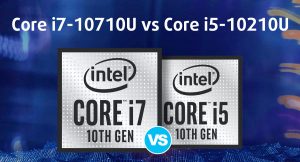 Core i7-10710U and Core i5-10210U. These are the most balanced CPUs and our guess is that they'll be the most popular ones in the next generation of thin and light notebooks. But is it worth the higher investment in the Core i7 model? Intel is selling it for $443 while the price for the i5 is just $297. So what do we get for the extra $150?

Quick Specs
As Big Shaq once said – "Quick mafs"! Core i7-10710U is 50% more expensive than i5-10210U so it's fair to expect 50% more performance from the Comet Lake U flagship. Intel has equipped it with 50% more cores (6 vs 4) and 50% more threads, respectively.
A nice surprise is that the 10710U has double the cache of the i5-10210U – 12MB vs 6MB. The base frequency of i7-10710U is lower – 1.10 GHz but it can rise up to the whopping 4.70GHz. Core i5-10210U ticks at 1.60 – 4.20 GHz.
| | Intel Core i7-10710U | Intel Core i5-10210U |
| --- | --- | --- |
| Cores / Threads | 6 / 12 | 4 / 8 |
| Base / Max frequency | 1.10 – 4.70 GHz | 1.60 – 4.20 GHz |
| Cache | 12 MB Intel Smart Cache | 6 MB Intel Smart Cache |
| TDP / up / down | 15W / 25W / 12.5W | 15W / 25W / 10W |
| Memory support | DDR4-2666; LPDDR3-2133 | DDR4-2666; LPDDR3-2133 |
If you'd like to see the detailed specs sheet of these CPUs head to their dedicated pages: Intel Core i7-10710U / Intel Core i7-10510U

CPU Benchmarks
MSI Prestige 15 will defend the honor of Core i7 while the Dell Vostro 5590 we recently reviewed will show what the new Core i5 can do. Without further ado, here are the results:
Results are from the Cinebench 20 CPU test (the higher the score, the better)
Results are from our Photoshop benchmark test (the lower the score, the better)
Which one is for you – Core i7-10710U or i5-10210U?
As expected, Core i7-10710U is much faster than i5-10210U. But how much? Cinebench 15 says +52% and Cinebench 11 says +54%. This is what we call a fair game – not like the case with Intel Core i7-10510U and i5-10210U where the i7 is 10% faster while being 40% more expensive.
So here's the question – do you need a laptop for Video/Image editing, 3D rendering or other heavy tasks? If not, i5-10210U is a great choice for you. But if you're planning to work hard with your next notebook or you want to be future-proofed for the next 5-6 years, check out the Core i7-10710U configurations.

All laptops with Core i7-10710U:
All laptops with Core i7-8565U: