Intel Core i7-10510U vs i5-9300H – the Comet Lake CPU is too expensive for what it is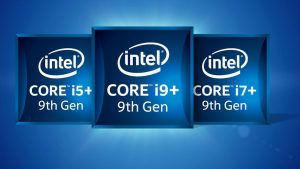 The 10th gen Comet Lake CPUs offer good computational performance alongside decent battery life but they aren't on the same level as the Ice Lake processors at the mentioned categories. The Comet Lake chips use just a refined 14nm tech process. That's why it's a good idea to clash a 10th gen mid-ranger with a Coffee Lake processor like i5-9300H which is a mid-range CPU as well and have enough horsepower under the hood.
We've chosen those two CPUs because of their prices and performance levels. Let's check which one is better.
Quick Specs
A lot of close specs between the two. They both have 4 cores and 8 threads, as well as 8MB cache size. The max memory supported frequencies are the same too – DDR4-2666; LPDDR3-2133. In terms of clocks, the Comet Lake CPU has a lower base clock but its boost clock is higher than the Coffee Lake contender (1.80 GHz – 4.90 GHz vs 2.40 GHz – 4.10 GHz). The i7-10510U is a ULV CPU with just 15W TDP while the i5-9300H has a hefty 45W TDP and it can maintain higher frequencies without much throttling.
As for the iGPUs – The Comet Lake CPU has an Intel UHD Graphics (a rebranded UHD 620) while the Coffee Lake chip is equipped with a UHD 630.
Intel's bulk prices aren't close – $409.00 for i7-10510U and $250.00 for i5-9300H – wow, that's a 64% price gap.
Links to the detailed specs: Core i7-10510U / Core i5-9300H.
| | Intel Core i7-10510U | Intel Core i5-9300H |
| --- | --- | --- |
| Cores / Threads | 4 / 8 | 4 / 8 |
| Base / Max frequency | 1.80 – 4.90 GHz | 2.40 – 4.10 GHz |
| Cache | 8MB Intel Smart Cache | 8MB Intel Smart Cache |
| TDP / up / down | 15W / 25W / 10W | 45W / – / 35W |
| Memory support | DDR4-2666; LPDDR3-2133 | DDR4-2666; LPDDR3-2133 |
CPU Benchmarks
I5-9300H is 6% faster. Nothing special, they are really close performers.
Results are from the Cinebench 20 CPU test (the higher the score, the better)
Results are from our Photoshop benchmark test (the lower the score, the better)
GPU Benchmarks
The iGPUs have almost similar performance as well – almost 5% advantage for the UHD 630.
| | Intel UHD Graphics (i7-10510U) | Intel UHD Graphics 630 (i5-9300H) | Difference |
| --- | --- | --- | --- |
| 3DMark FireStrike | 1252 | 1196 | 4.6% |
One Coffee, please
Everything is clear like day and night. The i5-9300H offers a bit better computational and iGPU performance at a much lower price. As we informed you at the beginning of this article, the price difference between those two processors is 64%. So, the Coffee Lake chip is a much better deal than the newer Comet Lake CPU. The i5-9300H will serve you well in your daily tasks such as watching movies or browsing the Web. You can use it for something heavier like photo or video editing – it'll do the job but not fast as some 6-core beasts like the i7-9750H (still, for that kind of a price tag it's more than fine).
The i7-10510U has a similar performance like the i5-9300H. It's a snappy CPU but it's too expensive for its performance. If you only care about CPU power, the Comet Lake chip isn't the best deal out there. He has an advantage in terms of heat dissipation and power consumption – those two factors lead to smaller devices with better portability. If you need a slimmer and battery-friendly device, the i7-10510U can fit in much more compact notebooks than its Coffee Lake opponent. The latter needs more significant cooling and it's not a ULV CPU and that's why it consumes more power.
Still, no matter what, Intel asks too much money for the i7-10510U – $409.00 is too much for a 4-core processor. The i5-1035G4 offers similar performance alongside 7nm tech process, lower power consumption and heat dissipation, and much faster iGPU (intel Iris Plus G4) for just $309.00. No, thank you Intel, the story goes like that – if you need just a fast CPU and you don't care about battery life – the i5-9300H is a nice deal. If you need a fast device, that is compact and battery-friendly at the same time, you can have a look at laptops configured with the i5-1035G4.
All laptops with Core i7-10510U:
All laptops with Core i5-9300H: