Intel Core i5-11300H vs Core i5-9300H – the new CPU wins with ease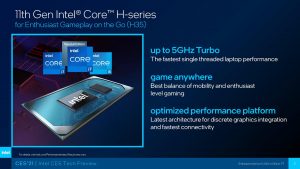 Not so long ago (in Q2 2019) the Core i5-9300H was released as well as some other Coffee Lake processors. These were refreshed versions of the 8th Gen Coffee Lake chips. Interestingly enough, in 2020 the 9th Gen processors were refreshed to Comet Lake-H.
Luckily enough, this year Intel is producing some fresh chips with 10nm tech like the Core i5-11300H which is something like a budget champion in their new Tiger Lake H35 lineup. We are curious to see how big is the performance gap between these two generations of CPUs. Still, the Core i5-9300H isn't that old and you can still find laptop configurations with this chip.
Specs-wise, both CPUs have identical core and thread count and the cache size is the same as well. The Core i5-11300H has the upper hand when it comes to frequencies – DDR4-3200, LPDDR4x-4267 vs DDR4-2666, LPDDR3-2133, and iGPU power.
You can take a look at our Top Laptop CPU Ranking, where we showcase the best and the newest laptop processors.
You can find more information about both CPUs here: Intel Core i5-11300H / Intel Core i5-9300H

Specs table
| | Core i5-11300H | Intel Core i5-9300H |
| --- | --- | --- |
| Architecture | Tiger Lake H35 | Coffee Lake |
| Cores / Threads | 4/8 | 4/8 |
| Clock Speeds – Base/Boost | 3.10GHz – 4.40GHz | 2.4GHz – 4.1GHz |
| Cache | 8MB | 8MB |
| Lithography | 10nm | 14nm |
| TDP | up to 35W | up to 45W |
| Memory type | DDR4-3200, LPDDR4x-4267 | DDR4-2666, LPDDR3-2133 |
| Integrated GPU | Intel Iris Xe Graphics G7 (80EU) | |
CPU benchmarks
Nice, the new Core i5-11300H is 37% faster compared to the Core i5-9300H when it comes to 3D rendering.
Results are from the Cinebench 20 CPU test (the higher the score, the better)
Conclusion
In terms of prices, the Core i5-11300H is more expensive than its older rival. The new one costs $309.00 while the bulk price of the Core i5-9300H is set to $250.00. So, the new chip is 24% more expensive but at the same time it's 37% faster and it has a much more potent iGPU under the bonnet. That doesn't sound bad at all. In addition, the Core i5-11300H dissipates lesser heat because of its more refined tech process which directly affects thing like battery life and shell temperatures.
On the other hand, there are some good AMD alternatives on the market like the AMD Ryzen 5 5600 and 4600H that have more core and better iGPUs under the hood which makes them a great choice as well.

All laptops with the Intel Core i5-11300H:
All laptops with the Intel Core i5-9300H: