Intel Core i5-11300H vs AMD Ryzen 5 5600H – AMD wins bigtime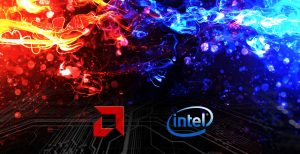 The Intel Tiger Lake CPUs are on the market for some time and the same goes for the latest and greatest AMD Zen 3 mobile chips. One of the newest Intel CPUs is the Core i5-11300H – this one too expensive and it offers decent performance but unfortunately, it's a 4-core CPU with 8 threads so nothing fancy in this case.
On the other hand, the AMD Zen 3 mobile chips are powerful processors that come with a decently bumped single-thread and multi-thread performance compared to the previous-gen Zen 2 processors. The good news is that the prices of the Zen 3-based devices aren't sky-high and in most cases, you can always find a good deal with these CPUs.
The mid-range processors are always important because they offer good performance without stretching your wallet too much. Right now, one of AMD's best mid-rangers is the Ryzen 5 5600H. This fella has 6 cores and 12 threads, 16MB of cache and it's a 7nm CPU. When compared to the Core i5-11300H, the Intel CPU looks like a not-so-powerful processor because it has fewer CPU cores and threads, a smaller cache size, and it's a 10nm chip.
So, let's see which one of these two is faster.
You can take a look at our Top Laptop CPU Ranking, where we showcase the best and the newest laptop processors.
You can find more information about both CPUs here: Intel Core i5-11300H / AMD Ryzen 5 5600H

Specs table
| | Core i5-11300H | AMD Ryzen 5 5600H |
| --- | --- | --- |
| Architecture | Tiger Lake H35 | AMD Zen 3 |
| Cores / Threads | 4/8 | 6/12 |
| Clock Speeds – Base/Boost | 3.10GHz – 4.40GHz | 3.3GHz – 4.2GHz |
| Cache | 8MB | 16MB |
| Lithography | 10nm | 7nm |
| TDP | up to 35W | up to 45W |
| Memory type | DDR4-3200, LPDDR4x-4267 | DDR4-3200MHz, LPDDR4-4266MHz |
| Integrated GPU | Intel Iris Xe Graphics G7 (80EU) | |
CPU benchmarks
Actually, that was expected, the AMD Ryzen 5 5600H offers 49% better performance in 3D rendering when compared to the Core i5-11300H. That is a huge performance gap.
Core i5-11300H
AMD Ryzen 5 5600H
Cinebench 20 score
2494
3712

(+49%)
Conclusion
Well, there isn't much to say especially after we saw how fast is the Ryzen 5 5600H. As we said earlier, these AMD Zen 3 CPUs come with improved performance compared to the Zen 2 chips and that is clearly visible. The AMD CPU just smashed the Intel contender. In addition, when you look at the end prices of some particular laptops that are based on one of these two particular CPUs you can see that they are pretty close in terms of end prices.
This turns the Intel Core i5-11300H into a needless buy if you have to choose between this Intel CPU and the Ryzen 5 5600H. The latter is much faster and in most cases, it fitted in reasonably-priced devices.

All laptops with the Intel Core i5-11300H:
All laptops with the AMD Ryzen 5 5600H: