Intel Core i5-11300H vs AMD Ryzen 5 4600H – the AMD CPU wins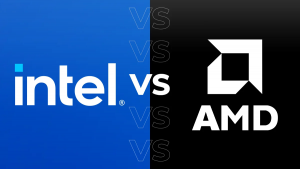 Nowadays a 4-core CPU seems like the bare minimum for some daily routine tasks like Web Browsing, watching videos, etc. And if a CPU offers good multitasking this is always a welcomed feature because it saves time and you can do more things at the same time while using your machine. That's why for today's comparison we picked the fresh Intel Core i5-11300H and the AMD Ryzen 5 4600H. The latter isn't the newest CPU out there but if you look closely at its specs in the table below you'll see that it's a worthy competitor.
The Intel Core i5-11300H has higher base and boost frequencies but at the same same time it's just a 4-core CPU with 8 threads while the Ryzen 5 4600H has 6 cores and 12 threads and that looks like a serious advantage but we'll check that in a minute. As we said, the Intel chip is the newer one in this article but the AMD product is a 7nm CPU and the Intel one uses 10nm tech so that's a bit messy – the older processor in this comparison uses more advanced manufacturing tech but that shows that AMD has done a great job with the Ryzen CPUs.
Without further ado, let's check the actual performance of these two contenders.
You can take a look at our Top Laptop CPU Ranking, where we showcase the best and the newest laptop processors.
You can find more information about both CPUs here: Intel Core i5-11300H / AMD Ryzen 5 4600H

Specs table
CPU benchmarks
At least in more cases, higher core and thread count leads to better performance, and that why the AMD Ryzen 5 4600H is much faster (+34%) when compared to its Intel rival.
Results are from the Cinebench R23 CPU test (the higher the score, the better)
Conclusion
In the end, the AMD Ryzen 5 4600H is the clear winner in this comparison. Well, we don't have info about the bulk price of this CPU but a lot of devices that are based on this chip come with a decent price tag. Nope, the entry-level laptops with the Core i5-11300H aren't too expensive but when you put the CPU power on the table, the AMD CPU is the better buy – it has more core and threads, it's clearly faster, and on top of that, it's a 7nm chip while the newer Intel CPU is just a 10nm product. We can call that a flawless victory for the AMD Ryzen 5 4600H.

All laptops with the Intel Core i5-11300H:
All laptops with the AMD Ryzen 5 4600H: