Intel Core i5-1035G7 vs i7-8650U – the Ice Lake CPU retires Kaby Lake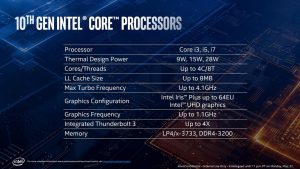 Since we have fresh tests with Core i5-1035G7 it's time to compare it with some other Intel products like i7-8650U. The latter is still a decent processor based on Kaby Lake architecture. Even on paper, the i7-8650U lools like a good contender to i5-1035G7. The Ice Lake CPU is much more modern and efficient thanks to its 10nm tech process while the Kaby Lake CPU is more like a "muscular" and aged Core i7 processor (14nm).
Today's battle will be between a modern Intel CPU and a 14nm (and a bit old school) Core i7.
Quick Specs
First of all, bulk prices – $320.00 for i5-1035G7 and $409.00 for i7-8650U. That is a +28% price difference.
Both CPUs have 4 cores and 8 threads. The i5-1035G7 is a bit shy with its frequencies (1.20 GHz – 3.70 GHz to 1.90 GHz – 4.20 GHz ) and cache size (6MB to 8MB) when compared to i7-8650U. In terms of supported memory frequencies, the 10nm CPU has the upper hand with DDR4-3200, LPDDR4-3733 while the Kabe Lake chip shows its age with just DDR4-2400, LPDDR3-2133 memory support. The TDP values are close too, the Ice Lake CPU has a bit higher TDP down value maybe because of its much more powerful iGPU.
Speaking of iGPUs, the i5-1035G7 has Intel Iris Plus G7 which is the top dog among the integrated graphics (at least before the Zen 2 launch) with 64 CUs. The i7-8650U has the well-known UHD 620 graphics.
Detailed specs: Core i5-1035G7 / Core i7-8650U
This is our table for more clear specs comparison.
| | Intel Core i5-1035G7 | Intel Core i7-8650U |
| --- | --- | --- |
| Cores / Threads | 4 / 8 | 4 / 8 |
| Base / Max frequency | 1.20 – 3.70 GHz | 1.90 – 4.20 GHz |
| Cache | 6 MB Intel Smart Cache | 8 MB L3 Cache |
| TDP / up / down | 15W / 25W / 12W | 15W / 25W / 10W |
| Memory support | DDR4-3200, LPDDR4-3733 | DDR4-2400, LPDDR3-2133 |
CPU Benchmarks
Ok, let's start with the benchmarks. The i5-1035G7 has a 13% higher score than its Kaby Lake contender. That's a good result.

Results are from the Cinebench 20 CPU test (the higher the score, the better)
Results are from our Photoshop benchmark test (the lower the score, the better)
GPU Benchmarks
Poor UHD 620, no chance for it. The powerful Iris G7 iGPU has a 207% higher score than it.

Gaming tests
Let's check some real-life gaming tests with one of the most popular games at the moment – CS:GO and DOTA 2.


Yes, the Intel Iris Plus G7 is clearly way faster than UHD 620.
The final
We are impressed by the performance of i5-1035G7. An i5 is faster than an older i7, literally. They both have the same core and thread count, but the Kaby Lake CPU has higher frequencies and bigger cache size – even then, the Ice Lake processor is faster. That is good progress. On top of that, the i5-1035G7 has much faster iGPU and with it, you can play some popular light games like CS:GO, DOTA 2, or Fortnite at 1080p with a smooth frame rate. The Ice Lake processor doesn't dissipate much heat, it's more power-efficient than its Kaby Lake sibling, and it's 28% cheaper than i7-8650U.
The Core i7-8650U isn't bad at all. It still has a decent CPU performance. Probably you will not spot the computing performance difference between those two CPUs. Unfortunately, apart from that, the Kabe Lake CPU consumes more power (which is bad for battery life), it dissipates more heat, it has much slower iGPU, and it's more expensive. Last but not least, you can find it in some not-so-compact devices like the Ice Lake ones. The Kaby Lake processor will be a good deal only if you find a really discounted notebook configured with it.
All laptops with Intel Core i5-1035G7:
All laptops with Intel Core i7-8650U: