Intel Core i5-1035G4 vs i5-9400H – the UHD 630 has fallen but the i5-9400H still has much to offer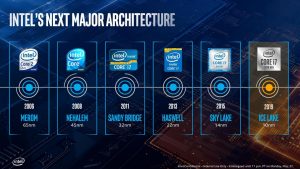 The Intel Ice lake CPUs are on a charge right now – great 10nm CPUs with good efficiency, a decent amount of computing power, very good Iris iGPUs, and they dissipate much less heat. The older monsters – the Coffee Lake CPUs are still here and they still have much to offer. That's why we picked the sweet spot of the CPUs – two Core i5s. The Core i5-1035G4 will meet the i5-9400H – Ice Lake vs Coffee Lake.
It will be an interesting fight so stay tuned.
Quick Specs
The bulk prices of the two CPUs aren't very close – $309.00 for the Core i5-1035G4 and $250 for i5-9400H. This is exactly +24% difference – the new one is more expensive, let's see if it's worth it.
The i5-1035G4 is a standard Ice Lake CPU with 4 cores and 8 threads, the same goes for the Coffee Lake one too. The i5-9400H looks like a very beefy i5 processor and has some i7-like specs – just look at our table. The i5-1035G4 has much lower base and boost frequencies (1.10 GHz – 3.70 GHz vs 2.50 GHz – 4.30 GHz), smaller cache size (6MB to 8MB), and much lower TDP levels. The Ice Lake CPU has the lead with its memory supported frequencies – DDR4-3200, LPDDR4-3733 to DDR4-2666, LPDDR3-2133. Hm, the Coffee Lake CPU looks like an i5 on steroids – very high frequencies, higher TDP, more cache. This will be a hell of a battle.
Specs table:
| | Intel Core i5-1035G4 | Intel Core i5-9400H |
| --- | --- | --- |
| Cores / Threads | 4 / 8 | 4 / 8 |
| Base / Max frequency | 1.10 – 3.70 GHz | 2.50 – 4.30 GHz |
| Cache | 6 MB Intel Smart Cache | 8 MB Intel Smart Cache |
| TDP / up / down | 15W / 25W / 12W | 45W / – / 35W |
| Memory support | DDR4-3200, LPDDR4-3733 | DDR4-2666, LPDDR3-2133 |
You can find the detailed specs sheets here: Core i5-1035G4 / Core i5-9400H.
CPU Benchmarks
The power of i5-9400H is clearly visible – a 25% better score than the Ice lake CPU.
Results are from the Cinebench 20 CPU test (the higher the score, the better)
Results are from our Photoshop benchmark test (the lower the score, the better)
GPU Benchmarks
Well, Intel Iris Plus G4 is 95% faster with its 3DMark GPU score than UHD 630. That's a huge gap.
Gaming tests
In our gaming tests, the Intel Iris Plus G4 just crushed the UHD 630 badly. Nothing more to say – look at the tables below. You can play CS:GO and GTA V on Low settings with over 60 FPS / 45 FPS with the Iris GPU while UHD 630 will struggle a lot in those two games.



Verdict
What an intense battle it was. Both CPUs are good and have their own "playing yards". The i5-1035G4 is a modern "dandy" CPU with better efficiency, lower consumption, 10nm tech process, and a super iGPU. On the other hand, i5-9400H is a brutal old-school CPU formula – sky-high frequencies, huge TDP, and more cache – and its power can't be denied especially when the bulk price is 19% lower than the Ice Lake one.
The price and the specific needs of the user will be crucial when picking a laptop with either of those two. If you need more CPU power for image and video editing, or maybe compressing big amounts of data regularly – the i5-9400H is the logical choice, 25% faster and 24% cheaper. Or if you just want more power and don't care much about graphics performance the Coffee Lake CPU is the right one to choose.
The Core i5-1035G4 is the better CPU when it comes to iGPU power – sorry UHD 630 but the Intel Iris G4 is 94% faster than you! The UHD 630 was the top iGPU and now a mid-range one is almost two times faster – that's what we call progress. If you want to play light games, the Core i5-1035G4 will do the job much better and it will dissipate less heat and you can buy a device with it that is much more compact and thinner than the notebooks configured with i5-9400H. Still, the power of the Ice lake CPU is decent and you will have a snappy laptop. One more thing – don't forget that you can find the i5-1035G4 in much smaller and compact devices because it dissipates less heat and has lower TDP compared to i5-9400H.
Decisions, decisions.
All laptops with Core i5-1035G4:
All laptops with Core i5-9400H: