Intel Core i5-1035G4 vs i5-8265U – Intel Iris Plus G4 wins the match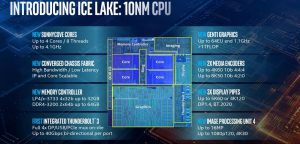 We think that this is a good idea to clash the penultimate-gen i5 with the latest-gen i5. The mid-range CPUs are always interesting because they offer much better performance than the entry-level ones (such as the i3 line-up) and they are not that far behind the top performance CPUs. This time Core i5-1035G4 and i5-8265U will be compared to see how much advantage the new one gets of the 10nm tech process.
It will be an intense battle.
Quick Specs
The bulk prices of the two CPUs are close – $309.00 for the Core i5-1035G4 and $297.00 for i5-8265U. Only $12 between them. The Ice Lake CPU has a lower base and boost frequencies than i5-8265U (1.10 GHz – 3.70 GHz vs 1.60 GHz – 3.90 GHz). As i5 CPUs they both have some identical tech specs like cache size (6MB) and core count (4 cores and 8 threads). TDP levels are close, i5-1035G4 has 2W higher TDP-down score maybe because of the more powerful Iris graphics inside.
The Ice lake CPU supports greater memory frequencies – DDR4-3200, LPDDR4-3733 while i5-8265U can be equipped with much lower ones – DDR4-2400, LPDDR3-2133.
Specs table:
| | Intel Core i5-1035G4 | Intel Core i5-8265U |
| --- | --- | --- |
| Cores / Threads | 4 / 8 | 4 / 8 |
| Base / Max frequency | 1.10 – 3.70 GHz | 1.60 – 3.90 GHz |
| Cache | 6 MB Intel Smart Cache | 6 MB Intel Smart Cache |
| TDP / up / down | 15W / 25W / 12W | 15W / 25W / 10W |
| Memory support | DDR4-3200, LPDDR4-3733 | DDR4-2400, LPDDR3-2133 |
You can find the detailed specs sheets here: Core i5-1035G4 / Core i5-8265U.
CPU Benchmarks
Well, nothing spectacular here, the new one is just 6% faster.

Results are from the Cinebench 20 CPU test (the higher the score, the better)
Results are from our Photoshop benchmark test (the lower the score, the better)
GPU Benchmarks
Wow, Intel Iris Plus G4 got 117% better 3DMark GPU score than UHD 620.
Gaming tests
The same situation again, the new Iris GPU has almost double the frame times in every test when compared with UHD 620.



Verdict
Just $12 price difference (this is 4%) but the Core i5-1035G4 can offer much more. Exactly 6% better CPU result in Cinebench and a whopping 117% better iGPU score! Not a bad deal for a dozen of bucks more. For example, with the Core i5-1035G4 you can play CS:GO with 69 FPS on 1080p (low setting) which is a decent result while the gameplay with UHD 620 will be choppy –  39 FPS only. The 10nm process will allow that kind of performance to be fitted in even smaller and thinner machines than the ones with 14nm CPUs.
The i5-8265U isn't a bad choice – in terms of CPU power everything is fine but its iGPU looks very outdated next to Intel Iris Plus G4. December is the month when you can find some really good notebook deals and if you don't care about graphics performance and you find a really good deal with i5-8265U CPU just get it – it is still a powerful processor.
All laptops with Core i5-1035G4:
All laptops with Core i7-8650U: