Intel Core i5-1035G1 vs i5-9400H – what do you choose, portability or performance?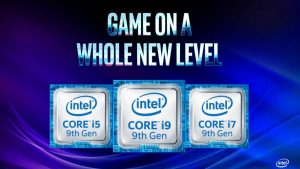 Time is ticking away and the new chips from Intel and AMD are coming but if you need a laptop right now you have to choose something that is already on the market. Different users – different requirements when buying a new device. Some prefer raw power over mobility and others want compact, portable, and yet powerful devices at the same time.
That's why for today's comparison we picked two powerful CPUs that are somehow affordable and have a decent computational performance – Core i5-1035G1 vs i5-9400H. The first one is a mid-range Ice Lake processor and the latter is a Coffee Lake one (again, a mid-ranger). The i5-1035G1 fits in small devices while the i5-9400H offers more power.
We have to find out which one of them is better than the other and why.
Quick Specs
The bulk prices of the two processors aren't that close – $297.00 for the Core i5-1035G1 and $250 for i5-9400H. This is exactly +19% difference – the Ice Lake one is more expensive and let's see if it worth it the price premium over the i5-9400H.
The i5-1035G1 has 4 cores and 8 threads, the same goes for the Coffee Lake CPU as well. The i5-9400H looks like an i7 undercover – have a look at the specs. The i5-1035G1 has lower base and boost frequencies (1.10 GHz – 3.70 GHz vs 2.50 GHz – 4.30 GHz), smaller cache size (6MB to 8MB), and much lower TDP levels. The Ice Lake CPU shines brighter thanks to its memory supported frequencies – DDR4-3200, LPDDR4-3733 to DDR4-2666, LPDDR3-2133. Well, the i5-9400H is something like a boosted i5 with an i7 DNA – higher frequencies, 45W TDP, and big cache size. It's not going to be an easy battle for our Ice Lake CPU.
The i5-1035G1 has an Intel UHD G1 integrated graphics adaptor while i5-9400H has the "old school Intel iGPU king" – UHD 630.
Specs table:
| | Intel Core i5-1035G1 | Intel Core i5-9400H |
| --- | --- | --- |
| Cores / Threads | 4 / 8 | 4 / 8 |
| Base / Max frequency | 1.00 – 3.60 GHz | 2.50 – 4.30 GHz |
| Cache | 6 MB Intel Smart Cache | 8 MB Intel Smart Cache |
| TDP / up / down | 15W / 25W / 12W | 45W / – / 35W |
| Memory support | DDR4-3200, LPDDR4-3733 | DDR4-2666, LPDDR3-2133 |
You can find the detailed specs sheets here: Core i5-1035G1 / Core i5-9400H.
CPU Benchmarks
The i5-9400H has a 22% higher score here when compared to i5-1035G1 – this is a serious added firepower over the Ice Lake competitor.
Results are from the Cinebench 20 CPU test (the higher the score, the better)
Results are from our Photoshop benchmark test (the lower the score, the better)
GPU Benchmarks
In terms of synthetic benchmarks, the UHD G1 is a bit faster than the UHD 630 but let's check the real-life benchmarks.
Gaming tests
The Intel UHD G1 sits between UHD 620 and UHD 630 in terms of real-time gaming performance (but it's closer to the latter).


Verdict
It's clear like day and night – the i5-9400H is a better deal if you don't care that much about battery life and portability, and you prefer pure CPU performance over everything. The Coffee Lake CPU is faster because it has a much higher TDP – its frequencies don't fluctuate that much under heavy stress like the i5-1035G1 ones. Additionally, the H-series processor has much higher clocks and bigger cache size – this is where the power comes from. Its iGPU is a bit faster than UHD G1 and on top of that, it's cheaper than the Ice Lake processor (19% price gap). Of course, the i5-9400H isn't suitable for thin devices, it dissipates more heat and that's why it requires significant cooling, unlike the Ice Lake CPUs. Battery life is another con for our Coffee Lake contender because this is a fast CPU with 45W – if you care about battery life you have to choose another processor.
The i5-1035G1 isn't bad at all – it's a fast chip but slower than i5-9400H, more expensive than it, and the UHD G1 is a bit slower than UHD 630. This Ice Lake CPU is suitable for people who prefer mobility and battery life over performance – if you have to take your device with you daily, yes, the Core i5-1035G1 is the better choice. Probably it'll be in a slim and light device while the Coffee Lake beast fits in much thicker and bigger laptops.
All laptops with Core i5-1035G1:
All laptops with Core i5-9400H: