Intel Core i3-1005G1 vs Core i5-8265U – a matter of choice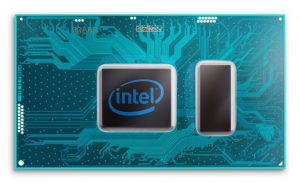 Sometimes, when we want a new notebook, we all are asking ourselves "how much actual power do we really need"? Today's case is exactly the same – is a 2-core / 4-thread CPU enough for our usual daily needs like Web surfing with a lot of opened tabs and high-quality videos or we need a more powerful CPU with 4 cores and 8 threads. Core i3-1005G1 and i5-8265U (Ice Lake vs Whiskey Lake) will help us to find the answer.
Quick Specs
Bulk prices of both CPUs are somehow close – $281.00 USD and $297.00 USD. On paper, Core i3-1005G1 has less horsepower in almost every aspect compared to the i5-8265U – half the cores, 2MB less cache, and lower base and boost frequencies. The max supported memory size is equal – 64GB. Core i3-1005G1 is starting to shine with supported memory frequencies – DDR4-3200, LPDDR4-3733, while i5-8265U supports "only" the DDR4-2400 and LPDDR3-2133 memory frequencies.
There is more – i3-1005G1 is equipped with the newer IGP Intel UHD Graphics G1 while i5-8265U is with standard Intel UHD 620 Graphics. It will be interesting to see which IGP is faster.
Detailed specs here – Intel Core i3-1005G1 / Intel Core i5-8265U
Оur comparison table is down below.
| | Intel Core i3-1005G1 | Intel Core i5-8265U |
| --- | --- | --- |
| Cores / Threads | 2 / 4 | 4 / 8 |
| Base / Max frequency | 1.20 – 3.40 GHz | 1.60 – 3.90 GHz |
| Cache | 4MB Intel Smart Cache | 6MB Intel Smart Cache |
| TDP / up / down | 15W / – / 13W | 15W / 25W / 10W |
| Memory support | DDR4-3200, LPDDR4-3733 | DDR4-2400, LPDDR3-2133 |
CPU Benchmarks
The Core i5-8265U is 77% faster than i3-1005G1. This is an indisputable victory.

Results are from the Cinebench 20 CPU test (the higher the score, the better)
Results are from our Photoshop benchmark test (the lower the score, the better)
GPU Benchmarks
Now, we are on GPU comparison and here Intel UHD Graphics G1 is turning the tables with 42% better score compared to UHD Graphics 620. So, one victory for Core i3-1005G1 and one for i5-8265U – this is a contested fight.
Gaming tests
Same story – Intel UHD G1 is faster compared to Intel UHD 620.


What do we need more – CPU or GPU power?
The two CPU's will do the job in everyday tasks such as browsing, watching videos, and editing documents, but the i5-8265U will finish every task faster compared to i3-1005G1.
If you need more GPU power, the i3-1005G1 is the right CPU for you. Light games like CS:GO and DOTA 2 are running much smoother on Intel Graphics G1 than UHD 620.
In the end, it's all about personal needs – if you need more CPU power you will probably choose the i5-8265U. If you play light games from time to time the i3-1005G1 with its Intel Graphics G1 is the right choice for you.
All laptops with Core i3-1005G1:
All laptops with Core i5-8265U: