[In-Depth Comparison] ASUS VivoBook Pro 14X OLED (M7400) vs Acer Swift X (SFX14-41G) – reckless performance goes against a well-designed notebook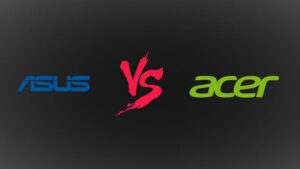 The two biggest Taiwanese tech giants are going at it in the premium notebook market. Both of them have proven that they can create magnificent devices, and have usually dominated the field of premium business devices with their ZenBook, VivoBook, and Swift brands.
However, they aren't without competition, both domestic and international. MSI has delivered big on its plans for expansion, both with its Modern and Prestige series, along with the more premium Summit series, which is every bit as luxurious and powerful as both ASUS and Acer's options.
We also can't forget about the answers from Dell and HP, with their respective XPS and Spectre notebooks. Today however we have a domestic showdown between the VivoBook Pro 14X OLED (M7400) and the Acer Swift X (SFX14-41G), which are set to deliver big on both performance and features.
The VivoBook has the performance lead of a lifetime featuring the full-fledged Ryzen 5000H-series processors, while the Acer laptop has to keep its Ryzen 5000U-series chips going at full speed if it wants to have a chance to be competitive. Both notebooks bring the same RTX Ampere GPUs, which should keep things even in gaming and graphics-intensive tasks.
Keep in mind that this comparison isn't only about performance, but we also factor in the displays, build quality, and overall usability of the device.
ASUS VivoBook Pro 14X OLED (M7400): Full Specs / In-depth Review
Acer Swift X (SFX14-41G): Full Specs / In-depth Review
ASUS VivoBook Pro 14X OLED (M7400) configurations:
Acer Swift X (SFX14-41G) configurations:
Contents
Design and construction
In terms of design, we have two great-looking devices. Despite the VivoBook brand initially offering more affordable lifestyle laptops, their Pro models are made from premium materials, with the whole laptop being crafted from aluminum. There are several unique design touches, like the protruded section of the lid where the VivoBook wordmark is placed. The base is even more stylized, with the keyboard featuring some grey keycaps on the side, along with a bright orange escape key, which we like very much. Both the lid and the base are very resistant to flex when we tested them, while the lid opens smoothly and easily with one hand. ASUS also managed to make the device very portable sporting a weight and profile of 1.45 kg and 17.9 mm, respectively.
Going over to the Acer device, we see a more traditional-looking approach. Of course, the base and lid do come in different colors, with our unit sporting a Golden lid with a silvery base. It is also entirely made of metal, having a similar level of sturdiness. The lid opens with one hand, while also having some rubber feet on the bottom, which grip the table and lift up the rear end, so the keyboard sits at an angle – improving the comfort, while also giving the fans more access to air. The Swift X is even lighter at 1.39 kg while having the same thickness.
Keyboard and touchpad
As we said before, the keyboard on the VivoBook is as decorated as a Rebellion X-wing. However, apart from the visual touches, you also get long key travel (as long as it can get with a low-profile laptop like this), clicky feedback, and a backlight. The touchpad has a decent size and has a Mylar cover. It also brings a virtual knob dial, which is activated with a swipe from the upper right corner. The good thing is that it is configurable through the ProArt app and works with all Adobe programs.
The Swift X brings a keyboard with the color of the base. It brings pretty average key travel and clicky feedback, which is fair with a laptop of this size. However, the keys are pretty crammed up against each other, which will make accidental presses a usual occurrence. The touchpad has smooth gliding and accurate tracking but is still a couple of steps off from being perfect.
Ports
For some reason, the VivoBook still uses USB 2.0 ports, not one but two of them. You also have a USB Type-A 3.2 (Gen. 1) port, a USB Type-C 3.2 (Gen. 1) port, a 3.5 mm audio jack, an HDMI connector, and a MicroSD card reader.
The Swift X has two USB Type-A 3.2 (Gen. 1) ports, a single USB Type-C 3.2 (Gen. 2) ports, an HDMI 2.0 connector, and a 3.5 mm audio jack.
ASUS VivoBook Pro 14X OLED (M7400)
Acer Swift X (SFX14-41G)
Spec sheet
Disassembly, upgrade options
The bane with small devices is that the upgradability is slim to nonexistent. Here, both laptops come with soldered RAM with up to 32GB on the VivoBook and up to 16GB on the Swift X. For the storage, the ASUS laptop has one M.2 PCIe x4 slot, while the Acer notebook comes with two.
Display quality
Both laptops offer 14-inch displays, with a 2.8K 90Hz OLED 16:10 panel for the VivoBook and a Full HD IPS panel for the Swift X. Undoubtedly, the former has a higher pixel density, pitch, and Retina distance of 243 PPI, 0.1 x 0.1 mm, and 36 cm, respectively, compared to the 157 PPI, 0.161 x 0.161 mm, and 56 cm on the Swift X.
Both displays have excellent viewing angles. We offer images at 45° to evaluate image quality.
The OLED panel is spectacular when it comes to brightness uniformity, with the max measured brightness in the middle of the screen being 400 nits. When you pair that with the mathematically infinite contrast ratio, you get amazing color reproduction.
The panel on the Acer laptop is great as well, with a max brightness of 376 nits in the middle of the screen and 372 nits average across the surface with a maximum deviation of 6%. Its uniformity is similar, if not better, while the contrast ratio is very high – 1890:1.
Color coverage
To make sure we are on the same page, we would like to give you a little introduction to the sRGB color gamut and the Adobe RGB. To start, there's the CIE 1976 Uniform Chromaticity Diagram that represents the visible specter of colors by the human eye, giving you a better perception of the color gamut coverage and the color accuracy.
Inside the black triangle, you will see the standard color gamut (sRGB) that is being used by millions of people on HDTV and on the web. As for the Adobe RGB, this is used in professional cameras, monitors, etc for printing. Basically, colors inside the black triangle are used by everyone and this is the essential part of the color quality and color accuracy of a mainstream notebook.
Still, we've included other color spaces like the famous DCI-P3 standard used by movie studios, as well as the digital UHD Rec.2020 standard. Rec.2020, however, is still a thing of the future and it's difficult for today's displays to cover that well. We've also included the so-called Michael Pointer gamut, or Pointer's gamut, which represents the colors that naturally occur around us every day.
The yellow dotted line shows the color coverage of both the ASUS VivoBook Pro 14X OLED (M4700) and the Acer Swift X (SFX14-41G).
The VivoBook's OLED panel fully covers the sRGB and DCI-P3 gamuts, while the Swift X's panel covers 97% of the sRGB color gamut.
Color accuracy
We tested the accuracy of the display with 24 commonly used colors like light and dark human skin, blue sky, green grass, orange, etc. You can check out the results at factory condition and also, with the "Design and Gaming" profile.
Below you can check the results from the test of both laptops, with both the factory settings (left) and with our "Design and Gaming" profile applied (right).
The VivoBook has its own color calibration software, with which you can adjust it to your liking. On the other hand, the Swift X brings a dE value of 1.0 when we applied our design and gaming profile.
ASUS VivoBook Pro 14X OLED (M4700)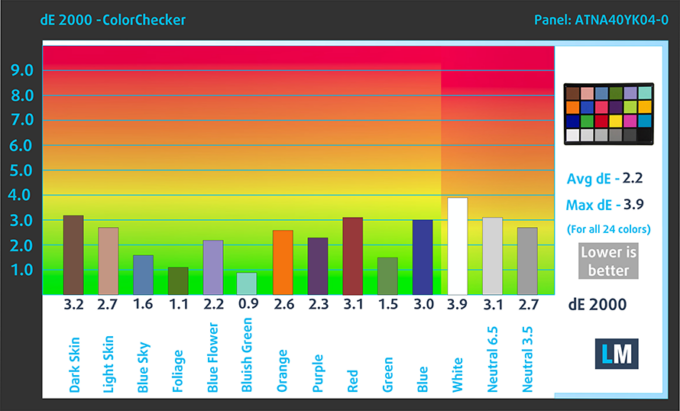 Acer Swift X (SFX14-41G)
Response time (Gaming capabilities)
We test the reaction time of the pixels with the usual "black-to-white" and "white-to-black" methods from 10% to 90% and vice versa.
The ASUS VivoBook Pro 14X OLED (M7400) might hae just set a world record, with a Fall + Rise time of 1.7 ms.
Health Impact / PWM (Blue light)
PWM – Screen flickering
Pulse-width modulation (PWM) is an easy way to control monitor brightness. When you lower the brightness, the light intensity of the backlight is not lowered, but instead turned off and on by the electronics with a frequency indistinguishable to the human eye. In these light impulses, the light/no-light time ratio varies, while brightness remains unchanged, which is harmful to your eyes. You can read more about that in our dedicated article on PWM.
In terms of flickering the OLED panel on the VivoBook does so aggressively up to 95 nits, after which we detected some small pulsations, which are generally safe even after prolonged use. On the other hand, the Swift X uses no PWM across the entire frequency range.
Blue light emissions
Installing our Health-Guard profile not only eliminates PWM but also reduces the harmful Blue Light emissions while keeping the colors of the screen perceptually accurate. If you're not familiar with the Blue light, the TL;DR version is – emissions that negatively affect your eyes, skin, and your whole body. You can find more information about that in our dedicated article on Blue Light.

Buy our profiles
ASUS VivoBook Pro 14X OLED (M7400) 14.0″ Samsung ATNA40YK04-0 (SDC4154) (2880 x 1800p) OLED: Buy our profiles
Acer Swift X (SFX14-41G) 14.0″ AUO B140HAN06.8 (AUO683D) (FHD, 1920 × 1080) IPS: Buy our profiles

Sound
Both laptops come with bottom-firing speakers that offer decent sound. The setup on the VivoBook is provided by Harman/Kardon, which is a household name in the audio industry. There are no deviations across the entire frequency range from both laptops, with the Swift X producing slightly more quiet sound.
Battery
The laptops have pretty similar battery sizes with 63Wh for the VivoBook and 58.75Wh for the Swift X. However, due to the power-efficient 5000U-series Ryzen chips, the Swift X lasts for 5 more hours in web browsing and nearly four hours more in video playback.
Performance
Both laptops come with Zen 3 processors. The VivoBook uses the H-series, which has a TDP of 45W, thus offering higher performance. On the side of the Swift X, we have the U-series, which are able to 15W in sustained loads but are still quite quick. Graphics-wise, both devices get the RTX 3050 and RTX 3050 Ti, with the ASUS laptop getting the 50W versions, while the Acer laptop has the slightly less powerful 40W versions.

CPU benchmarks
Here we tested the Ryzen 9 5900HX and the Ryzen 7 5800U. Obviously, the lower-powered chip has its work cut out for it, but with the VivoBook being so thin, it might lead to the Ryzen 9 throttling and showcasing us a close battle. This is exactly what happened, with the Ryzen 9 5900HX being only 9% more powerful in 3D Rendering while having a 0.4 second lead in Photoshop.
GPU benchmarks
Here we tested the RTX 3050 on both laptops. Here, the VivoBook has the upper hand with its higher power output. It performs better across all synthetic benchmarks, with leads of 19%, 10%, and 22% in 3DMark Fire Strike, Unigine Heaven 4.0, and Unigine Superposition, respectively.
Gaming tests

Shadow of the Tomb Raider
Full HD, Lowest (Check settings)
Full HD, Medium (Check settings)
Full HD, High (Check settings)
ASUS VivoBook Pro 14X OLED (M7400) – RTX 3050 (50W)
99 fps (

+2%

)
64 fps (

+14%

)
58 fps (

+14%

)
Acer Swift X (SFX14-41G) – RTX 3050 (40W)
97 fps
56 fps
51 fps
Tom Clancy's Ghost Recon Wildlands
Full HD, Medium (Check settings)
Full HD, High (Check settings)
Full HD, Very High (Check settings)
ASUS VivoBook Pro 14X OLED (M7400) – RTX 3050 (50W)
67 fps (

+16%

)
60 fps (

+13%

)
53 fps (

+15%

)
Acer Swift X (SFX14-41G) – RTX 3050 (40W)
58 fps
53 fps
46 fps
Temperatures and comfort
Both laptops come with two heat pipes, which both cool down the processor and the graphics card. The VivoBook however has one more fan, which will attribute to better airflow.
Max CPU load
In this test we use 100% on the CPU cores, monitoring their frequencies and chip temperature. The first column shows a computer's reaction to a short load (2-10 seconds), the second column simulates a serious task (between 15 and 30 seconds), and the third column is a good indicator of how good the laptop is for long loads such as video rendering.
Average core frequency (base frequency + X); CPU temp.
| AMD Ryzen 9 5900HX (45W TDP) | 0:02 – 0:10 sec | 0:15 – 0:30 sec | 10:00 – 15:00 min |
| --- | --- | --- | --- |
| ASUS VivoBook Pro 14X OLED (M7400) | 3.44 GHz (B+4%) @ 78°C | 3.38 GHz (B+2%) @ 91°C | 3.27 GHz (B-1%) @ 85°C |
| Acer Nitro 5 (AN517-41) | 3.41 GHz (B+3%) @ 69°C | 3.42 GHz (B+4%) @ 74°C | 3.35 GHz (B+2%) @ 80°C |
| ASUS ROG Strix G17 G713 | 3.44 GHz (B+4%) @ 70°C | 3.38 GHz (B+2%) @ 72°C | 3.44 GHz (B+4%) @ 71°C |
Despite its thin profile, the laptop manages to compete when it comes to clock speeds with other laptops, many of which come with double the weight and much more cooling resources. The temperatures are higher in the middle stages, but come down at the end.
| AMD Ryzen 7 5800U (15W TDP) | 0:02 – 0:10 sec | 0:15 – 0:30 sec | 10:00 – 15:00 min |
| --- | --- | --- | --- |
| Acer Swift X (SFX14-41G) | 3.09 GHz (B+63%) @ 73°C | 2.99 GHz (B+57%) @ 75°C | 2.73 GHz (B+44%) @ 75°C |
| Lenovo IdeaPad 5 Pro (14″) | 2.31 GHz (B+22%) @ 55°C | 2.32 GHz (B+22%) @ 59°C | 2.41 GHz (B+27%) @ 66°C |
Compared to the only other notebook with the same CPU, the Swift X performs noticeably better, reaching higher speeds, while being within reasonable temperatures.

Real-life gaming
| NVIDIA GeForce RTX 3050 | GPU frequency/ Core temp (after 2 min) | GPU frequency/ Core temp (after 30 min) | GPU frequency/ Core temp (Max Fan) |
| --- | --- | --- | --- |
| ASUS VivoBook Pro 14X OLED (M7400) | 1423 MHz @ 63°C @ 44W | 1387 MHz @ 67°C @ 43W | – |
| Acer Swift X (SFX14-41G) | 1182 MHz @ 63°C @ 37W | 1167 MHz @ 69°C @ 38W | – |
The RTX 3050 inside the VivoBook has a higher TGP, allowing it to reach decently higher speeds while keeping pretty much the same temperatures. Interestingly, neither of the laptops is able to reach their graphics cards TGP limits.

Gaming comfort
On the outside temperatures are nearly identical, with both notebooks maxing out at around 45°C.
Verdict
While both notebooks go about it differently, they are very similar in practicality. The VivoBook's interesting design and paint job will definitely be a hit among the younger audience and the Star Wars fandom of course. The keyboard on the ASUS device is also more comfortable, bringing out as long key travel as possible, from its 17.9 mm profile. The I/O is a miss, though, with the two USB 2.0 ports being a head-scratcher. Both laptops offer next to no RAM upgradeability, while the storage situation is passable, for laptops of this size.
The displays are both fantastic, with the higher resolution OLED panel bringing superb color coverage, while the accuracy is a bit iffy due to the nature of OLED panels. Still, regardless of which you pick, you would be able to use them for professional design work.
Both the ASUS and Acer laptops bring great sound from their bottom-firing stereo setups. The Swift X absolutely kills it when it comes to battery life, sporting a battery unit of similar size while being equipped with a much more power-efficient CPU.
Interestingly enough, the CPU performance in benchmarks is way closer than it should be, but the Ryzen 9 5900HX still takes the cake in both 3D and 2D Rendering. The GPU inside the VivoBook is also quicker in all synthetic and gaming tests. Lastly, both laptops keep reasonable temperatures, both on the inside and outside.
ASUS VivoBook Pro 14X OLED (M7400): Full Specs / In-depth Review
Acer Swift X (SFX14-41G): Full Specs / In-depth Review
All ASUS VivoBook Pro 14X OLED (M7400) configurations:
All Acer Swift X (SFX14-41G) configurations: