[In-Depth Comparison] ASUS ROG Strix G15 G513 vs HP Omen 15 (2021) – raw gaming power vs overall good package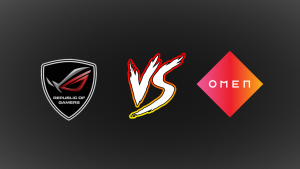 ASUS and HP are both well-known players in the laptop space. One is always striving to be the most innovative brand on the market, pumping out devices such as the ROG Flow X13, which reinvented the way we think of gaming laptops, and the ROG Zephyrus Duo 15 SE (GX551), which brought a new idea of how to better cool down gaming laptops, while also introducing a secondary display.
HP, on the other hand, takes a different approach, doing the responsible thing and betting on already proven designs and form factors, which can be a good thing, as it allows for fewer errors and failures, as the company tries to go after Lenovo for the #1 spot in the world PC and Laptop sales.
Today we have two mid-range offerings from both companies which will go head-to-head so that you can make a more informed decision when it comes to purchasing your next gaming laptop. Both the ASUS ROG Strix G15 G513 and the HP Omen 15 (2021) bring very similar specifications while having distinct differences when it comes to design and construction.
Today we are giving you an in-depth comparison between the ASUS ROG Strix G15 G513 and the HP Omen 15 (2021, 15-en1000).
ASUS ROG Strix G15 G513: Full Specs / In-depth Review
HP Omen 15 (2021, 15-en1000): Full Specs / In-depth Review
ASUS ROG Strix G15 G513 configurations:
HP Omen 15 (2021, 15-en1000) configurations:
Contents
Design and construction
The ASUS ROG Strix G15 G513 comes with an aluminum lid and a plastic base, which is standard in more affordable configurations. The laptop is decently sturdy, resisting our attempts to flex when we tried to twist it. In terms of the design itself, we find a ROG logo on the aluminum lid, along with a smooth texture, which feels great. The lid opens easily with one hand, signifying smooth and well-balanced hinges. However, the lid feels flimsy and weak but has thin bezels and a lack of a Webcam, which is weird and a turn-off for some people. The base is split diagonally, with one part having a pattern that is created using the ROG lettering. In terms of weight and height, the device stops the scales at 2.30 kg and has a profile of 27.2 mm at the thickest point.
Asus ROG Strix G15 G513
Going over to the Omen, it arguably has the better design and build quality, as it is entirely made of aluminum, and has a more toned-down aesthetic. However, HP still brings some signifying touches that this is an Omen laptop, mainly the turquoise diamond on the back, along with the Omen wordmark, which genuinely looks amazing. It gives us the same vibe as the Quadrifoglio badge that you find on high-performance Alfa-Romeos, in a sense that it isn't something gamer-y, but in a way fits and completes the whole design of the device.
The Omen 15 is sturdier than the ASUS laptop, with its base being tougher. The lid on the Omen 15 opens with a single hand, also having thin bezels, but featuring a Webcam Unfortunately, the lid is extremely bendy on this model. However, looking at the keyboard deck from the side, you see a gap when the laptop is closed, from which the display can suffer from unnecessary pressure when holding it from the back. The Omen 15 is 70 grams heavier while being 22.6 mm thin.
HP Omen 15 (2021, 15-en1000)
Keyboard and touchpad
Both setups here lack a Numpad area, which should leave room for larger and better spaced-out keycaps. Starting with the ASUS laptop, its key travel is relatively long and the feedback is clicky. Furthermore, you get either a per-key or a 4-zone RGB backlight, which is a nice gesture, especially during nighttime gaming. Unfortunately, the arrow keys are really small, which is weird for a gaming laptop. The touchpad is the better of the combo, with its large size, smooth gliding ad accurate tracking, which registers in 95% of the area of the pad.
The Omen on the other hand also has long key travel, clicky feedback, and a backlight, which is either White or a 4-zone RGB one. The keycaps are quite bigger here, especially the arrow keys, which is a great touch. The keyboard is however slightly lowered when compared to the wrist rest, which for some people might feel uncomfortable. The touchpad is smaller, in comparison, it has a very good clicking mechanism and tracking accuracy.
Ports
The I/O on the ROG laptop is split between the left and rear sides, and consists of a total of three USB Type-A 3.2 (Gen. 1) ports, a single USB Type-C 3.2 (Gen. 1) port, an HDMI 2.0 port, an RJ-45 port, and a 3.5 mm audio jack.
ASUS ROG Strix G15 G513
HP Omen 15 (2021, 15-en1000)
As for the Omen 15, it gets a total of three USB Type-A 3.2 (Gen. 1) ports, one USB Type-C 3.2 (Gen. 1) port, a 3.5 mm audio jack, an HDMI 2.1 connector, an RJ-45 connector, a Mini DisplayPort, and an SD card reader.
Spec sheet
Disassembly, upgrade options
Both laptops offer the same level of upgradeability, with two SODIMM RAM slots, which can house up to 64GB of DDR4 memory in dual-channel mode, and two M.2 PCIe x4 drives. The difference between them is the number of screws that you have to deal with, with 11 Phillips-head screws for the ASUS, and 8 Phillips-head screws for the HP. Also, the cooling on the Strix seems a bit more sophisticated than that of its opponent.
Display quality
The ASUS laptop offers three display choices, all with 15.6-inch diagonal and IPS panels. Two of the panels come with Full HD resolution and either a 144Hz or 300Hz refresh rate. The last panel increases the resolution to QHD and has a 165Hz refresh rate. Our laptop came with the 300Hz Full HD option, which has a pixel density of 142 PPI, a pitch of 0.18 x 0.18 mm, and a Retina distance of 60 cm or 24 inches.
Going over to the HP laptop, it also offers three display choices, each with Full HD resolution, a 15.6-inch diagonal, and IPS panels. They have a refresh rate of either 60Hz, 144Hz, or 165Hz. Furthermore, the pixel density, pitch, and Retina distance are the same.
Both laptops display excellent viewing angles. Below we have pictures at 45 degrees to evaluate quality.
The ASUS panel has a maximum brightness of around 300 nits and a maximum deviation of 14%. Looking at the panel from a uniformity perspective, the upper right corner does exceed the nominal tolerance, meaning that there is bleeding light, which compromises the panel when it comes to color-sensitive work. The contrast ratio is quite good – 1080:1.
The HP panel, on the other hand, does a much better job both in terms of maximum brightness (336 nits) and deviation (8%), but also fares better in a uniformity perspective, with no issues across the entire display area. It does have a lower contrast ratio, however, – 860:1.
Color coverage
To make sure we are on the same page, we would like to give you a little introduction to the sRGB color gamut and the Adobe RGB. To start, there's the CIE 1976 Uniform Chromaticity Diagram that represents the visible specter of colors by the human eye, giving you a better perception of the color gamut coverage and the color accuracy.
Inside the black triangle, you will see the standard color gamut (sRGB) that is being used by millions of people on HDTV and on the web. As for the Adobe RGB, this is used in professional cameras, monitors, etc for printing. Basically, colors inside the black triangle are used by everyone and this is the essential part of the color quality and color accuracy of a mainstream notebook.
Still, we've included other color spaces like the famous DCI-P3 standard used by movie studios, as well as the digital UHD Rec.2020 standard. Rec.2020, however, is still a thing of the future and it's difficult for today's displays to cover that well. We've also included the so-called Michael Pointer gamut, or Pointer's gamut, which represents the colors that naturally occur around us every day.
The yellow dotted line shows ASUS ROG Strix G15 G513's and HP Omen 15 (2021, 15-en1000)'s color gamut coverage.
Both displays show near-complete sRGB coverage, with 98% for the Strix G15 and 96% for the Omen 15.
Color accuracy
Our "Design and Gaming" profile delivers optimal color temperature (6500K) at 140 cd/m2 luminance and sRGB gamma mode.
We tested the accuracy of the display with 24 commonly used colors like light and dark human skin, blue sky, green grass, orange, etc. You can check out the results at factory condition and also, with the "Design and Gaming" profile.
Below you can check the results from the test of both laptops, with both the factory settings (left) and with our "Design and Gaming" profile applied (right).
ASUS ROG Strix G15 G513
HP Omen 15 (2021, 15-en1000)
Response time (Gaming capabilities)
We test the reaction time of the pixels with the usual "black-to-white" and "white-to-black" methods from 10% to 90% and vice versa.
Both laptops had a very fast response time, which was below 10 ms. However, the Strix G15 had a slightly faster Fall + Rise time of 9.5 ms.
Health Impact / PWM (Blue light)
PWM – Screen flickering
Pulse-width modulation (PWM) is an easy way to control monitor brightness. When you lower the brightness, the light intensity of the backlight is not lowered, but instead turned off and on by the electronics with a frequency indistinguishable to the human eye. In these light impulses, the light/no-light time ratio varies, while brightness remains unchanged, which is harmful to your eyes. You can read more about that in our dedicated article on PWM.
In terms of flickering both panels show no usage of PWM across any brightness levels.
Blue light emissions
Installing our Health-Guard profile not only eliminates PWM but also reduces the harmful Blue Light emissions while keeping the colors of the screen perceptually accurate. If you're not familiar with the Blue light, the TL;DR version is – emissions that negatively affect your eyes, skin, and your whole body. You can find more information about that in our dedicated article on Blue Light.

Buy our profiles
Here at LaptopMedia, we create a set of custom-tailored profiles for every notebook we review. They boost the productivity of display and reduce negative effects such as blue light emissions and PWM. You can read more about them here.
ASUS ROG Strix G15 G513 15.6″ FHD IPS Sharp LQ156M1JW25 (SHP152C): Buy our profiles
HP Omen 15 (2021, 15-en1000) 15.6″ FHD IPS LGD05FE: Buy our profiles

Sound
Both laptops have bottom-firing speakers, which is a bummer, but it is what it is. The ASUS speaker setup produces deep and quality sound thanks to the Dolby Atmos support and shows no deviations across the entire frequency range. On the other hand, the HP laptop also produces good audio, but has some deviations across the frequency range, while also not having support for Dolby Atmos.
Battery
The way we conduct our battery tests is with the Windows Better performance setting turned on, screen brightness adjusted to 120 nits, and all other programs turned off except for the one we are testing the notebook with. The ASUS device has a lead when it comes to the size of the battery, with a 90Wh battery unit, while the HP Omen 15 gets a 71Wh battery unit. In terms of results, the ASUS notebook came on top with a 3% lead in Web browsing and an 11% lead in Video playback.
Performance
Both systems come equipped with the Zen 3-based Ryzen 5000H-series and the RTX Ampere GPUs, which are the newest to come out from AMD and NVIDIA, respectively. Since the units that we tested had the exact same specs, we can have a true performance metric and can determine which laptop truly performs better.

CPU benchmarks
Here we tested the Ryzen 7 5800H inside both laptops. The ASUS laptop had decent performance leads of 6% in 3D Rendering and 0.4 seconds in Adobe Photoshop.
GPU benchmarks
Despite the laptops coming equipped with the RTX 3070, the one inside the HP Omen 15 has a lower 100W TDP, which undoubtedly affected the performance. The GPU inside the Strix G15 performed 21%, 4%, and 29% better in 3DMark Fire Strike, Unigine Heaven 4.0, and Unigine Superposition.
Gaming tests
Rise of the Tomb Raider (2016)
Full HD, Medium (Check settings)
Full HD, Very High (Check settings)
Full HD, MAX (Check settings)
ASUS ROG Strix G15 G513 – RTX 3070 (130W)
128 fps
103 fps (

+13%

)
77 fps (

+22%

)
HP Omen 15 (2021, 15-en1000) – RTX 3070 (100W)
144 fps (

+13%

)
91 fps
63 fps
Tom Clancy's Ghost Recon Wildlands
Full HD, High (Check settings)
Full HD, Very High (Check settings)
Full HD, Ultra (Check settings)
ASUS ROG Strix G15 G513 – RTX 3070 (130W)
99 fps
89 fps (

+2%

)
65 fps (

+10%

)
HP Omen 15 (2021, 15-en1000) – RTX 3070 (100W)
99 fps
87 fps
59 fps
Shadow of the Tomb Raider (2018)
Full HD, Medium (Check settings)
Full HD, High (Check settings)
Full HD, Highest (Check settings)
ASUS ROG Strix G15 G513 – RTX 3070 (130W)
100 fps
99 fps
86 fps (

+12%

)
HP Omen 15 (2021, 15-en1000) – RTX 3070 (100W)
116 fps (

+16%

)
111 fps (

+12%

)
77 fps
Temperatures and comfort
Max CPU load
In this test we use 100% on the CPU cores, monitoring their frequencies and chip temperature. The first column shows a computer's reaction to a short load (2-10 seconds), the second column simulates a serious task (between 15 and 30 seconds), and the third column is a good indicator of how good the laptop is for long loads such as video rendering.
In terms of cooling setups, both laptops came prepared. The Strix G15 has a total of six heat pipes, with one for both the CPU and GPU, which both get two more to solely cool them down, along with one dedicated to the VMRs and Graphics memory. The Omen 15 has a total of three thick heat pipes, two of which cool down both the CPU and GPU, while the third one cools down the GPU and VRAM modules.
| AMD Ryzen 7 5800H (45W TDP) | 0:02 – 0:10 sec | 0:15 – 0:30 sec | 10:00 – 15:00 min |
| --- | --- | --- | --- |
| ASUS ROG Strix G15 G513 | 3.44 GHz (B+8%) @ 68°C | 3.37 GHz (B+5%) @ 72°C | 3.44 GHz (B+8%) @ 74°C |
| HP Omen 15 (2021, 15-en1000) | 3.33 GHz (B+4%) @ 78°C | 3.33 GHz (B+4%) @ 85°C | 3.42 GHz (B+7%) @ 88°C |
The Ryzen 7 inside the Strix G15 had both higher clock speeds and lower temperatures in all stages of our testing.

Real-life gaming
| NVIDIA GeForce RTX 3070 | GPU frequency/ Core temp (after 2 min) | GPU frequency/ Core temp (after 30 min) |
| --- | --- | --- |
| ASUS ROG Strix G15 G513 | 1632 MHz @ 84°C @ 130W | 1617 MHz @ 86°C @ 128W |
| HP Omen 15 (2021, 15-en1000) | 1285 MHz @ 70°C @ 80W | 1288 MHz @ 70°C @ 80W |
The GPU tests, in our opinion, also went in favor of the Strix G15, as while the Omen 15 laptop runs really cool, its GPU has a max TDP of 100W, which doesn't allow for more performance to be squeezed out of it, which translates to a way lower clock speed, despite the low 70°C temperature. Interestingly, our unit wasn't capable of running at the full 100W potential of its GPU.

Gaming comfort
Both systems had an outside temperature of above 40°C, with the Strix G15 being around 2°C cooler.
Verdict
These laptops are very different and are targeting different people. The Strix G15 targets more hardcore gamers, with an aggressive design and RGB, which will for sure capture a large share of the gaming market. The Omen 15 laptop is way more elegant, with its aluminum unibody construction and simple design is targeting the more minimalistic and grown-up gamers, who have had enough RGB in their lives.
Both keyboards here are great, but we will give the win to the HP laptop. It gets bigger keycaps (including the arrow keys). Other than that, the units both have long key travel and clicky feedback. The touchpads are also great, with the ASUS pad being a tad larger.
Going over to the I/O, the Omen 15 has a few extra ports, including a MicroSD card reader, and a Mini DisplayPort. Both laptops are also well upgradeable, with slots for RAM and storage expansion. The HP laptop also offers a better display, which has both higher brightness and better luminance uniformity, which would translate to being better suited for color, sensitive work, especially with the 96% sRGB coverage and adequate color accuracy.
Where the ASUS laptop delivers is in the sound and battery department, with a Dolby Atmos support stereo setup and longer battery life in both of our tests. The Strix G15 also brings more performance to the table, both in the CPU, GPU, and Gaming benchmarks.
Lastly, we have the cooling. Here that ASUS device was better once again, managing to maintain higher frequencies at reasonable temperatures, while also having a lower outside temperature.
All in all, it's a matter of performance vs elegance. The HP brings the style, better display, keyboard, and wider I/O while sacrificing some gaming performance. ASUS on the other hand, goes all out on the gaming part, while some other things still need to be worked out.
ASUS ROG Strix G15 G513: Full Specs / In-depth Review
HP Omen 15 (2021, 15-en1000): Full Specs / In-depth Review
ASUS ROG Strix G15 G513 configurations:
HP Omen 15 (2021, 15-en1000) configurations: