[In-Depth Comparison] Apple MacBook Pro 14 (Late 2021) vs Lenovo Yoga Slim 7i Pro X (14″) – Both are fantastic in their own right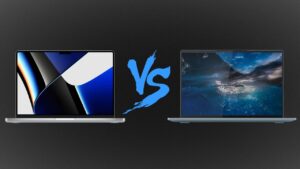 While Apple devices do get some hate from the techie community as a whole, their laptops are always some of the best, both from design and performance perspectives. This is why when a manufacturer releases a new "competitor", everyone is quick to make comparisons and see if there will be a viable alternative with the same quality and set of features.
Today we have the Apple MacBook Pro 14 (Late 2021), which is now a year old, however, still packs a decent punch thanks to its M1 Pro and M1 Max SoCs. What we're putting against it is the Lenovo Toga Slim 7i Pro X, a 14-inch beast with Alder Lake H-series processors and a discrete GPU, all inside a portable shell. We'll compare them from the inside, as well as the outside, so you can determine which one's better for your exact needs.
Today we present you with an in-depth comparison between the Apple MacBook Pro 14 (Late 2021) and the Lenovo Yoga Slim 7i Pro X (14″).
Apple MacBook Pro 14 (Late 2021): Full Specs / In-depth Review
Lenovo Yoga Slim 7i Pro X (14″): Full Specs / In-depth Review
Apple MacBook Pro 14 (Late 2021) configurations:
Lenovo Yoga Slim 7i Pro X (14″) configurations:
Contents
Design and construction
Both laptops are entirely built from aluminum and look quite similar. They share rounded edges and corners, however, the MacBook looks much more uniform when closed. The base edge on the MacBook is a bit sharper, so you might notice some discomfort when resting your wrists there. Durability on both devices is fantastic, with little to no flex from the lid, chassis, and keyboard deck. The Lenovo device is 150 grams lighter, however, while being only 0.4 mm thicker, which is a worthwhile trade.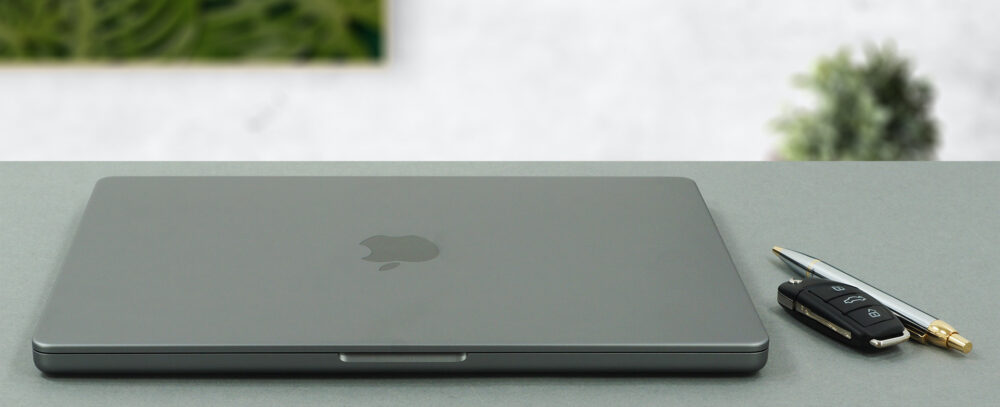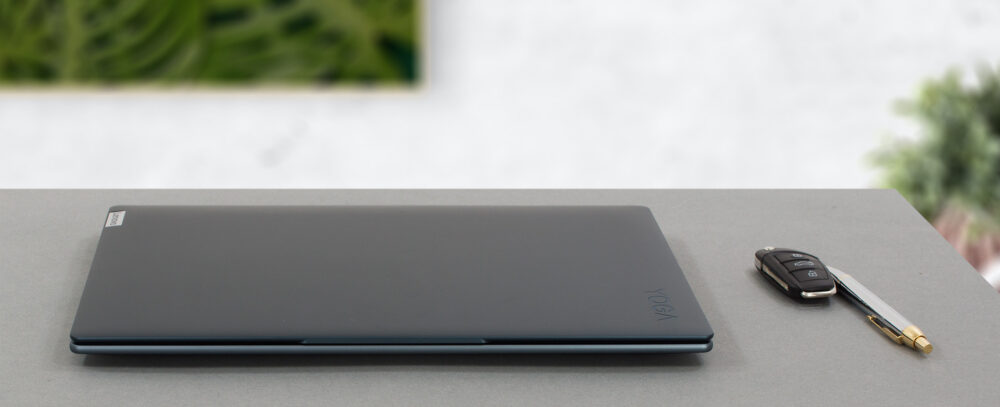 Keyboard and touchpad
Both laptops have lids that open with one hand, which reveal the keyboards and touchpads. Both the MacBook and the Yoga can pride themselves on having front-firing speakers, which is nice to see on smaller laptops.
Going back to the input devices, the keys on the Apple laptop come with average key travel and clicky feedback. The touch bar from the last generation is missing, along with the glossy power button, giving us a matte replacement with an embedded fingerprint reader. The touchpad is a masterpiece, both with its large area and glass surface, but also with super accurate tracking. The pad can mimic clicks using a haptic motor, which isn't everyone's cup of tea, but you have to get used to it nonetheless.
The Lenovo Yoga Slim 7i Pro X's keyboard has longer key travel, and the feedback is great as well. The touchpad is also covered in glass but could have been bigger. It's fast and responsive, however, the clicking mechanism (yes, you actually get one here) gets tougher to press the higher you click on the pad.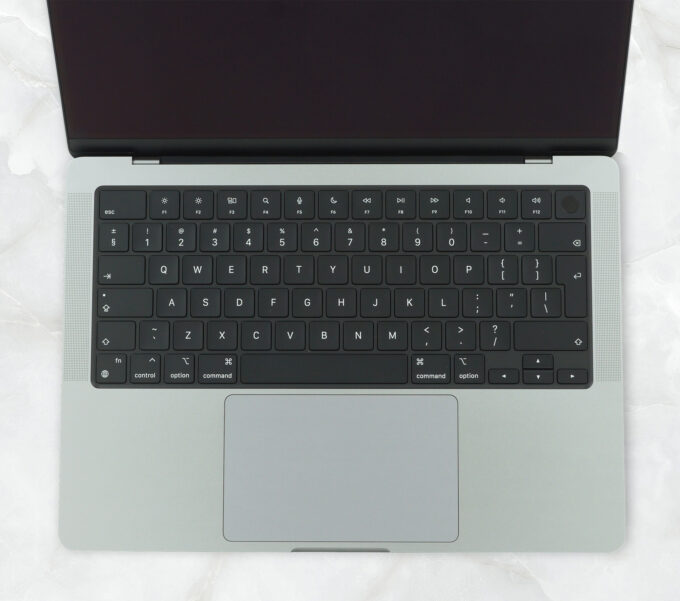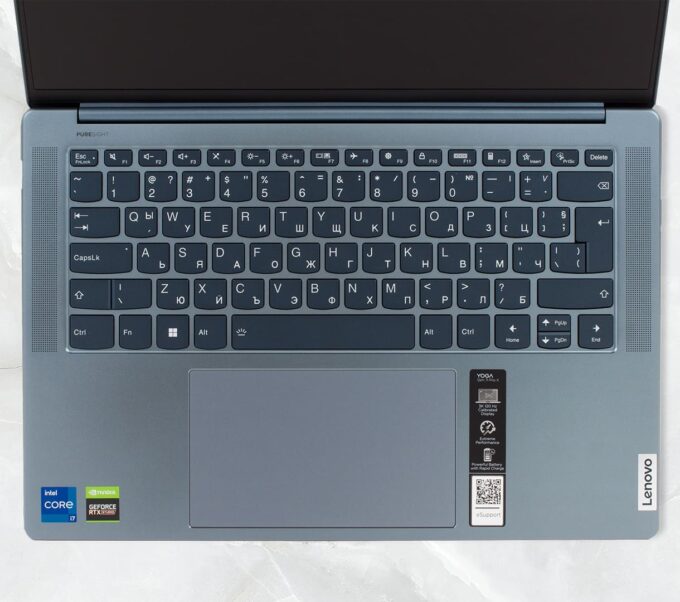 Ports
The MacBook comes with a decent port selection, which wasn't previously the case. You get a total of three Thunderbolt 3 ports, an audio jack, a MagSafe connector for charging, an SD card reader, and an HDMI port.


On the side of the Lenovo, we have two Thunderbolt 4 ports, an HDMI 2.0 port, an audio jack, and a single Type-A 3.2 (Gen. 1) port. There's also the power button and a switch for the E-shutter.


Disassembly, Upgrade options
Both laptops have soldered memory, with up to 32GB for both of them. Storage-wise, the MacBook has its storage soldered as well, but you can get up to 8TB of it, while on the Lenovo laptop, you can upgrade it through a single M.2 slot, which supports Gen 4 SSDs.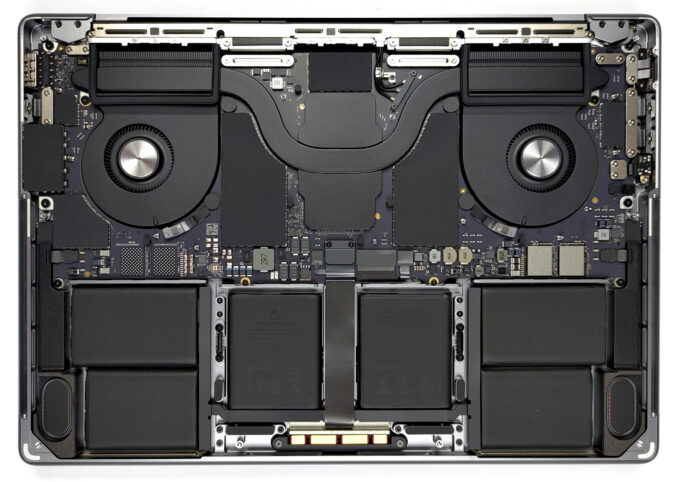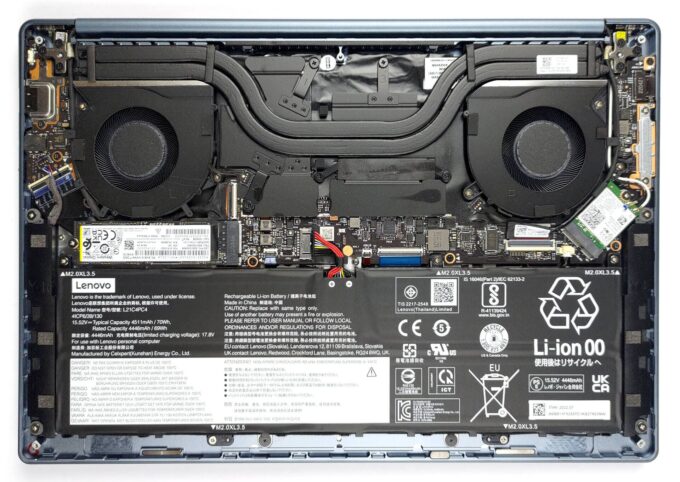 Spec sheet
Dimensions
312.6 x 221.2 x 15.5 mm (12.31" x 8.71" x 0.61")
Price
Starting at $2099.00
Dimensions
328.2 x 221.4 x 15.9 mm (12.92" x 8.72" x 0.63")
Price
Starting at $1680.30
Display quality
The MacBook comes with a 14.2-inch Liquid Retina Display with a resolution of 3024 x 1964. The aspect ratio is a bit weird at 14:9, while the pixel density is decently high at 254 PPI. It also has a pitch of 0.1 mm x 0.1 mm, along with a Retina distance of 36 cm.
The Lenovo laptop uses a similarly sized display, with a 14-inch diagonal, a 3K (3072 x 1920p) resolution, and a 16:10 aspect ratio. This leads to a slightly lower pixel density of 250 PPI, but the same pitch and Retina distance. Interestingly enough, both panels have a 120Hz refresh rate, which isn't good only for games but makes the laptops feel that much smoother.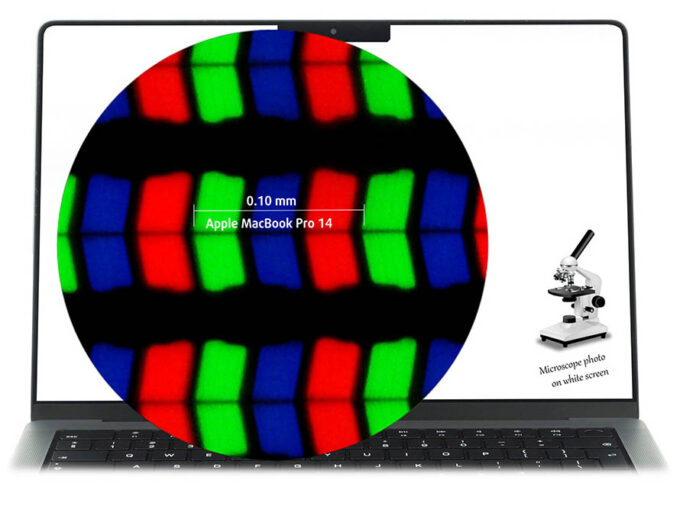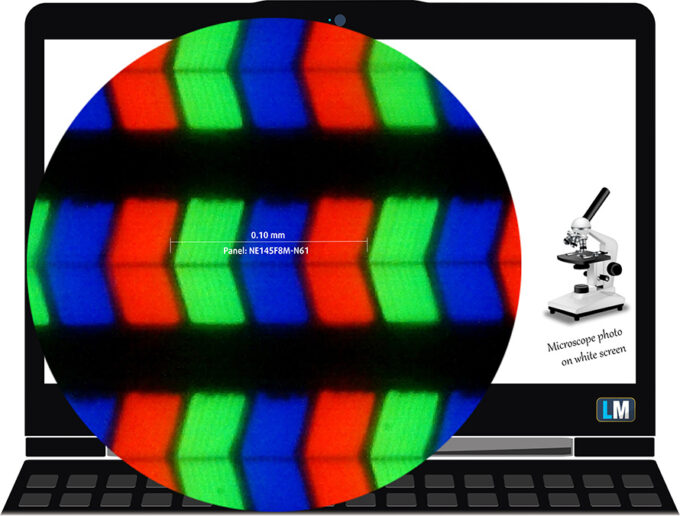 With IPS panels, both laptops have excellent viewing angles. Here we have images at 45 degrees to evaluate quality.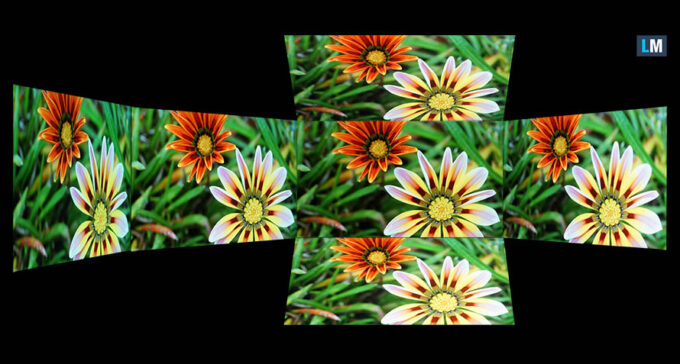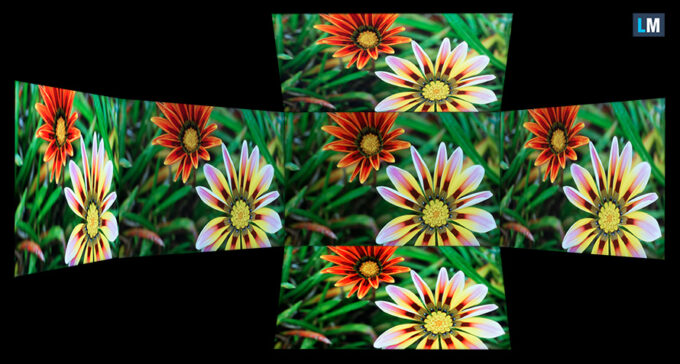 The MacBook has a peak brightness of 1600 nits with content that supports HDR, and 529 nits with SDR content.
On the other hand, the display on the Lenovo Yoga Slim doesn't support HDR, but still reaches 415 nits of brightness in the middle of the screen, 394 nits as an average for the entire display area, and a pretty high contrast ratio of 1720:1.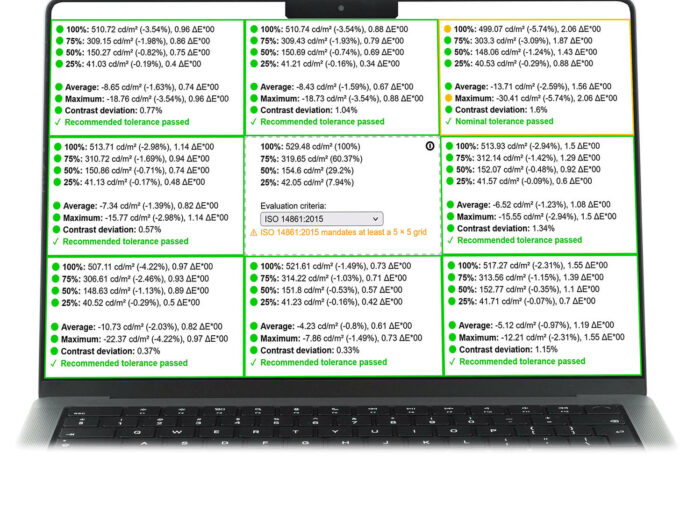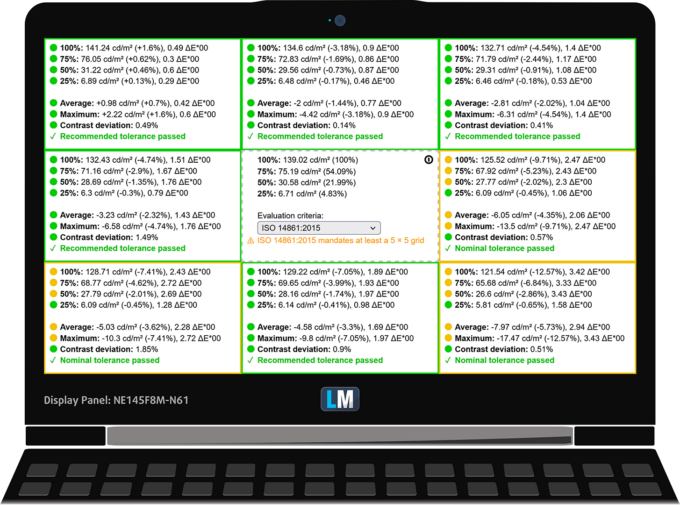 Color coverage
To make sure we are on the same page, we would like to give you a little introduction to the sRGB color gamut and the Adobe RGB. To start, there's the CIE 1976 Uniform Chromaticity Diagram that represents the visible specter of colors by the human eye, giving you a better perception of the color gamut coverage and the color accuracy.
Inside the black triangle, you will see the standard color gamut (sRGB) that is being used by millions of people on HDTV and on the web. As for the Adobe RGB, this is used in professional cameras, monitors, etc for printing. Basically, colors inside the black triangle are used by everyone and this is the essential part of the color quality and color accuracy of a mainstream notebook.
Still, we've included other color spaces like the famous DCI-P3 standard used by movie studios, as well as the digital UHD Rec.2020 standard. Rec.2020, however, is still a thing of the future and it's difficult for today's displays to cover that well. We've also included the so-called Michael Pointer gamut, or Pointer's gamut, which represents the colors that naturally occur around us every day.
The yellow dotted line shows the color coverage of both the Apple MacBook Pro 14 (Late 2021) and the Lenovo Yoga Slim 7i Pro X (14″). The MacBook covers 99% of the DCI-P3 gamut, while the Lenovo device shows 92% sRGB coverage.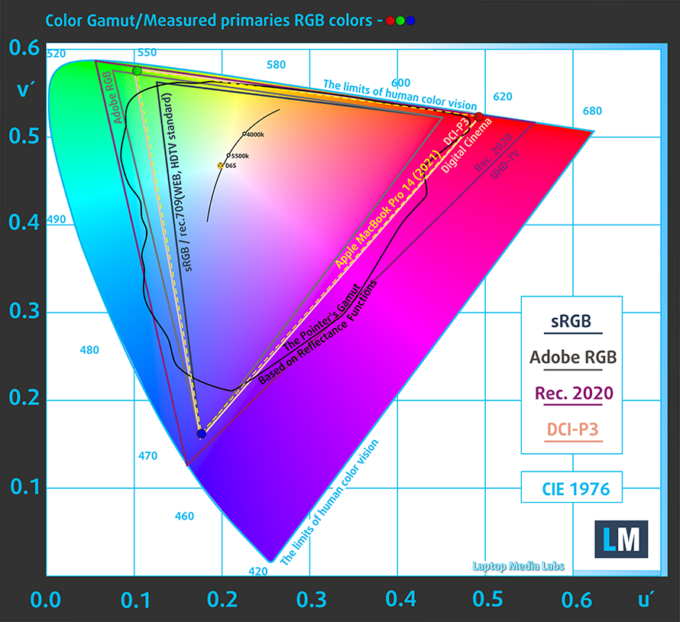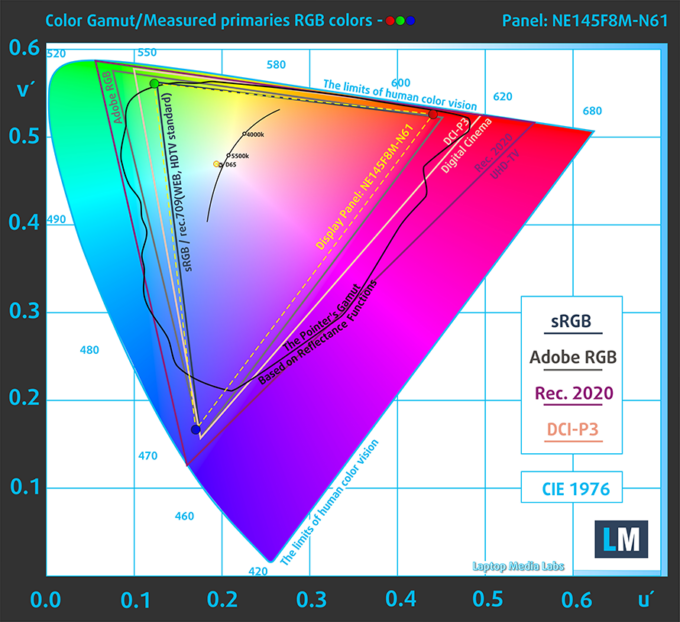 Color accuracy
While you can't apply display profiles to the MacBook, it does come with some predetermined presets, which are quite accurate. However, once selected, you can't increase the brightness, and have to deselect them if you need the screen to be brighter or if it's too bright.
The Lenovo device is a tad simpler to work with, as once you apply our Design and Gaming profile, the dE value goes down to 0.8.
Health Impact – PWM  / Blue light
PWM – Screen flickering
Pulse-width modulation (PWM) is an easy way to control monitor brightness. When you lower the brightness, the light intensity of the backlight is not lowered, but instead turned off and on by the electronics with a frequency indistinguishable to the human eye. In these light impulses, the light/no-light time ratio varies, while brightness remains unchanged, which is harmful to your eyes. You can read more about that in our dedicated article on PWM.
The MacBook uses PWM to adjust brightness, both with and without the color presets.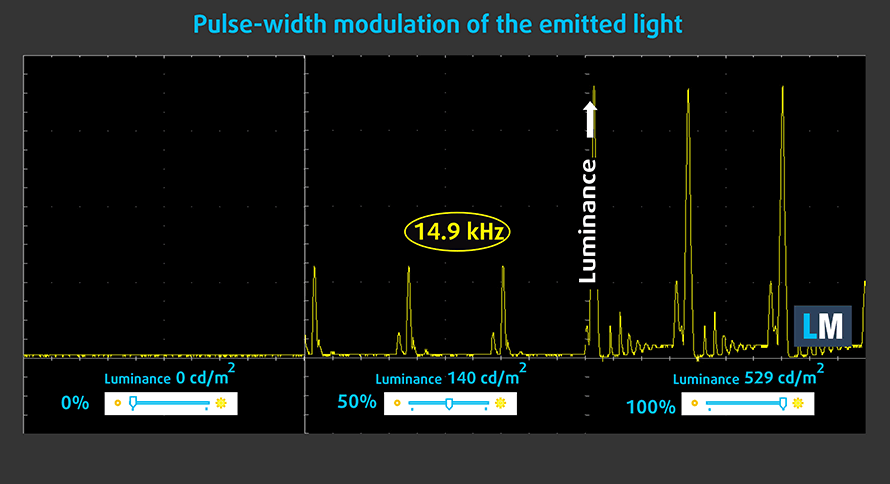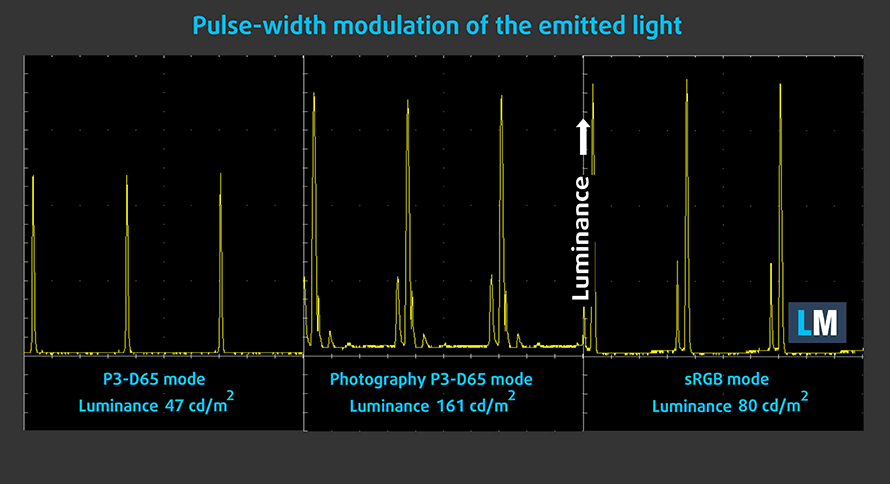 On the side of the Lenovo laptop, there's no PWM usage across all brightness levels.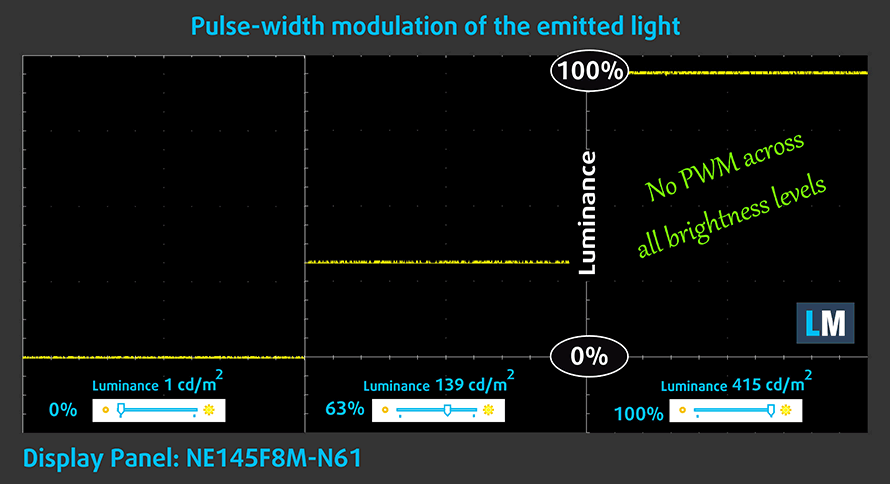 Blue light emissions
Installing our Health-Guard profile not only eliminates PWM but also reduces the harmful Blue Light emissions while keeping the colors of the screen perceptually accurate. If you're not familiar with Blue light, the TL;DR version is – emissions that negatively affect your eyes, skin, and your whole body. You can find more information about that in our dedicated article on Blue Light.

Buy our profiles
Lenovo Yoga Slim 7i Pro X (14″) 14.5″ BOE NE145F8M-N61 (BOEAA8) (3072 x 1920) IPS: Buy our profiles

Sound
Both laptops come with front-firing speakers, with Lenovo branding their setup as one provided by Harman. Most of the time this is a marketing exercise, but still, the speakers on both devices work really well, providing loud audio with no deviations across the entire frequency range. However, that of the MacBook Pro 14 is significantly better than the other.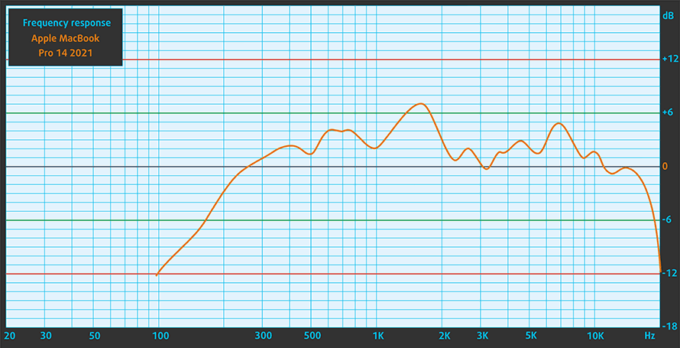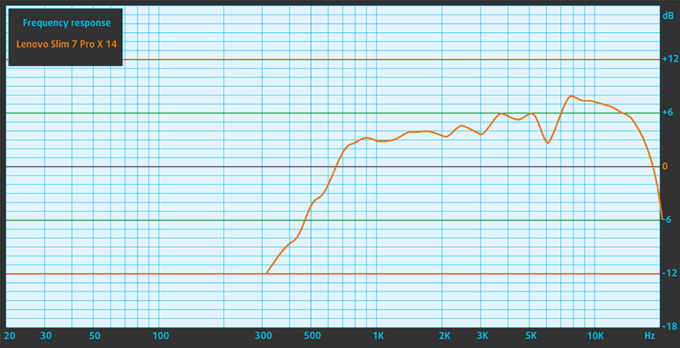 Battery
Apple is always smurfing when it comes to battery life, as their software and hardware are integrated so well to the point of being inseparable. This is put on a grand display, as the MacBook Pro 14 lasts for 8 hours and 17 minutes more in Web browsing and 8 hours and 39 minutes in video playback. The way we perform our tests is with the screen brightness adjusted to 120 nits, and all other programs turned off except for the one we are testing the notebook with.
In order to simulate real-life conditions, we used our own script for automatic web browsing through over 70 websites.
For every test like this, we use the same video in HD.
Performance
The MacBook Pro 14 is known for its M1 Pro and M1 Max SoCs, which come with different GPUs. The M1 Pro version that we have can come with either an 8-core or a 10-core CPU and a 14-core or a 16-core GPU. The M1 Max, on the other hand, comes with either a 24-core or a 32-core GPU.
The Lenovo Yoga Slim 7i Pro X has two Alder Lake H processors to pick from, with either the Core i5-12500H or the Core i7-12700H, along with a 55W RTX 3050 for a GPU.

CPU benchmarks
Here we tested the M1 Pro and the Core i7-12700H. The Apple Silicon chip is quite behind its competitor, as the Core i7 scores 132% higher in the Cinebench 20 3D Rendering benchmark. The Core i7 is a lot faster in the new Cinebench R23 as well.
Results are from the Cinebench R23 CPU test (the higher the score, the better)
CPU Benchmarks
Cinebench R23
Apple MacBook Pro 14 M1 Pro (8C/14C)
9564
Lenovo Yoga Slim 7i Pro X (14″) – Core i7-12700H
14923 (

+56%

)
GPU benchmarks
The 14-core GPU inside the MacBook does score a tad higher in 3DMark Wildlife Extreme, with a 6% difference, however, it also gets blown out of the water in Unigine Heaven 4.0 by 79%. Keep in mind that Heaven 4.0 doesn't run natively on Apple chips.
3DMark Wildlife Extreme
Apple MacBook Pro 14 M1 Pro (8C/14C)
9142 (

+6%

)
Lenovo Yoga Slim 7i Pro X – RTX 3050 (55W)
8599
Unigine Heaven 4.0
Apple MacBook Pro 14 M1 Pro (8C/14C)
1461
Lenovo Yoga Slim 7i Pro X – RTX 3050 (55W)
2610 (

+79%

)
Temperatures and comfort
The MacBook Pro 14 comes with one beefy heat pipe and two fans, while the Yoga Slim 7i Pro X has two heat pipes and two fans.


Max CPU load
| Apple M1/M1 Pro | 0:02 – 0:10 sec | 0:15 – 0:30 sec | 10:00 – 15:00 min |
| --- | --- | --- | --- |
| Apple MacBook Pro 14 | 58°C | 64°C | 92°C |
Apple doesn't give access to information about clock speeds and wattages, so just the temps will have to do. The M1 Pro ramps up and maintains a high temperature in prolonged tasks.
| Intel Core i7-12700H (45W TDP) | 0:02 – 0:10 sec | 0:15 – 0:30 sec | 10:00 – 15:00 min |
| --- | --- | --- | --- |
| Lenovo Yoga Slim 7i Pro X (14″) | 2.26 GHz @ 2.05 GHz @ 68°C @ 60W | 0.97 GHz @ 1.29 GHz @ 60°C @ 21W | 1.48 GHz @ 1.33 GHz @ 66°C @ 34W |
To be frank, this isn't the best-performing Core i7-12700H, but considering the small form factor, it's to be expected. The chip runs below its base TDP and clock speeds, while temperatures are pretty low as well. Lenovo could squeeze more performance out of it, but they seem to be prioritizing comfort.

Comfort during full load
These two might as well be the same laptop, as they share the same outside temperature of 45°C. In terms of noise, the MacBook is pretty quiet even with the fastest fan preset, while the Lenovo laptop ramps up and can definitely be heard. However, it's still quieter than similarly equipped gaming laptops.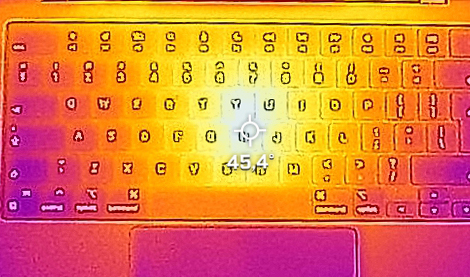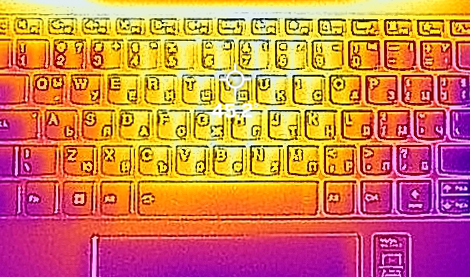 Verdict
Both the MacBook Pro 14 and the Lenovo Yoga Slim 7i Pro X are quality portable laptops for real professionals. They are stacked with performance and features. Both are made from aluminum from head to toe, presenting amazing build quality. The Lenovo device is 150 grams lighter, which can be felt, as these already are pretty light machines. We like the keyboard on the Lenovo laptop more as well, as it's got longer key travel, which makes for better typing. It also has a traditional touchpad with a normal clicking mechanism, albeit it does get harder to press the higher you go along the touchpad.
The port selection on both laptops is very similar. The Lenovo notebook does have the newer Thunderbolt version, while the MacBook has an SD card reader. Upgradeability is poor on both devices, but the Yoga Slim 7i Pro X at least has one M.2 slot for future storage expansion.
Both devices have excellent displays, with high brightness and high contrast ratio. The MacBook has a slightly wider color coverage, but both are still very usable for all types of creator and color work. You should also know that the MacBook uses PWM for brightness adjustment, which isn't that good for a device with that price tag. However, the Apple device is crushing with the battery life, outlasting the Lenovo Yoga Slim 7i Pro X by more than 8 hours in both of our tests.
However, the Yoga Slim 7i Pro gets much more performance from its Core i7-12700H, outperforming the M1 Pro in both Cinebench 20 and 23. The 14-core GPU is faster in the 3DMark benchmark but gets destroyed in Unigine Heaven. Lastly, in terms of comfort, both laptops are very similar. The cooling setups that they use don't generate a lot of noise, while the outside temperature is scaringly similar.
Now, what do you pick if you have these two laptops in front of you? If you've previously owned a MacBook and want to jump to something newer, the Pro 14 is a good option, delivering good performance and fantastic battery life. On the other hand, if you appreciate the open nature of Windows and put a value on performance, the Lenovo Yoga Slim 7i Pro X makes a strong case for itself.
Why choose the Apple MacBook Pro 14 (Late 2021)?
Longer battery life
Six speaker setup
Why choose the Lenovo Yoga Slim 7i Pro X (14″)?
More performance
No PWM usage
Upgradeable storage
Apple MacBook Pro 14 (Late 2021): Full Specs / In-depth Review
Lenovo Yoga Slim 7i Pro X (14″): Full Specs / In-depth Review
All Apple MacBook Pro 14 (Late 2021) configurations:
All Lenovo Yoga Slim 7i Pro X (14″) configurations: