[In-depth Comparison] Acer Nitro 5 (AN515-57) vs ASUS TUF Gaming F15 (FX506, 2021)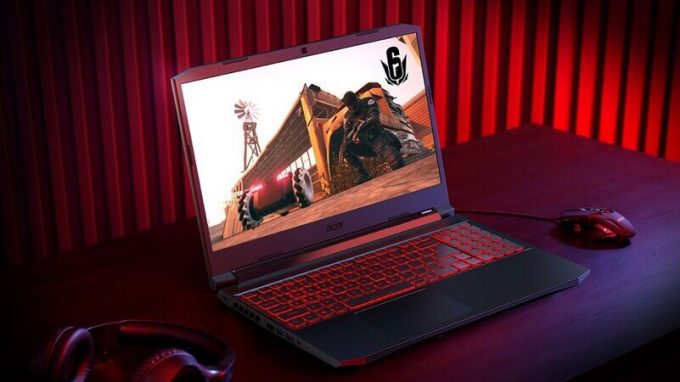 We have seen countless comparisons between two of the titans of the gaming laptop world, and those are the Acer Predator and the ASUS ROG series. These two companies have done great work to establish their gaming brands, and they always deliver phenomenal performance. With the use of the best available hardware, they always have a secure spot on any top 10 list, but that phenomenal performance does not come cheap.
It is our belief that gaming should be accessible to everyone, even if they can't afford a top-tier brand, so it makes us happy to see manufacturers doing what Acer and ASUS have been doing. That is, giving the deserved attention to their more budget-friendly gaming series in the face of the Acer Nitro and ASUS TUF devices. Even though they are not their top-of-the-line laptops, they still keep them fresh, both in design tweaks and spec sheet updates. That is why today we will be comparing the Acer Nitro 5 (AN515-57) and the ASUS TUF Gaming F15 (FX506).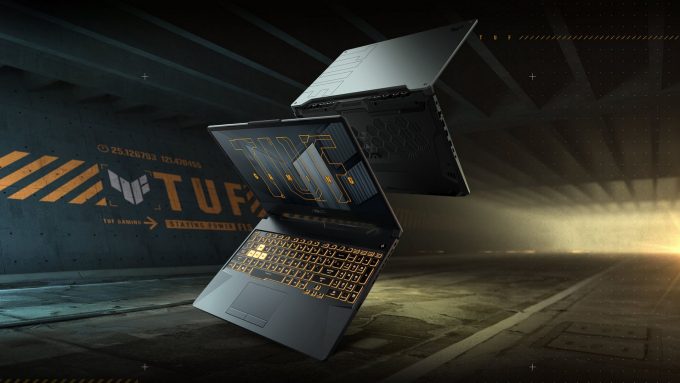 Looking at the devices, we can see they are both designed for the gamer. With defined edges and bright colors, you definitely won't be stealthy in public. And if looks are not the only thing you are after, you will be happy to see that both devices are powered by Intel's newer Tiger Lake H45 CPUs and both systems can be equipped with NVIDIA Ampere GPUs. We expect good performance from both machines.
Without further ado, let's get into the in-depth comparison between the Acer Nitro 5 (AN515-57) and the ASUS TUF Gaming F15 (FX506) and see which one comes out on top.
Acer Nitro 5 (AN515-57): Full Specs / In-depth Review
ASUS TUF Gaming F15 (FX506): Full Specs / In-depth Review
Acer Nitro 5 (AN515-57) configurations:
ASUS TUF Gaming F15 (FX506) configurations:
Contents
Design and construction
Design-wise, both laptops have that sports car feeling that has come to be expected of a gaming device. And while they share a similar love for jagged edges and not very subtle color details, the TUF F15 has a less vibrant color theme than the bright red that the Nitro utilizes.
The Acer Nitro 5 is entirely made out of plastic, lid, and base, but that's not surprising, given the price tag. Despite the building material, the chassis feels really sturdy and balanced enough for users to open the lid with one hand without any flexing. It is pretty average in terms of dimensions at a height of 23.9mm and weighing 2.20kg, and that's nothing crazy for a gaming laptop. Opening the lid reveals a substantial top bezel with a webcam and a pretty fat chin, but at least the side bezels are on the thinner side.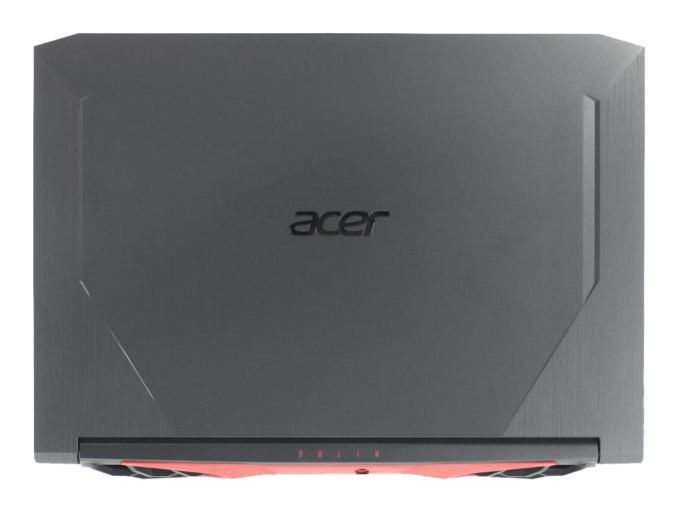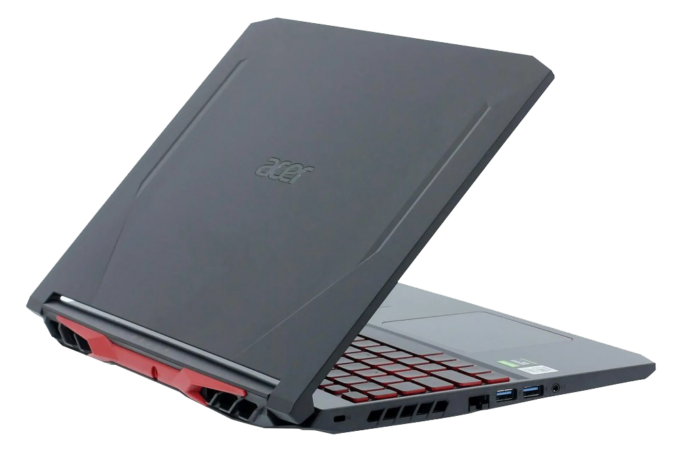 Where the ASUS TUF F15 differs is the lid. Here you have two options – a plastic or an aluminum lid, with both having completely different designs. Other than that, it's pretty similar to the Nitro. The base is made of plastic but is also quite sturdy with good balance and the bezels are pretty much the same. The profile height is 24.3mm or 24.5mm, depending on the lid option, and the weight is 2.30 kg, so just a bit bulkier than the Nitro 5.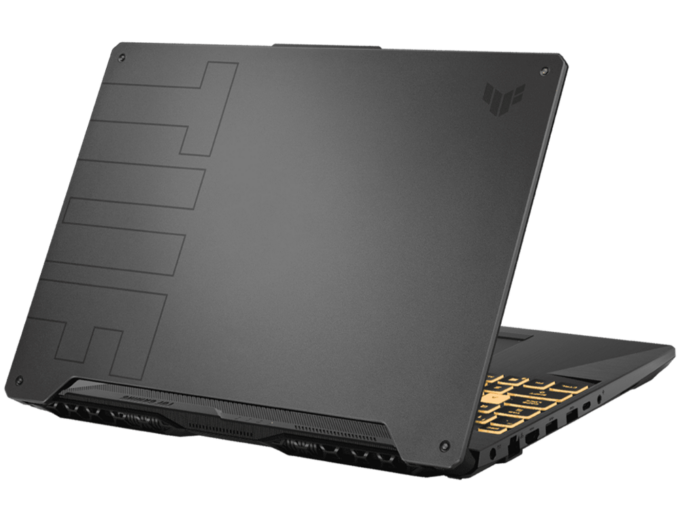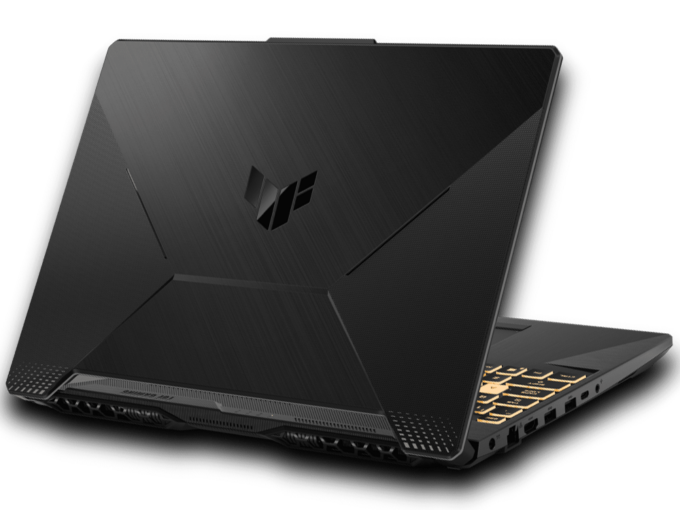 Keyboard and touchpad
Both devices have decent keyboards with NumPads and highlighted WASD sections, but the Nitro 5 is slightly better with longer travel and clickier feedback. The arrow keys are also larger than the TUF's, but there is no space around them. A big difference between the two devices is that the TUF F15 has RGB backlighting, while the Nitro 5 has only a crazy bright red backlight on top of the red-accented keys. Harsh typing is no problem on either device, as there is hardly any flex on their keyboards.
As for the touchpad, the ASUS laptop comes on top, with smoother gliding, more accurate tracking, and the addition of dedicated buttons.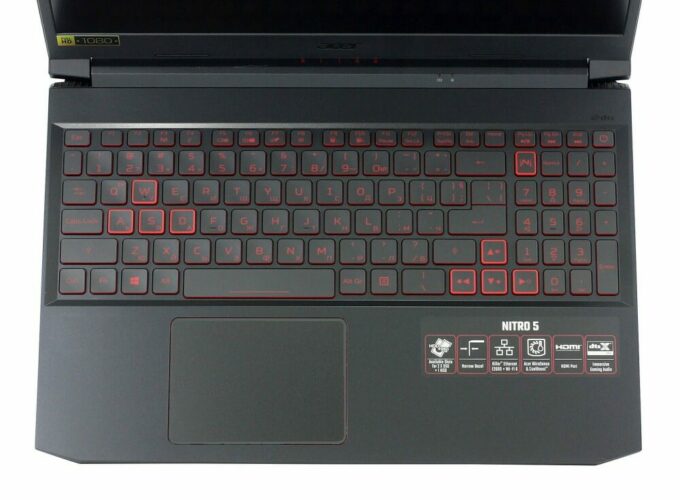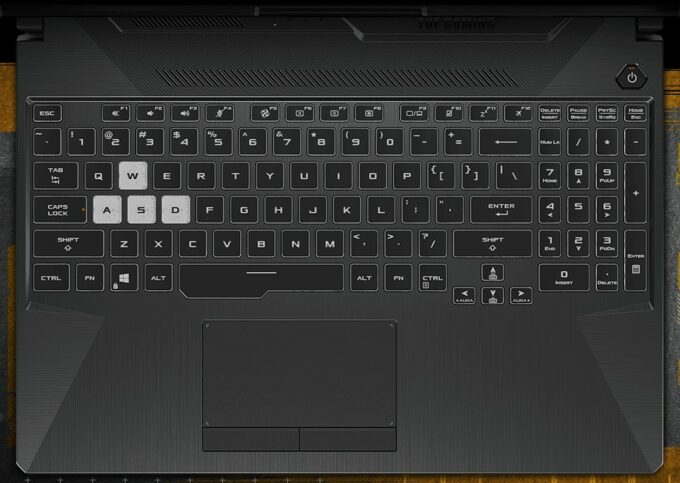 Ports
In terms of connectivity, the Nitro 5 is just slightly better, as it has three USB Type-A 3.2 (Gen. 1) ports, as well as a USB Type-C 3.2 (Gen. 2) with Thunderbolt 4 support. There are also an RJ-45 connector, an HDMI port, a Kensington lock, and a power plug. The only place that the TUF is lacking is that one of its three USB Type-A ports is the slow 2.0 version. Everything else is the same. Also, both of them sadly lack an SD card reader.
Acer Nitro 5 (AN515-57)


ASUS TUF Gaming F15 (FX506)

Specs Sheet
Dimensions
363.4 x 255 x 23.9 mm (14.31" x 10.04" x 0.94")
Price
Starting at $649.99
Dimensions
395 x 256 x 22.8 ~ 24.5 mm (15.55" x 10.08" x 0.90")
Price
Starting at $779.00
Disassembly, upgrade options, and maintenance
To get access to the insides of either laptop, you need to undo 11 Philips-head screws and pop out the bottom plate.
Both devices have two SODIMM slots, but the TUF F15 can handle a bit more RAM, with a maximum capacity of 64GB DDR4, while the Nitro 5 can handle up to 32GB DDR4. The Acer Nitro comes out on top in terms of storage though. Both laptops have two M.2, but on the Acer, one slot supports both PCIe and SATA drives, while the ASUS supports only PCIe. And not only that, the Nitro even offers a separate SATA slot.
Display quality
Both displays use the same panel model – Innolux N156HRA-EA1 (CMN1521), so in both cases, we have 15.6″(39.62 cm) Full HD IPS displays with resolutions of 1920 х 1080 pixels in 16:9. We are looking at a pixel density of – 142 PPI, and a pitch of 0.18 х 0.18 mm. The screen turns into Retina when viewed at a distance equal to or greater than 60cm (24″) (from this distance one's eye stops differentiating the separate pixels, and it is normal for looking at a laptop).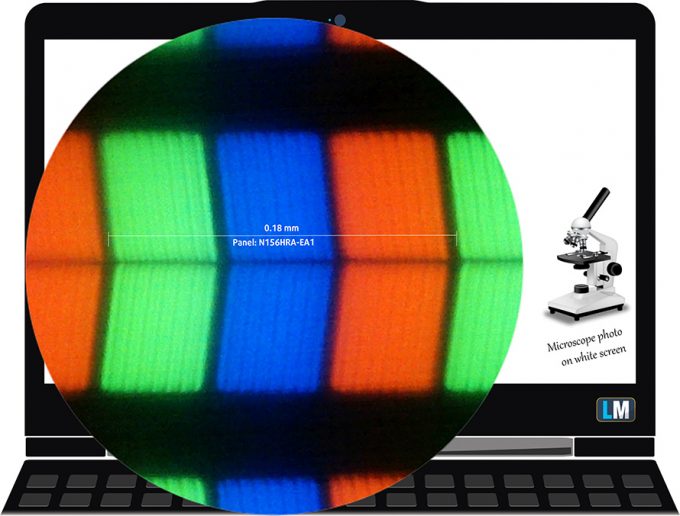 The viewing angles are comfortable. We offer images at 45° to evaluate image quality.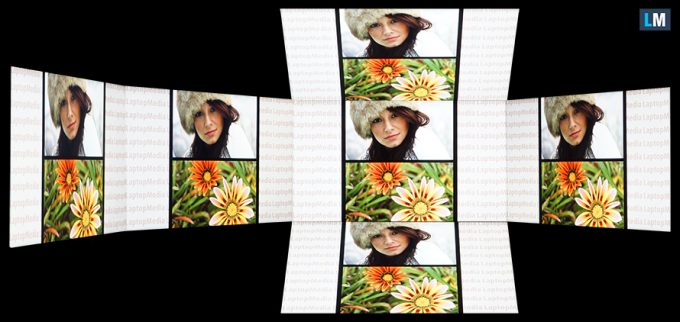 The measured maximum brightness of 306 nits in the middle of the screen and 278 nits as an average for the whole area, with a maximum deviation of 14%. The Correlated Color Temperature on a white screen is 6930K – slightly colder than the optimal for the sRGB standard of 6500K.
In the illustration below you can see how the display performs from a uniformity perspective. In other words, the leakage of light from the light source.
Values of dE2000 over 4.0 should not occur, and this parameter is one of the first you should check if you intend to use the laptop for color-sensitive work. The contrast ratio is more than decent – 1480:1.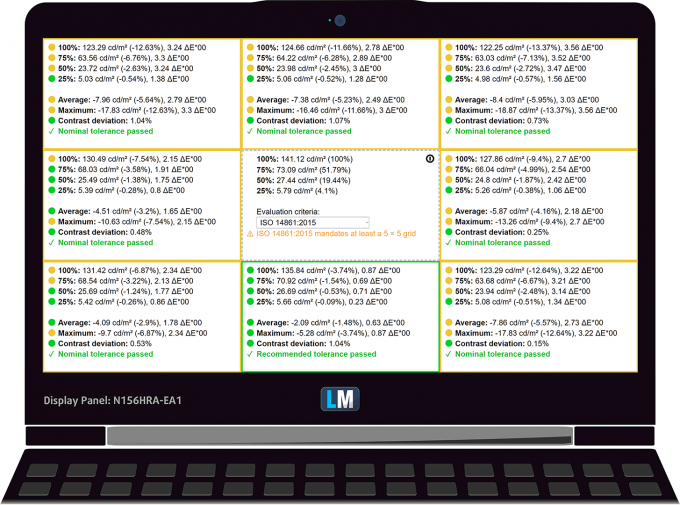 Color coverage
To make sure we are on the same page, we would like to give you a little introduction to the sRGB color gamut and the Adobe RGB. To start, there's the CIE 1976 Uniform Chromaticity Diagram that represents the visible specter of colors by the human eye, giving you a better perception of the color gamut coverage and the color accuracy.
Inside the black triangle, you will see the standard color gamut (sRGB) that is being used by millions of people on HDTV and on the web. As for the Adobe RGB, this is used in professional cameras, monitors, etc for printing. Basically, colors inside the black triangle are used by everyone and this is the essential part of the color quality and color accuracy of a mainstream notebook.
Still, we've included other color spaces like the famous DCI-P3 standard used by movie studios, as well as the digital UHD Rec.2020 standard. Rec.2020, however, is still a thing of the future and it's difficult for today's displays to cover that well. We've also included the so-called Michael Pointer gamut, or Pointer's gamut, which represents the colors that naturally occur around us every day.
The yellow dotted line shows both laptops' color gamut coverage.
The displays cover just 57% of the sRGB/ITU-R BT.709 (web/HDTV standard) in CIE1976.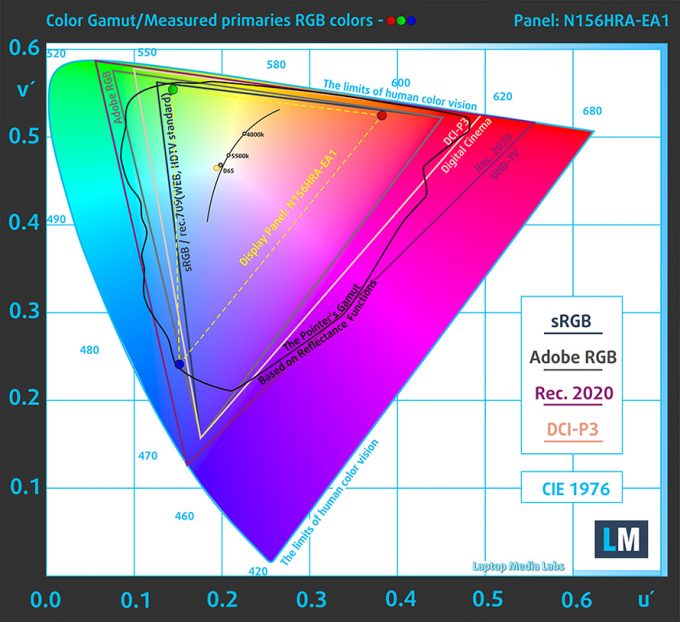 Our "Design and Gaming" profile delivers optimal color temperature (6500K) at 140 cd/m2 luminance and sRGB gamma mode.
We tested the accuracy of the displays with 24 commonly used colors like light and dark human skin, blue sky, green grass, orange, etc. You can check out the results at factory condition and also, with the "Design and Gaming" profile.
Below you can compare the scores of the two laptops with the default settings (left), and with the "Gaming and Web design" profile (right).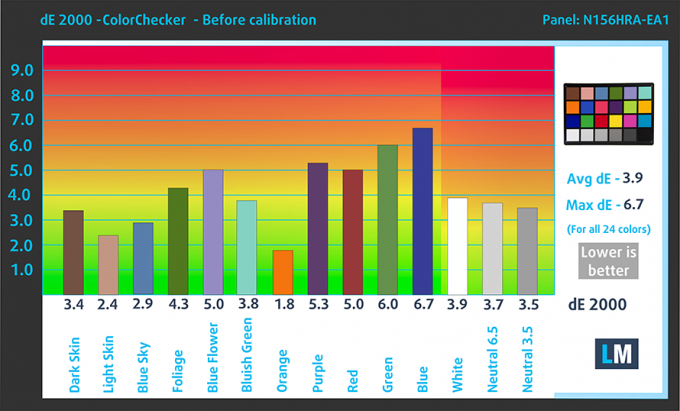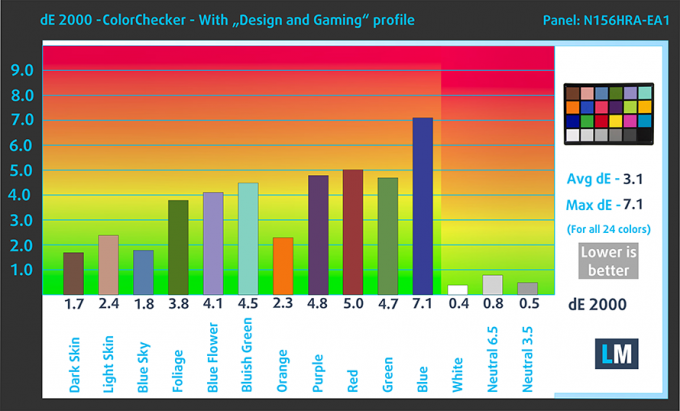 Response time (Gaming capabilities)
We test the reaction time of the pixels with the usual "black-to-white" and "white-to-black" methods from 10% to 90% and vice versa.
We recorded Fall Time + Rise Time = 22 ms.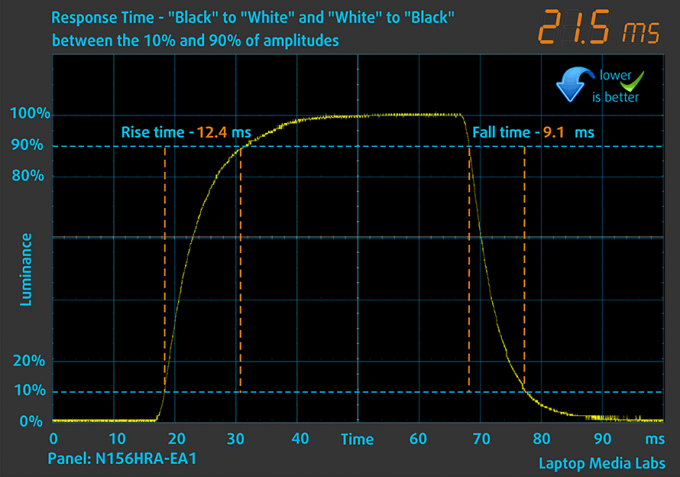 Health Impact / PWM (Blue light)
PWM – Screen flickering
Pulse-width modulation (PWM) is an easy way to control monitor brightness. When you lower the brightness, the light intensity of the backlight is not lowered, but instead turned off and on by the electronics with a frequency indistinguishable to the human eye. In these light impulses, the light/no-light time ratio varies, while brightness remains unchanged, which is harmful to your eyes. You can read more about that in our dedicated article on PWM.
Both laptops are PWM-free which is definitely good for your health no matter how long you plan to stay in front of the screen.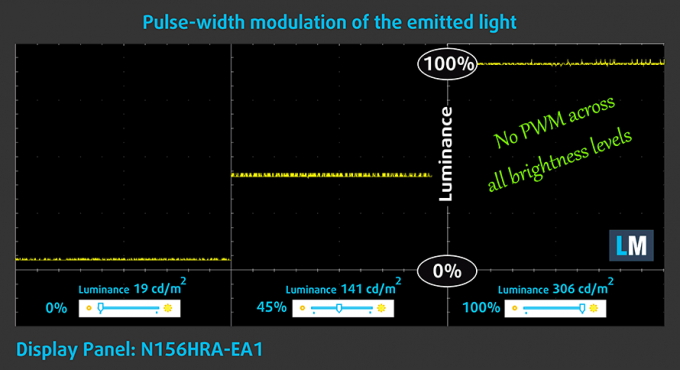 Blue light emissions
Installing our Health-Guard profile not only eliminates PWM but also reduces the harmful Blue Light emissions while keeping the colors of the screen perceptually accurate. If you're not familiar with the Blue light, the TL;DR version is – emissions that negatively affect your eyes, skin, and your whole body. You can find more information about that in our dedicated article on Blue Light.

Conclusion
Acer Nitro 5 (AN515-57) and ASUS TUF F15 (FX506, 2021) in the configuration we tested had 144Hz IPS panels with a FullHD resolution, comfortable viewing angles, good contrast ratio, and a PWM-free backlight. The panels aren't perfect – their cons being the narrow color coverage and slow pixel response times.

Buy our profiles
Here at LaptopMedia, we create a set of custom-tailored profiles for every notebook we review. They boost the productivity of display and reduce negative effects such as blue light emissions and PWM. You can read more about them here.
Acer Nitro 5 (AN515-57) 15.6″ Innolux N156HRA-EA1 (CMN1521) (FHD, 1920 × 1080) IPS: Buy our profiles
ASUS TUF F15 (FX506, 2021) 15.6″ Innolux N156HRA-EA1 (CMN1521) (FHD, 1920 × 1080) IPS: Buy our profiles

Sound
Both devices' speakers are nothing to write home about. The Nitro has good quality but is a bit too quiet, while the TUF is average as a whole.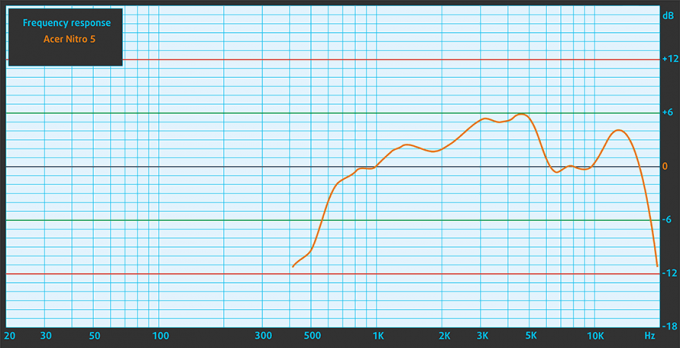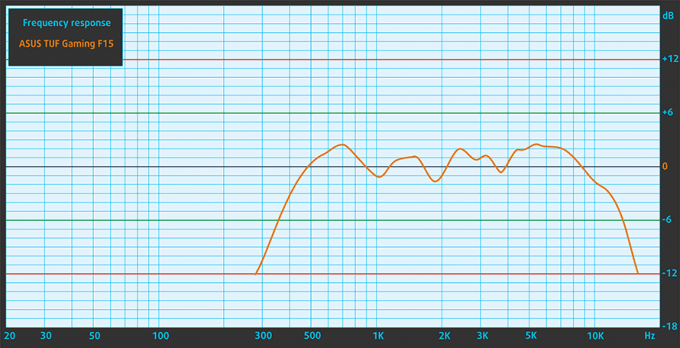 Battery
Now, we conduct the battery tests with Windows Better performance setting turned on, screen brightness adjusted to 120 nits, and all other programs turned off except for the one we are testing the notebook with. Our Nitro 5 was equipped with a 57Wh battery, much smaller than the battery pack of the TUF 15 FX506, that we got with a 90Wh capacity. Naturally, the Nitro delivered much more disappointing results with 2 hours and 34 minutes of Web browsing and 2 hours and 38 minutes of videos, as opposed to the TUF's 4 hours of web browsing and video playback.
Performance
The Acer Nitro 5 (AN515-57) is available with two CPU options – Intel Core i5-11400H and the Core i7-11800H. Looking at the GPUs, we have a lot more options, starting with the GeForce GTX 1650 followed by Ampere-only offerings – RTX 3050 (75W), RTX 3050 Ti (75W), RTX 3060 (95W), and RTX 3070 (100W).
As for the ASUS TUF Gaming F15 (FX506), the situation is flipped, you get more CPU options and fewer GPU ones. This model can be equipped with Core i5-11260H, Core i5-11400H, Core i7-11800H, and Core i9-11900H processors. As for the graphics, there are the RTX 3050 (75W), RTX 3050 Ti (75W), and RTX 3060 (95W).

CPU benchmarks
Both devices are tested with the Intel Core i7-11800H, so the scores are almost identical.
Results are from the Cinebench R23 CPU test (the higher the score, the better)
GPU benchmarks
Our units were equipped with an RTX 3050 TI (75W) for the Nitro and an RTX 3060 (95W) for the TUF, and understandably, the RTX 3060 performs better than the 3050 Ti.
Results are from the 3DMark: Fire Strike (Graphics) benchmark (higher the score, the better)
Results are from the Unigine Superposition benchmark (higher the score, the better)
Gaming Tests

| | | | | |
| --- | --- | --- | --- | --- |
| Cyberpunk 2077 | Full HD, Low | Full HD, Medium | Full HD, High | Full HD, ULTRA |
| Acer Nitro 5 (AN515-57) RTX 3050 Ti (75W) | 65 fps | 58 fps | 50 fps | 38 fps |
| ASUS TUF F15 (FX506) – RTX 3060 (95W) | 105 fps | 87 fps | 69 fps | 58 fps |

| | | | | |
| --- | --- | --- | --- | --- |
| Assassin's Creed Valhalla | Full HD, Low | Full HD, Medium | Full HD, High | Full HD, ULTRA |
| Acer Nitro 5 (AN515-57) RTX 3050 Ti (75W) | 83 fps | 68 fps | 41 fps | 41 fps |
| ASUS TUF F15 (FX506) – RTX 3060 (95W) | 100 fps | 85 fps | 73 fps | 54 fps |

| | | | | |
| --- | --- | --- | --- | --- |
| The Witcher 3 | Full HD, Low | Full HD, Medium | Full HD, High | Full HD, ULTRA |
| Acer Nitro 5 (AN515-57) RTX 3050 Ti (75W) | 166 fps | 124 fps | 106 fps | 70 fps |
| ASUS TUF F15 (FX506) – RTX 3060 (95W) | 229 fps | 168 fps | 143 fps | 95 fps |

| | | | | |
| --- | --- | --- | --- | --- |
| Shadow of the Tomb Raider | Full HD, Low | Full HD, Medium | Full HD, High | Full HD, Highest |
| Acer Nitro 5 (AN515-57) RTX 3050 Ti (75W) | 144 fps | 86 fps | 76 fps | 49 fps |
| ASUS TUF F15 (FX506) – RTX 3060 (95W) | 110 fps | 98 fps | 96 fps | 70 fps |
Temperatures and comfort
Max CPU load
In this test we use 100% on the CPU cores, monitoring their frequencies and chip temperature. The first column shows a computer's reaction to a short load (2-10 seconds), the second column simulates a serious task (between 15 and 30 seconds), and the third column is a good indicator of how good the laptop is for long loads such as video rendering.


Average core frequency (base frequency + X); CPU temp.
| Intel Core i7-11800H (45W TDP) | 0:02 – 0:10 sec | 0:15 – 0:30 sec | 10:00 – 15:00 min |
| --- | --- | --- | --- |
| Acer Nitro 5 (AN515-57) | 3.88 GHz (B+69%) @ 80°C @ 102W | 3.86 GHz (B+68%) @ 90°C @ 103W | 3.32 GHz (B+44%) @ 82°C @70W |
| ASUS TUF F15 (FX506, 2021) (Turbo Mode) | 3.98 GHz (B+73%) @ 86°C @ 102W | 3.88 GHz (B+69%) @ 95°C @ 100W | 3.44 GHz (B+50%) @ 87°C @ 77W |
As you can see from the table, the Nitro 5 manages to keep the CPU at lower temperatures throughout the stress test, but the TUF 15 keeps the clock speeds higher at all times. The differences are not that crazy and both laptops perform well, even under heavy loads.

Real-life gaming
| NVIDIA GeForce RTX 3050 Ti (75W) | GPU frequency/ Core temp (after 2 min) | GPU frequency/ Core temp (after 30 min) |
| --- | --- | --- |
| Acer Nitro 5 / RTX 3050 Ti (75W) | 1616 MHz @ 70°C | 1607 MHz @ 72°C |
| ASUS TUF 15 / RTX 3060 (95W) | 1550 MHz @ 77°C | 1534 MHz @ 80°C |
For the Acer Nitro 5, the RTX 3050 Ti (75W) isn't a powerhouse and it doesn't dissipate too much heat. If you use the fans in their vanilla setting, the GPU core will boost to around 1616 MHz in short loads while in long gaming sessions it'll clock down to 1607 MHz which means there is no visible difference between short and long loads.
Similarly, on the ASUS TUF 15, the long-run test didn't differ too much compared to the short test even while using the "Turbo" mode, which overclocks the GPU a bit +100MHz core clock speed and +150MHz for the memory.

Comfort during full load
The WASD and palm rest on the Nitro 5 feel a bit hotter than on the TUF 15, but not by much. That is thanks to the fact that the WASD section on the TUF is located right on top of one of the fans, which draws air through the keyboard. As for noise during heavy loads, the Acer sounds much louder than the ASUS, but at least it keeps the temperatures under control.

Verdict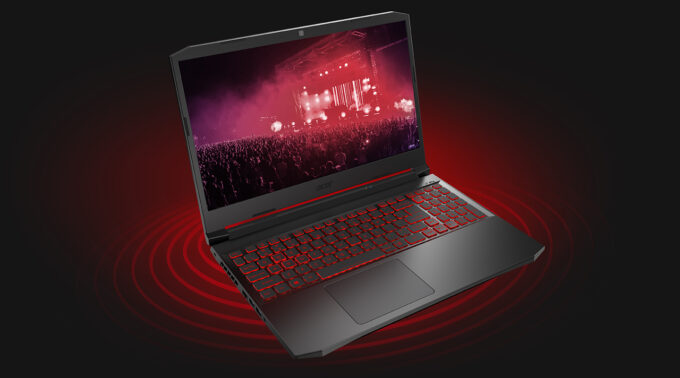 Both the Acer Nitro 5 (AN515-57) and the ASUS TUF F15 (FX506, 2021) provide great performance for an affordable price. They won't be dethroning their siblings – the Predator and the ROG, anytime soon, but they are great alternatives nonetheless. The two of them cover a similar niche but have enough differences, both inside and out.
They are both pretty bulky devices made out of plastic, with the option for an aluminum lid on the ASUS. Neither of them feels flimsy and there is almost no flex on both the base and lid, be it aluminum or plastic. Although they don't shy away from their gaming nature, the TUF's design is a bit less intrusive than the Nitro's with its bright red accents.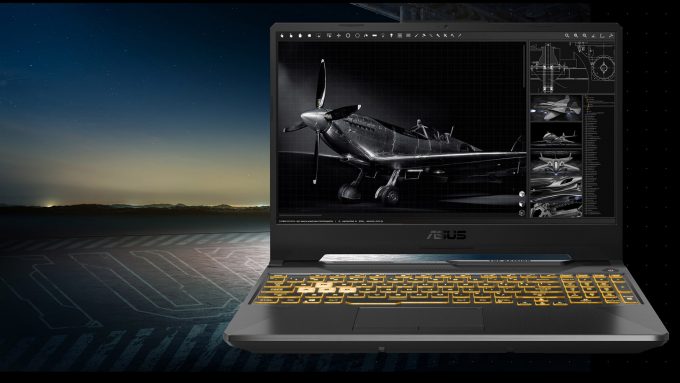 In terms of upgradability, both devices are good with two SODIMM slots and two M.2 slots, but the Nitro's M.2 slots are more versatile, supporting a SATA drive in one of them, on top of the standalone SATA slot that it has. So if you need a lot of storage, the Nitro 5 is the clear winner here.
Sadly, the laptops are using the same display panel, which wouldn't be a bad thing if the panel was not so mediocre, having low color coverage and too slow response times. Not the best for gaming, especially if you like competitive shooters.
Neither of them has an amazing battery, but at least the TUF's pack is not as disappointing as the one in the Nitro 5.
Lastly, the most important part for a gamer – the performance. Both devices offer a great choice from the Intel Tiger Lake CPUs and NVIDIA's Ampere graphics. At the end of the day, the TUF F15 pushes the hardware more to its limit, while also keeping decent temperatures of the exterior. The Nitro 5 is not far behind in both performance and cooling, though a lot louder.
So if the lackluster displays and the below-average battery life don't deter you, both the Acer Nitro 5 (AN515-57) and the ASUS TUF F15 (FX506, 2021) are more than capable mid-range gaming laptops that would serve you well with a slight advantage to the latter.
Why choose Acer Nitro 5 (AN515-57)?
+ More storage options
+ Nice keyboard with decent travel
+ Lower interior temperatures
Why choose ASUS TUF F15 (FX506, 2021)?
+ Longer battery life
+ Better gaming performance
+ Lower exterior temperatures
Acer Nitro 5 (AN515-57): Full Specs / In-depth Review
ASUS TUF Gaming F15 (FX506): Full Specs / In-depth Review
Acer Nitro 5 (AN515-57) configurations:
ASUS TUF Gaming F15 (FX506) configurations: