GTX 1050 Ti Battle: Dell Inspiron 15 7567 vs Acer Aspire VX 15 (VX5-591G)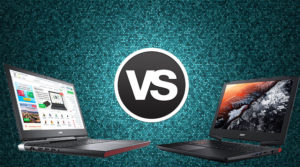 Time for another comparison – this time we are taking a look at the Dell Inspiron 15 7567 and the Acer Aspire VX 15 (VX5-591G). In terms of performance, all Core i7-7700HQ/GTX 1050 Ti models on the market perform relatively the same but some of them feature premium features like a high-quality display e.g. ROG Strix GL553VE. The Inspiron 7567 and Aspire VX 15 do not fall into this category, they shine with something else – affordable price. These are two of the most affordable gaming notebooks with a GTX 1050 Ti GPU that you can find for under $1000.
It's time to see which of the two is better worth your hard-earned money.
Acer Aspire VX 15 (VX5-591G): Full review / Check price
Dell Inspiron 15 7567: Full review / Check Price
Contents
Design and construction
When it comes to a sub-$1000 gaming notebooks that packs powerful hardware you can't expect much from the build quality and overall construction – manufacturers have to cut corners here and there to deliver high-performance at a reasonable price. This goes for our two models today – there isn't anything particular that we might dislike about the build of both notebooks but there isn't anything to boast about either. Maybe the only minor disadvantage is the fact that the lids of both models are fairly easily bent which causes ripples on the LCD screen. The whole chassis of both notebooks are solely made out of plastic, however, the build feels fairly robust so no problem here.
Moving on to the design, the Inspiron 7567 is considerably thinner (27 mm vs 32 mm) but a bit heavier measuring at 2.75 kg while the VX 15 is about 2.5 kg. Looks are always a subjective manner we could say a few things about both devices. First, the VX 15 – the plastic lid with a brushed finish that imitates aluminum and the two red stripes across it with the Acer logo in between strongly resembles the higher-end Predator series of gaming notebooks so if that us to your taste you will be happy to have a Predator-lookalike for half the price. On the other hand, our review unit of the Inspiron 7567 came in a bright-red color with a matte finish which in my opinion looks amazing. It's not the typical black/gray color range that we see most often so you will definitely stand out if you carry this notebook outside. And let's not forget the huge vents on the rear side which make it look like an Alienware product.
Both notebooks offer the usual set of I/Os. The Inspiron 7567 provides you with three USB 3.0 ports, RJ-45, HDMI, 3.5 mm headphone jack, SD card reader and the DC charging port. Unfortunately, no USB Type-C connector available. The VX 15 an almost identical set of connectivity options with a slight difference – one of the USB 3.0 ports is swapped for an older USB 2.0 but this time you get the USB Type-C which is great. Another similarity between the port configuration on both devices is that most ports are stuck on the right side which may obstruct the normal of an external mouse when you have a few things plugged in.
Display
Usually, the displays of budget notebooks aren't of the best quality and in the case of our two models, it is just this way. The VX 15 is equipped with an IPS panel manufactured by BOE model number NV156FHM-N42 while the Inspiron 7567 features an Innolux N156HGE-EAB (CMN15C4) TN panel. Both panels have the standard Full HD (1920 x 1080p) resolution and 0.18 x 0.18 mm pixel pitch.
Viewing angles on the VX 15 are good thanks to the IPS panel while the TN panel of the Inspiron 7567 can't provide such good viewing experience. The maximum brightness on both models is rather low for outdoor situations but enough for indoor use – 264 cd/m2 in the center of the screen for the VX 15 and 242 cd/m2 for the Inspiron 7567. The color temperature of both panels is slightly warmer than the optimal 6500K – 6350K on the Inspiron 7567 and 6200K on the VX 15. Despite the similarities in specs, the VX 15 has a much higher contrast ratio – 1370:1 vs 320:1. The Inspiron 7567 has a built-in software that can alter the color temperature.
Color reproduction is low on both models. Inspiron 7567 covers exactly half of the colors in the sRGB gamut while the VX 15 covers a tiny bit more – 54%. Color accuracy is also not the best. Inspiron 7567 has an average dE (lower is better) of 8.7 before calibration and 3.5 after applying out custom-tailored Office & Web Design profile. The VX 15 has a better average dE of 4.4 before calibration but almost the same after – 3.4. These displays are not suitable for color-accurate work.
Unfortunately, VX 15 uses PWM to regulate the screen brightness across all levels but the frequency used is very high (21.2 kHz) which significantly reduces the harmful effect. On the other hand, Inspiron 7567 uses PWM but only up to 55 cd/m2 which is just about 22% brightness so you will barely use the display while PWM is active and even in these cases the frequency used is very high (even higher than the VX 15) – 25.4 kHz. However, PWM is not such of a problem because our Health-Guard profile eliminates it.
Our display profiles
Here at LaptopMedia, we create a set of custom-tailored profiles for every notebook we review. They boost the productivity of display and reduce negative effects such as blue light emissions and PWM. You can read more about them here.
Buy our profiles from here:
Dell Inspiron 15 7567: Profiles
Acer Aspire VX 15 (VX5-591G): Profiles
Specs sheet comparison
Both models are equipped with the Intel Core i7-7700HQ from the latest Kaby Lake generation. this is one of the most preferred processors for gaming notebooks. It has four hyper-threaded cores clocked at 2.80 GHz which can go up to 3.80 GHz.
More information about Intel Core i7-7700HQ and its position in our Top CPU Ranking you can find HERE.
The GPU used in both notebooks is the NVIDIA GeForce GTX 1050 Ti with 4 GB of GDDR5 video memory. It's a capable graphics card which can run most modern titles on medium settings at comfortable 60 frames per second.
More information about the GTX 1050 Ti and its place in our Top GPU Ranking you can find HERE.
–
Acer Aspire VX 15 (VX5-591G)
Dell Inspiron 15 7567
CPU
Intel Core i7-7700HQ (4-core, 2.80 -3.80 GHz, 6MB cache)
Intel Core i7-7700HQ (4-core, 2.80 -3.80 GHz, 6MB cache)
RAM
8GB (1x 8096MB) – DDR4, 2133MHz
8GB (1x 8096MB) – DDR4, 2400MHz
GPU
NVIDIA GeForce GTX 1050 Ti (4GB GDDR5)
NVIDIA GeForce GTX 1050 Ti (4GB GDDR5)
HDD/SSD
5 1TB HDD (5400 rpm)
1TB HDD (5400 rpm)
Display
15.6-inch Full HD (1920×1080) IPS, matte
15.6-inch Full HD (1920×1080) TN, matte
Features

2x USB 3.0
1x USB 2.0
1x USB 3.1 Type-C
SD card reader
3.5 mm combo audio jack
HDMI 2.0
RJ-45
keyboard backlight

3x USB 3.0
3.5 mm combo audio jack
RJ-45
HDMI
SD card reader
keyboard backlight

Battery
52Wh
74Wh
Profile thickness
32 mm
27 mm (1.06″)
Weight
2.5 kg (5.51 lbs)
2.75 kg (6.06 lbs)
Price
Check price
Check price
Battery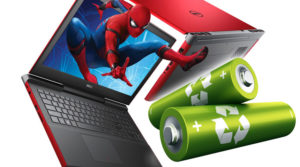 Power consumption on both models is the same. The Core i7-7700HQ draws 45 W and the GTX 1050 Ti a maximum of 75 W. The VX 15 proved above average battery life for a gaming notebook but the 74 Wh unit of the Inspiron 7567 simply blows the competition away – it even scores better than the HP Omen 15. It tops some ultrabooks with ULV chips inside and probably has the highest battery life of any gaming notebook. In fact, it currently takes third place in our Top 50 Laptops with the best Battery Life chart.
During our Web browsing test, the VX 15 lasted for 358 minutes (5 hours and 58 minutes) while the Inspiron 7567 doubles it at 768 minutes (12 hours and 48 minutes).
Second, is the Video playback test – 229 minutes (3 hours and 49 minutes) for the VX 15 and more than twice for the Inspiron – 613 minutes (10 hours and 13 minutes).
And lastly, our Gaming test. The VX 15 lasts for 149 minutes (2 hours and 29 minutes) which is a good result but the Inspiron provides 215 minutes (3 hours and 35 minutes).
Performance
Thanks to the identical hardware, the performance is almost identical too – only a few frames more or less here and there. The performance of these two notebooks is very similar to all other GTX 1050 Ti/Core i7-7700HQ models on the market. What differentiates two given models are other features like the battery life, screen quality, and the cooling system.


Temperatures
We start off with 100% CPU load for our temperature tests. Both notebooks handled it remarkably well. The Inspiron kept the maximum operating frequency for four active cores – 3.4 GHz with temperatures around 87°C for two of the cores and 76°C on the other two. VX 15 managed the same frequency at an even lower temperature of 69-72°C.
When we added 100% GPU load to the scene things changed a bit. The Inspiron's CPU temperatures raised which caused the frequency to drop to 1.6-1.7 GHz. Then the temperatures became stable at around 70-74°C which is rather low. Maybe it's some sort of a BIOS setting for protection. The GPU, on the other hand, ran at its maximum clock speed of 1708 MHz and average 73°C. VX 15's processor throttled as well but the frequency wobbled from 2.8 GHz to 3.4 GHz and back. Temperatures were 86-90°C at 3.4 GHz and around 70°C at 2.8 GHz.
Surface temperatures on the Inspiron remained fairly cool with some areas reaching 45°C but the palm rest area was below 30°C. On the other hand, the VX 15's palm rest area was around 30°C too but other parts became toasty at more than 50°C.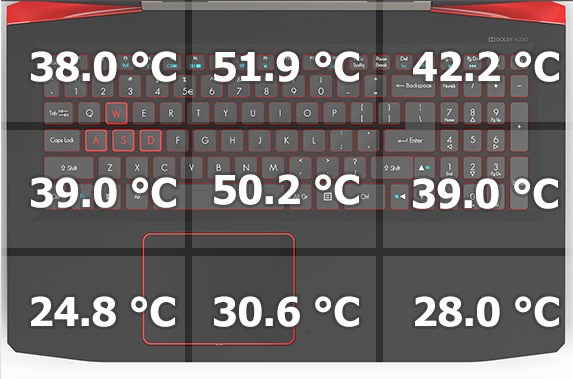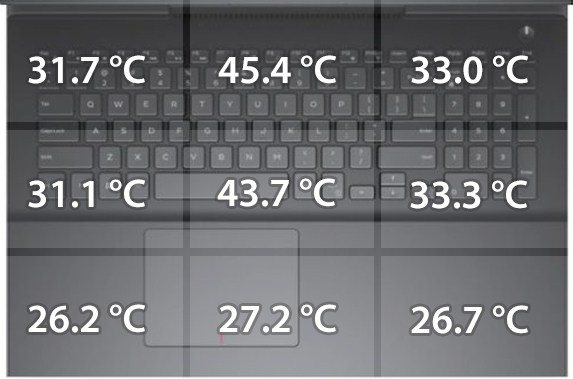 Verdict
Overall, both models are very similar in terms of quality and performance. They are great for those of you who want to get into the gaming world without hurting your wallet too much. Gaming performance is just as good as any other notebook with the same configuration but these two models cost around and less than $1000. They also feature interesting looks which resemble higher-class devices.
The Dell Inspiron 15 7567 has an extraordinary battery life for a gaming notebook and while it has a large 74 Wh battery it is not too thick or heavy to be carried so it's a perfect solution for those who are on the go. While the screen is not really good at least it does not use PWM in the brightness levels that you will use it most of the time so it's less eye-straining than most other options in the price group.
The Acer Aspire VX 15 has a better IPS panel which has poor color reproduction and accuracy but high contrast and wide viewing angles. This is the notebook's main advantage. It also features a USB Type-C port which is becoming a must nowadays.
Acer Aspire VX 15 (VX5-591G): Full review / Check price
Dell Inspiron 15 7567: Full review / Check Price
Why choose Acer Aspire VX 15 (VX5-591G)?
USB Type-C port
higher quality IPS panel
Why choose Dell Inspiron 15 7567?
significantly better battery life
thinner
no PWM above 55 cd/m2