Dell UltraSharp U2717D vs Dell P2719H – 1440p resolution and rich colors or 1080p at а lower price?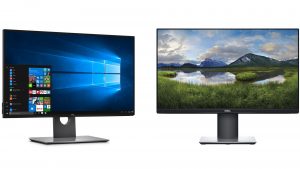 Nowadays, there are monitors for every niche (or even sub-niche) – gaming, work, design, home usage, professional monitors (for printing houses, just an example), etc. Let's say that you're a designer who loves to play games after work but you have limited space on your desk. What you're going to do – you're going to buy a monitor for gaming or for work?
If you choose a gaming unit it's most likely to end up with e 300Hz TN panel which is great for gaming but when you have to edit some pictures you're going to notice that the colors are washed out. Not to mention that the viewing angles are probably going to be terrible. If you choose a professional monitor with top-notch color accuracy may be the response time will be too slow for games. Don't worry, it's not a dead-end situation,
These days the magic word is versatility. Yep, there are monitors that combine good color accuracy, comfortable viewing angles, and decent response times. Well, most of them aren't the best in any of these categories, but they are good enough to not disappoint you when you want to play games, edit pictures, or creating some content. That's why for today's comparison we picked two Dell monitors – Dell UltraSharp U2717D and Dell P2719H. If you open Dell's web site you'll notice that the U2717D is in the "Work" section while the P2719H is described as an "Office" monitor.
If you place them side by side, maybe you can ask yourself "Why the U2717D is more expensive than the P2719H, they look and feel almost the same?". That's why we are here to answer this question with the help of this in-depth analysis.
Read our in-depth reviews here:
Dell UltraSharp U2717D: Detailed review
Dell P2719H: Detailed review
Contents
What's in the box?
Both monitors are well protected in their boxes so don't worry if you have to order them online – the package is safe enough for transportation. In the box of U2717D, you'll find a power cable, a DisplayPort to Mini DisplayPort cable, and a USB Type-A to Type-B cable, as well as a "Color Calibration Factory Report" which is described on a sheet of paper.
The box of P2719H contains a power cable, a DisplayPort to DisplayPort cable, and a USB Type-A to Type-B cable.
Design and construction
Both monitors are made of plastic which seems normal – they aren't the most expensive offerings in their classes and they'll stand on your desk. So, the plastic builds aren't a big problem here. The stands are pretty similar and they do their job very well – the monitors are stable even when you hit your desk unintentionally, they'll not be going to hit the ground (well, unless if you don't cause an "earthquake"). Speaking of the stands, we really like the big hole inside of them that can be used for better cable routing.
The monitors are characterized by slim bezels around their panels. For the Dell U2717D, we have 7.3 mm around the top and the sides, and 8.4mm for the bottom. The Dell P2719H has nothing to hide –  6mm for top and sides, and the bottom "hits" 20.7mm which is a more than its competitor, but still a decent value.
Dell UltraSharp U2717D
Two things matter the most when we are talking about monitors – stand adjustment and display quality. A bit down below we will discuss the panel quality of these two but now we will focus at the stands. The stand of the Dell U2717D can be precisely adjusted – height, tilt, pivot, and swivel. The lifting mechanism features an amplitude of 130mm and that allows you to adjust it with one hand.
Dell P2719H
Interestingly enough, the more affordable Dell P2719H is very close to its more expensive sibling in this section. Its stand supports height, tilt, pivot, and swivel adjustment, the lifting mechanism has the same amplitude and it can be adjusted with a single hand as well.
For swivel and the tilt we have identical numbers here for both rivals – 45-degrees and from -5-degrees to 21-degrees. Nevertheless, the pivot positioning is a whole another story. First of all, it's an easy job with the Dell U2717D – just raise the display until it reaches its maximum position and after that, you have to turn it. That' all, the panel will not scratch the ground or the stand because there is enough room from bottom to the ground  – 184.6 mm.
It looks like the Dell P2719H doesn't like to be in the pivot position. Sure, it's possible but the whole process is a bit odd and we doubt it that you're going to do it every day. Compared to the U2717D, the P2719H doesn't have such a big height headroom, and that's why the whole exercise is more complicated. First of all, you have to lift the panel, then you have to tilt it upwards because if you don't do it, it'll hit the stand's foot (and that's a dead-end). It may seem easy but in real life, it's not a very pleasant experience, especially if you have to do it often.
Ports

Dell UltraSharp U2717D
When it comes to the of I/O of the Dell U2717D, most of the ports are placed on the backside and they are downwards oriented. This will be handy if your monitor is close to the wall because the cables will not touch it and you don't have to move the whole body when you want to plug or remove a cable. The power plug is placed on the left side, then we have an HDMI connector, a DisplayPort, and a Mini DisplayPort (input) and one DisplayPort for output. Next, we can spot an audio jack output, a USB Type-B upstream port, and two USB Type-A 3.0 downstream ports. In addition, on the left side of the monitor, there are two USB Type-A 3.0 ports.
Dell P2719H
The port selection (which is placed in the same position as the competitor) of the Dell P2719H is decent – a DisplayPort 1.2, an HDMI 1.4 connector, a VGA port, and a feeder for its USB hub – a USB Type-B 3.0 upstream port. There are three USB Type-A downstream ports – the 2.0 port is placed on the backside and the other two (3.0) are located on the left side of the monitor.
| | Height (with stand) | Height (without stand) | Width | Weight (panel only) |
| --- | --- | --- | --- | --- |
| Dell UltraSharp U2717D | 410.2 mm (16.15″) – 540.2 mm (21.27″) | 355.60 mm (14.00″) | 610.30 mm (24.07″) | 4.50 kg (9.9 lbs) |
| Dell P2719H | 394.3 mm (15.52″) – 524.3 mm (20.64″) | 363.00 mm (14.30″) | 609.9 mm (24.01″) | 4.35 kg (9.59 lbs) |
OSD Menu
Just like every modern monitor, out two contenders allow image tweaking through the OSD menu. If you look closely at the provided images you'll see that the button positioning is similar and the menus are almost the same. For both units, we have five buttons that are placed on the bottom right side of the two panels. Let's check them from left to right – Preset mode, source for image input, general menu, and an exit button. When you enter a menu, these buttons become navigation keys.
Dell UltraSharp U2717D
Dell P2719H
For both panels we have 8 sub-menus, every one of them is well-described so you can't get lost among the options.
Dell UltraSharp U2717D
In terms of color settings the two monitors offer plenty of options and manual adjustments.
Dell P2719H
Display quality
Now, it's time to check what these two have to offer when it comes to image quality. The Dell UltraSharp U2717D has a 60Hz 1440p panel. Its diagonal is 27″ (68.58 cm), and the native resolution 2560 x 1440 pixels. This is the perfect resolution for that kind of screen size.
Dell P2719H has the same diagonal size – 27″, the refresh rate is 60Hz too, but the resolution is 1080p. This is a bit too low for a 27-incher but it's not too bad (you can still find 32″ Full HD monitors out there).
As you can see, both panels have comfortable viewing angles. The contrast ratio of the Dell U2717D is 970:1 (950:1 after profiling) and the Dell P2719H result is 1050:1 (1000:1 after profiling) which means that they are very close in this section.
These two Dell displays offer good sRGB color coverage. The U2717D is able to cover 98% of the sRGB gamut and we have 95% for the P2719H. Good results, that mean punchy and vibrant colors when you surf the Web or when you are watching movies on the screen.
Our "Design and Gaming" profile delivers optimal color temperature (6500K) at 140 cd/m2 luminance and sRGB gamma mode. Additionally, in order to get a more accurate result, we used the Custom Color preset with values of R100, G97, and B95. The comparison below is made with the Standard preset at the same brightness level.
Dell UltraSharp U2717D
Dell P2719H
Values of dE2000 over 4.0 should not occur, and this parameter is one of the first you should check if you intend to use the laptop for color-sensitive work.
Below you can compare the score of the two panels – both with already applied "Gaming and Web design" profile. Again, good scores for the two rivals but the more expensive Dell U2717D is just better. This fella can be used in a printing house because its average dE score is below 1.0. The Dell P2719H hits 1.6 after we applied our profiles – a decent result as well.
PWM (Screen flickering)
One of the most important things about a display is its safety towards the user. Luckily, our two contenders are free of PWM usage and you can use them for long hours before sensing any kind of eye strain.
Response time (Gaming capabilities)
We test the reaction time of the pixels with the usual "black-to-white" and "white-to-black" method from 10% to 90% and vice versa. For gamers, this is an important part of the comparison. We recorded Fall Time + Rise Time of 14.8 ms ("Normal" Overdrive mode) and 11.1 ms ("Fast" Overdrive mode) for the Dell U2717D.
We have observed too much of an overshoot while using the "Fast" mode so you can stick to "Normal". Sure, overshoot persists in this mode too but it's not very intrusive. The Dell P2719H is a bit slower than its competitor in "Normal" Overdrive preset – 16.0 ms, and it's a bit faster with the "Fast" preset but unfortunately, this setup is still unusable because of the noticeably higher overshoot levels.
Dell UltraSharp U2717D
Dell P2719H
Our display profiles
Here at LaptopMedia, we create a set of custom-tailored profiles for every notebook we review. They boost the productivity of display and reduce negative effects such as blue light emissions and PWM. You can read more about them here.
Buy our profiles from here:
27.0", 1440p (2560×1440), 60 Hz, IPS (Dell UltraSharp U2717D): Buy our profiles
27.0", 1080p (1920×1080), 60 Hz, IPS (Dell P2719H): Buy our profiles
Verdict
Ok, guys, the comparison is almost over, but we think that both monitors deserve your attention. Sure, the more expensive Dell UltraSharp U2717D offers higher resolution – 2560×1440. The image is crisp and you can't spot any pixels while sitting in front of the monitor. As we said, this is the right resolution for a 27″ panel. The games look good, movies too, and the text symbols are clearly visible (while you are surfing the Web or you just read some MS Word document).
When it comes to sRGB color coverage, the U2717D is able to almost fully cover this gamut. On top of that, it's very color accurate with the help of our "Gaming and Web design". With an Average dE of below 1.0, you can use it for almost everything – from casual things like watching Youtube videos to editing photos and videos for professional purposes.
If you're a gamer, you have to know that this monitor sits right in the middle grounds – its response time isn't the slowest but it's not the best, an average performer. Well, if the 60Hz refresh rate isn't enough you can try to overclock it if you know how to do it. At least for us, the monitor can be used for gaming because the response time is ok for slow-to-medium-paced games but at the same time, you can enjoy great color reproduction. If you are a hardcore and pretentious gamer that plays fast-paced shooters, perhaps you have to look somewhere else.
The port selection of this monitor is rich. We've remembered the time when the monitors came with VGA and DVI only, and now we have a plethora of ports – HDMI, DisplayPort, Mini DisplayPort, USB Hubs, side USB ports – you name it! The stand of this Dell product is a bit better than its rival's. It beats the Dell P2719H because it offers better height adjustment and the pivot positioning is a piece of cake.
The Dell P2719H is a worthy competitor. Yes, its price is lower than the U2717D. This will be a good thing if you are on a budget but expectedly there are some cut-downs here and there. We'll start with the resolution – 1080p is not the perfect match for that kind of screen size but it's passable, barely. You can get used to it, but you can spot the resolution difference if both monitors are side by side or if you sit closely in front of the panel.
In terms of picture quality, P2719H shows some decent results for an inexpensive product. A 95% sRGB color coverage is more than fine for everyday usage, playing games, or whatever you love to do when you are using your computer/laptop. Color accuracy is fine, we considered everything below 2.0 for good so this one is even a bit better with its Average dE of 1.6.
The port selection of the Dell P2719H is decent enough for a modern piece of hardware like this one – we have an HDMI connector, a DisplayPort, a USB hub, and …wow – a VGA port. It will be useful if you want to connect older hardware that comes with analog ports only or you don't have any other free ports on the I/O. The stand adjustment is fine, and the only thing that we dislike is the complicated process for pivot adjustment.
So, in short, the Dell U2717D offers better picture quality, higher resolution (1440p), a bit better stand, and more ports. The Dell P2719H has a lower price tag, its resolution is lower (1080p), the stand is almost good as the rival one, and the port selection isn't bad at all. The Dell U2717D is for the ones who seek better picture quality and a versatile stand, but if your budget is tight, the Dell P2719H offers good picture quality and a nice amount of features for its money.
Read our in-depth reviews here:
Dell UltraSharp U2717D: Detailed review
Dell P2719H: Detailed review