[Comparison] Lenovo Yoga 9i (14″, 2022) vs Yoga 9i (14″) – what are the differeces?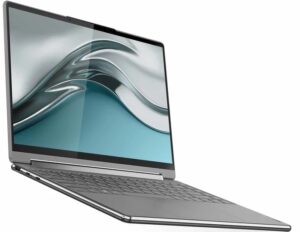 Talk about a total makeover. The Yoga 9i (14″, 2022) is a completely new device, built from the ground up to be a stylish and modern laptop that contrasts its predecessor a lot. The hardware and display options are also new, introducing a new 16:10 aspect ratio and OLED panels. Today we are comparing the new 2022 model against the 2021 device, to see what are the differences.
Full Specs: Lenovo Yoga 9i (14″, 2022) / Yoga 9i (14″) 
The new device almost looks like a smartphone, with glossy sides and speaker cutouts on the side, which mimic smartphone cutouts, with little dots on the left side. They house two 3W Woofers. However, the main speakers are found behind a grill on the hinge, making for a pretty great setup. The whole laptop is made from aluminum, with two color options, Oatmeal and Storm Grey. This is quite a shift from the angular and more aggressive design on the 2021 laptop, which also featured aluminum construction, along with a Leather lid cover. In terms of dimensions, the new device is 30 grams heavier and is 0.8 mm thicker.
Instead of two IPS panels with either FHD or UHD resolution, you get three 16:10 displays. The entry model has an FHD+ IPS display. After that, we have two OLED units with either 2.8K or 4K UHD+ resolution. Both OLED displays have a max brightness of 400 nits, an infinite contrast ratio, and 100% DCI-P3 coverage.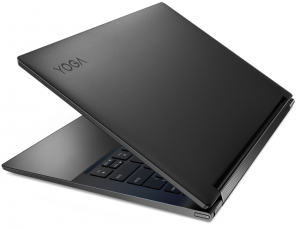 Lastly, in terms of the hardware, the Tiger Lake U-series processors have and will continue to serve their duty very well. However, with this being a Premium notebook and Alder Lake being released out into the world, it would be weird if the laptop didn't use the newest hardware available. The Yoga 9i comes with the Core i5-1240P and Core i7-1260P. These are a very good middle ground in terms of both power output and efficiency.
The one thing that has remained is the integrated graphics, with both the 80 and 96EU versions of the Iris Xe Graphics G7 being available. The new CPUs bring Bluetooth 5.2 support, along with USB 4.0 and Thunderbolt 4. The I/O also has one more USB Type-A port, which is a nice addition.
All Lenovo Yoga 9i (14″, 2022) configurations:
All Lenovo Yoga 9i (14″) configurations: