[Comparison] Lenovo Yoga 7i (14″, 2022) vs Yoga 7i (14″, 2021) – what are the differences?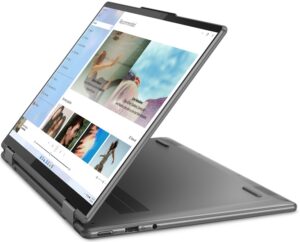 Lenovo gets most stuff right, from budget and high-end gaming laptops to workstations and office devices like the ThinkPads and ThinkBooks. One area where they have been very successful as well is with their thin and light general use laptops, which don't fit a specific category.
They are a great choice for most consumers, including those who like to be flexible. Today we have the 2022 model of the Yoga 7i, which we'll compare against the 2021 model, in order to see what has changed and what is the same.
Full Specs: Lenovo Yoga 7i (14″, 2022) / Yoga 7i (14″)
There has been a significant revamp in the laptop's design. The new device comes with rounded edges and corners, with the sides also coming with a glossy finish. The build materials stay the same, with metal being used all around. This gives the Yoga 7i a much more different appearance, as previous incarnations have chosen sleekness, angles, and edges over a more round and subdued appearance. Despite the shift, the device has kept pretty much the same weight of 1.45 kg and a profile of 17.35 mm, 20 grams heavier and 0.35 mm thinner.
There is a change in the display selection, with the new laptop getting displays with a 16:10 aspect ratio. We start with a 2.2K IPS panel with a 300 nit brightness and a 1500:1 contrast ratio. You can also upgrade to a 2.8K OLED panel, which has an increased brightness of 400 nits, and an infinite contrast ratio. Both laptops offer pretty great color reproduction, with the IPS panel offering full sRGB coverage, while the OLED panel fully covers the DCI-P3 color gamut.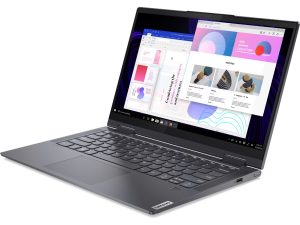 The hardware is updated as well, with the new laptop coming with Alder Lake instead of Tiger Lake, which should have a pretty big impact when it comes to battery life and efficiency since Intel has been on the backfoot during the last few years. The new combination of Efficiency and Performance cores has so far proven effective in the more powerful Alder Lake H-series, providing great performance and long battery life.
The only thing that has stayed the same from last year is the integrated graphics options, with both the 2022 and 2021 notebooks coming with the Iris Xe Graphics G7, which has proven to be a very effective low-end solution, eliminating the need for most of the MX-series from NVIDIA.
Dimensions
316.66 x 220.25 x 17.35 mm (12.47" x 8.67" x 0.68")
Dimensions
320.4 x 214.6 x 15.7 ~ 17.7 mm (12.61" x 8.45" x 0.62")
All Lenovo Yoga 7i (14″, 2022) configurations:
All Lenovo Yoga 7i (14″, 2021) configurations: