[Comparison] Lenovo V17 Gen.2 vs V17 Gen.1 – what are the differences?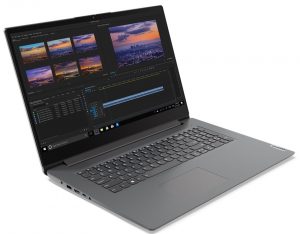 The Lenovo 17 has been an interesting device. It is basically a large notebook that is perfect for your home, especially if you work from there, as many people do right now. The V17 Gen.2 has plenty of performance and it pairs that performance with a great display, with ample color coverage, turning the machine into a great one for artists. Of course, being a 17-inch device, it has its difficulties when it comes to portability. Today we want to compare the V17 Gen.2 against its predecessor to see what is new and what is different.
On the exterior, we see minimal changes, mainly thinner bezels on the display. The build quality is 50/50. On one hand, the whole laptop is made from plastic, which isn't considered a premium material. However, Lenovo has shown in the past that it can create plastic devices, which are very durable and can withstand the test of time. Look no further than its ThinkPad lineup, which has proved that laptops don't need premium materials to be well built and provide great value. The weight and height remain the same.
We would call the display situation interesting as the base configuration has an atrocious TN panel with a resolution of 1600×900. Imagine that resolution, at a screen diagonal of 17.3 inches. You will have to say goodbye to crispy and detailed images. Fortunately, there is another screen to choose from. The second display comes in a Full HD resolution and uses an IPS panel. Furthermore, according to Lenovo, it has a maximum brightness of more than 300 nits and covers 99% of the sRGB color gamut, which is perfect for people who value good colors and dabble in design.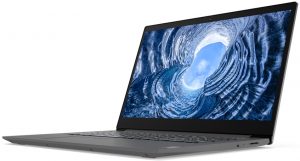 Tiger Lake provides amazing performance, with there being a total of four processors to choose from. The base configuration comes with a Pentium Gold 7505, which at least for us doesn't suit the large display, and if you want an inexpensive laptop there are other great choices. If you're going to purchase this device, we recommend at least the Core i5 option, and if you want more performance, the Core i7-1185G7 is available. The Iris Xe Graphics G4 and G7, which are in the Core i3, i5, and i7 models as well as the Iris UHD Graphics G1 do a fine job for everyday tasks, with the higher-end G7 even being able to handle some light gaming. The Iris Xe Graphics have been the best performing iGPUs that we have seen, performing better than even some discrete solutions. In case you want a discrete GPU, which we don't blame you for, there is the MX350 from NVIDIA.

All Lenovo V17 Gen.2 configurations:
All Lenovo V17 Gen.1 configurations: