[Comparison] Lenovo ThinkPad X1 Yoga (7th Gen, 2022) vs X1 Yoga (6th Gen, 2021) – what are the differences?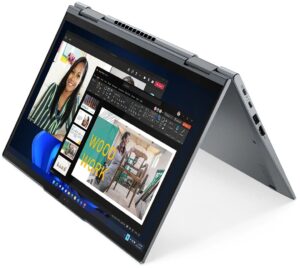 Experimental divisions in corporations are widely accepted, but for some reason, the laptop market doesn't often show their prototypes or engineering samples of what crazy or futuristic ideas they come up with.
On one hand, this is good, since they keep their advancements to themselves and only reveal them when they know that they will be a success. Lenovo offers a tiny bit of that insight with their ThinkPad X1 sub-brand, which is the first to implement technologies from their R&D division, in order to test the market and get some very valuable feedback.
Today we have the newest X1 Yoga (Gen 7), which we will compare against its predecessor, the Gen 6, to see what are the differences.
Full Specs: Lenovo ThinkPad X1 Yoga (7th Gen, 2022) /  X1 Yoga (6th Gen, 2021)
To no surprise, there haven't been apparent changes to the design. The device still comes with an aluminum lid and chassis, along with a Glass display cover, for an added degree of protection against bends and scratches. Even the weight has been kept similar, hovering around 1.40 kg, along with a profile of around 15 mm.
The new stuff comes from the cooling design, which utilizes the keyboard and the space between the base and the keycaps, to suck up fresh air from the front, cool down the motherboard and all the chips, before exiting the now hot air through two heat vents on the back. It is a clever invention, which will be helpful, especially in small form-factor devices.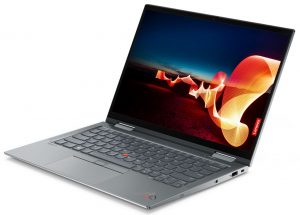 The display selection remains the same, with two 14-inch 16:10 IPS panels, with either FHD+ or 4K UHD+ resolution. Hardware-wise, the Gen 7 laptop offers both P-series and U-series processors from the newest Alder Lake family from Intel, which replaces the Tiger lake U-series of old.
The new mix of P-cores and E-cores will be helpful in more compact devices so that they can offer performance when needed while preserving battery life when doing more mundane and low-resource tasks. Of course, you'll feel this effect most under Windows 11, whose scheduler does a better job at recognizing P-cores and E-cores and splitting tasks between them.
The graphics have stayed the same with either the 80EU or 96EU versions of the Iris Xe Graphics G7, which offer unprecedented productivity performance for integrated graphics while allowing you to do some light gaming on the side as well.
All Lenovo ThinkPad X1 Yoga (7th Gen, 2022) configurations:
All Lenovo ThinkPad X1 Yoga (6th Gen, 2021) configurations: